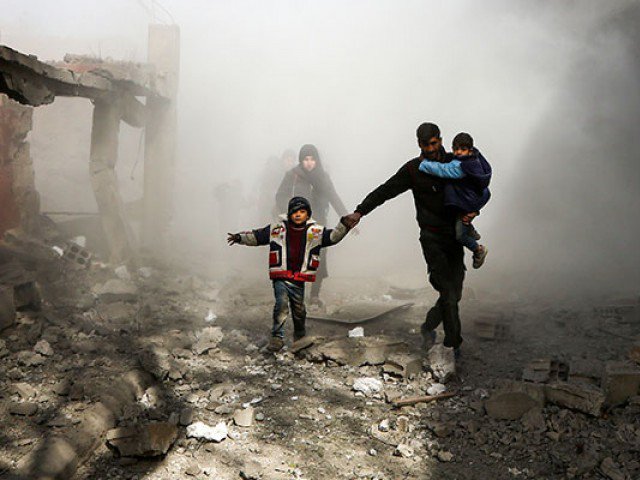 ---
MOSCOW: The Russian military said Tuesday that rebels were being allowed to leave Syria's Eastern Ghouta enclave via a humanitarian corridor together with their families and firearms, news agencies reported.

"This time the humanitarian corridor was open not just for Eastern Ghouta's civilians but for fighters with their families," Russian military officer Vladimir Zolotukhin in Eastern Ghouta was quoted as saying.

"Members of illegal armed groups are allowed to carry personal weapons," he added, without clarifying what options would be available to any rebels who arrived in the government controlled zone.

Moscow has been managing a corridor out of the besieged Eastern Ghouta region for eight days, with a daily "humanitarian pause" between 9:00 am and 2:00 pm meant to encourage civilians to leave the zone.

Elderly Pakistani couple leave Syria's embattled Ghouta, says Red Crescent

But the plan, which was also supposed to give a chance for aid and medical supplies to reach those in need, has mostly failed to work as the region outside Damascus remains under continued regime bombardment.

Moscow has accused the rebels in Eastern Ghouta of blocking civilians from using the corridor. On Monday, only 13 people were able to exit the enclave together with a UN convoy, the Russian military said.

Zolotukhin said fire from rebel controlled areas in the enclave hit a hospital in a Damascus suburb Monday but that attacks on the corridor subsided on Tuesday.

More than 780 civilians including 170 children have been killed since the Syrian regime launched the assault on Eastern Ghouta on February 18.

By early Tuesday, government troops controlled 40 percent of the enclave, according to the Syrian Observatory for Human Rights.
COMMENTS
Comments are moderated and generally will be posted if they are on-topic and not abusive.
For more information, please see our Comments FAQ