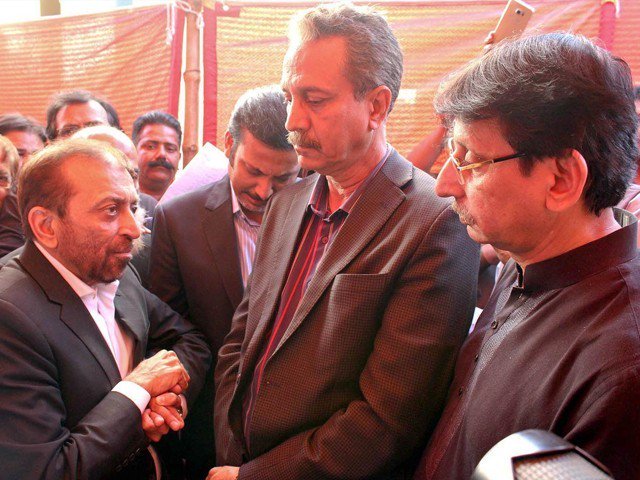 ---
KARACHI: As the sun set on the eve of the February 5, Karachi witnessed its largest political party heading towards twilight - a sight fast becoming the perpetual state of the Muttahida Qaumi Movement - Pakistan (MQM-P).

A war of words was initiated when the Raabita Committee held a press conference right after its chief, Dr Farooq Sattar, stormed out of a meeting at their headquarters in Bahadurabad. What followed was a month-long dispute played out live on news channels, where teary-eyed members enlightened the other side on the party's "constitution and discipline", yet ended each press conference with a recurring statement: the party was a family that cannot be divided.

The palpable difference from previous internal rifts, however, was the usage of waterworks rather than fireworks.

For Sattar, this was a second coup attempt. He had all but triumphed November 2017's endeavours by his party members painting him as a villain after the announcement of an electoral alliance with the Pak Sarzameen Party (PSP).

Sattar-led group of MQM-P fails to get Tessori elected to Senate

The stakes, however, were higher this time, with Senate elections around the corner. Where political parties manoeuvred votes for their candidates, MQM-P remained engulfed on the matter of issuing tickets.

"The process was rushed," Sattar told The Express Tribune. "I was busy in membership registration with the ECP until February 1."

"But I had reached out to parties by February 4. Unfortunately, due to our internal rifts, they looked elsewhere," he added.

Ironically, the fight was not between ideological workers, but men touted to represent the establishment - Barrister Farogh Naseem, who became the frontman during Musharraf's tenure, and Kamran Tessori, who is reportedly the link between MQM-P and the establishment.

Agreeing that neither candidate was an ideological worker, Sattar said the names were fast-tracked after Aamir Khan and Shabbir Qaimkhani decided to bow out. "Qaimkhani, however, changed his mind after the RC insisted on his candidacy," he recalled. "He put me in an embarrassing position."

Rift in MQM-P over Senate election tickets

"I suggested to repeat two names [Nasreen Jalil and Naseem] and suggested Tessori and one other," he said. "I consider both Naseem and Tessori to be worthy candidates due to their contributions towards the party."

Bahadurabad's Syed Aminul Haq was adamant that Naseem was not the "establishment's man". Labelling Tessori a "conspiracy champion."

"He creates disputes wherever he goes," said Haq, adding that Tessori was the bone of contention in the conflict.

"Naseem is not a new entrant," added another senior RC member. "He adds value to the party."

Speaking to The Express Tribune on condition of anonymity, he revealed that on March 2, the party had offered to axe Naseem from the list if Sattar dropped Tessori, but "Farooq Bhai was adamant in his stance". Hence, the two names were finalised in a last-minute pact between the feuding sides, where 19 parliamentarians were directed to vote for Naseem and 20 for Tessori. But on election day, the MPAs shifted their loyalties to the PPP.

For the first time since its creation, MQM lawmakers defied party directives.

Where some were 'lured' by PPP, others voted out of contempt as at least two MPAs confirmed to The Express Tribune that they did not place Tessori on their preference list due to their dislike of the man.

Reflecting on the loss, Haq admitted that the party's shortcomings were evident. "We are aware that our party decorum has been affected," he said.

MNA Syed Ali Raza Abidi of the PIB-faction believes the Senate result had further stoked differences. "The voters are upset with lawmakers for helping the PPP."

"If MPAs had grievances, they also had the choice of voting for candidates other than Naseem and Tessori," he noted. "Horse-trading cannot be ruled out in this."

Sattar revealed that Senator Khushbakht Shujaat had been informed in January that the PPP was reaching out to MQM-P lawmakers over the Senate elections.

When asked about the course of action the party planned on taking after the loss, both factions were on the same page. A committee, headed by Kunwar Naveed, has been formed to investigate. At least six parliamentarians have been sent show-cause notices, while another 16 are under investigation - eight in each faction. "They will be thrown out of the party if found guilty of horse-trading," echoed Haq and Abidi.

"Eight out of 20 who were to vote for Tessori swore by Farooq Bhai but rebelled when the time came," Haq added.

Despite the loss, Abidi was certain MQM-P will hold on to its power and it will be deciding vote for Senate chairmanship as well.
Haq also insisted that the party was temporarily in disarray. "We will work under one party name, symbol and flag," he said. "We hope Farooq Bhai will realise his short-comings and visit Bahadurabad to chair RC meetings."

Reflecting on his tenure as MQM-P chief, Sattar said he did not want to be a powerless head of the party. He stressed that even in a democratic process, the party chief should have executive powers. He added that achieving a two-thirds majority to make decisions was delaying matters including administrative problems such as forming a committee. "I am not seeking authoritarian powers but I feel that in a few matters, I should have veto powers," he said. "I am not a dictator by nature."

"Let me make mistakes," pleaded Sattar. "If I realise that I am making more mistakes than right decisions, it will expose me."

Regardless of how the party deals with the crisis, the Senate elections all but confirmed MQM-P's sidelining in the national politics. Often peddled as a party that can make or break a government has immolated itself into irrelevance.

The establishment's dream for Karachi is now a reality.

Rigorous campaign that began against MQM in the 1990s had reached its conclusion: the party has been dismantled leaving Karachi an open field for rival parties.

Keeping in view that the city of lights has always voted anti establishment, it is very unlikely Pakistan Tehreek-i-Insaf (PTI) and PSP can convince voters. On the other hand, the continuous incompetence of Sindh government diminishes PPP's chances of winning over Karachiites.

The Pakistan Muslim League – Nawaz (PML-N), however, has a fair chance to sway support from the Urban Sindh. Dodging attacks from all corners, the ruling party has managed to stay relevant and united - a vast contrast from the self-destructive MQM. If it figures out how to manoeuvre the vote-bank of the country's financial capital, the PML-N will be invincible.

As the country prepares for General Elections later this year, Karachi can become the battleground for power between all major parties. The city of lights is up for grabs – but is the PML-N interested?