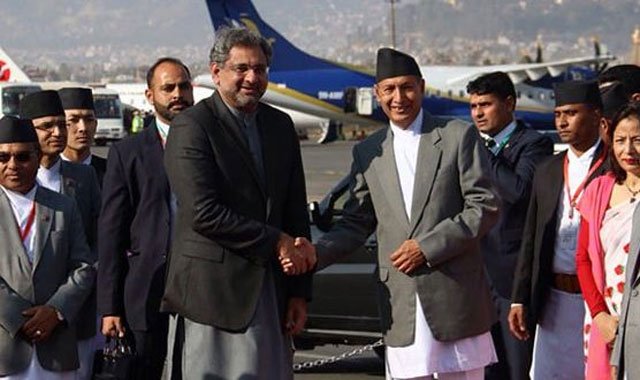 ---
ISLAMABAD: Prime Minister Shahid Khaqan Abbasi met President of Nepal Bidya Devi Bhandari at Sheetal Niwas in Kathmandu today.

During the meeting, the two leaders agreed to enhance cooperation in all areas of mutual importance including political, economic, defence and cultural fields. Further, both leaders expressed satisfaction over the cooperation of the two countries on international forum and desired to reinvigorate South Asian Association for Regional Cooperation (SAARC) as an important regional organisation.

PM Abbasi arrives in Kathmandu for two-day official visit

PM Abbasi also conveyed felicitations to the president on the successful conclusion of the democratic process and the formation of the new government in Nepal. He highlighted that these developments are important milestones in Nepal's march towards democracy, political stability and economic development. The prime minister also admired the resilience of the Nepalese people who have suffered floods and a terrible earthquake.

PM Abbasi was also called on by former Prime Minister of Nepal Pushpa Kamal Dahal Prachanda in Kathmandu.

During the meeting, the two leaders expressed satisfaction over friendly and cordial relations of the two countries and agreed to further strengthen bilateral cooperation. The former Nepalese PM also mentioned that the visit of PM Abbasi will "provide an opportunity to further expand and strengthen bilateral relations across all areas of mutual interest."

Both sides also exchanged views on progress on China Pakistan Economic Corridor (CPEC) and Nepal's participation in the One Belt-One Road (OBOR) project.

Premier Abbasi said CPEC was the significant part of OBOR and had resulted in development projects including motorways, Gwadar airport, free economic zones and energy generation.

Abbasi meets Ghani's envoys amid rising tension

The two leaders emphasised that Pak-Nepal relations were characterised by cordiality, mutual respect and commonality of interests.

The two sides agreed that the friendly ties between Pakistan and Nepal had immense potential to be further explored and strengthened.

Abbasi has left Nepal for Pakistan after the conclusion of his two days visit. The Prime Minister was seen off by Finance Minister of Nepal YubaRaj Khatiwada at  Tribhuvan International Airport Kathmandu.