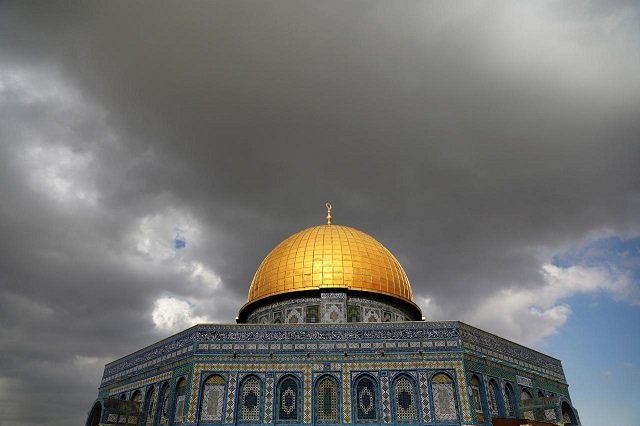 ---
WASHINGTON: Donald Trump floated a fraught trip to open the new American embassy in Jerusalem, as the US president hosted Israel's equally embattled Prime Minister Benjamin Netanyahu at the White House on Monday.

The two leaders — both under career-threatening legal investigations — tried to cast their domestic problems aside, putting on a show of bonhomie and mutual appreciation in sunny Washington.

In the Oval Office, Netanyahu waxed lyrical, painting Trump as the heir to a pantheon of historical figures, and hailed the president's "bold" decision to move the US embassy from Tel Aviv to the disputed city of Jerusalem.

Netanyahu likened the US leader to the ancient Persian king Cyrus the Great, who freed the Jews from captivity in Babylon; to Lord Balfour, who a century ago affirmed the rights of the Jewish people in Palestine; and president Harry Truman, who recognized the Jewish state.

"I want to thank you for your extraordinary friendship," said the Israeli premier.

The 71-year-old president responded with some lyrical waxing of his own, saying he would consider a trip to open the controversial embassy this May, when Israel celebrates 70 years since its declaration of independence.

"We're looking at coming. If I can, I will," Trump said. "I may. We will be talking about that and other things.

Islamic leaders urge East Jerusalem recognition as 'Palestine's capital'

"Israel is very special to me. Special country, special people, and I look forward to being there, and I'm very proud of that decision," he added.

The trip would be political catnip for Trump and Netanyahu, appealing to supporters who see good US-Israel ties as a strategic and even religious imperative.

But the trip would also be a major security and diplomatic challenge, one that risks further infuriating Arab allies and scuttling US claims to be an independent broker for peace.

Both Israel and the Palestinians claim Jerusalem as their capital.

The embassy move prompted deadly protests and 128 states condemned it in a United Nations General Assembly vote in December. Only seven smaller countries aligned themselves with the United States and Israel.

Nikky Haley, the US envoy to the UN, got sustained applause at the annual conference of the influential American Israel Public Affairs Committee (AIPAC) lobby group, when she announced she would attend the inauguration.

"At the UN and throughout the UN agencies, Israel does get bullied," she said, vowing to end such treatment.

The Jerusalem decision has complicated Trump's already ambitious promise to reach the "ultimate deal" between Israelis and Palestinians.

US peace proposals are said to be close to conclusion, but have suffered amid Palestinian anger and as Jared Kushner, the president's son-in-law and pointman for peace, lost his top-secret security clearance.

'Victory for Palestine': UN votes 128-9 to reject US decision on Jerusalem

Despite Trump and Netanyahu's warmth, their domestic problems were never far away from the surface.

Hours before Netanyahu arrived at 1600 Pennsylvania Avenue, it was confirmed that an ex-aide agreed to become a state witness in a corruption probe that has imperiled his premiership.

The Israeli leader has embraced the Trumpian tactic of denouncing corruption allegations as "fake news," the same term Trump has used to describe his campaign team's alleged collusion with Russia during the 2016 US elections.

Several of Trump's campaign aides are already facing charges or have pled guilty to lying to FBI investigators.

"I think they are partners in ideology, and the ideology is a populist, conservative ideology which says that the old liberal elites are against us," said Gayil Talshir, a political scientist at Jerusalem's Hebrew University.

As with his Oval Office meeting, Netanyahu during an appearance at AIPAC on Tuesday was expected to focus mainly on Iran as Israel's greatest enemy, and one he says seeks a permanent military presence in neighboring Syria.

The prime minister is also expected to call again for changes to, or the cancellation of, the nuclear accord between world powers and Iran, said Zalman Shoval, a former Israeli ambassador to Washington.

"Iran has not given up its nuclear ambitions. It came out of this nuclear deal emboldened, enriched," Netanyahu said at the White House.

At AIPAC, Vice President Mike Pence noted that Washington has vowed to pull out of the nuclear deal if European countries can't come up with an accord to make it tougher.

"The United States of America will never allow Iran to acquire nuclear weapons," he added.

Calling Trump "the most pro-Israel president in American history," Pence added: "I stand before you today on his behalf to convey a simple message: America stands with Israel today tomorrow and always."
COMMENTS
Comments are moderated and generally will be posted if they are on-topic and not abusive.
For more information, please see our Comments FAQ