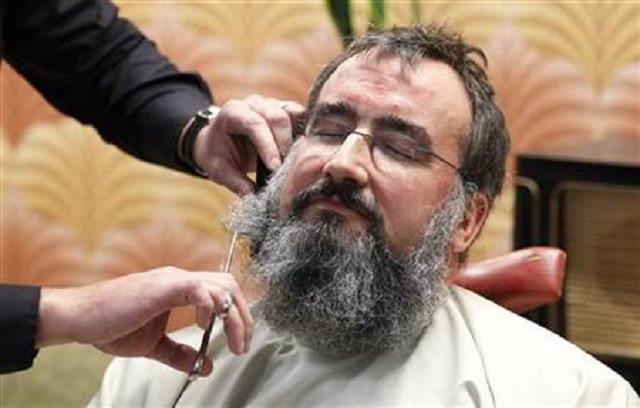 ---
PESHAWAR: Following a similar ban in other parts of the province, a barbers' association in Peshawar has imposed a ban on 'fashionable beards' citing religious and cultural values.

"Keeping and creation of fashionable beards are against Islam and our culture, we will strongly oppose it," claimed members of the Sulmani Frontiers Provincial Hairdressers and Beauticians Association who had gathered outside the Peshawar Press Club on Monday to inform the public about their decision.

A similar notice had recently been posted at barber shops in Peshawar over the past week.

"Clean shave is also not approved under Islamic teachings, however, we will not oppose it," said Muhammad Adil, the general secretary of the association while speaking to The Express Tribune on Monday.

"But as far as stylish beards are concerned, it crosses all the limits and should be banned."

Adil said that they had taken the decision to ban 'fashionable beards' after meetings at the district and division levels of the province.

He explained that the main reasoning behind the ban was that as Muslims, they cannot adopt fashionable beards since they were a western culture and has nothing to do with indigenous culture or the religion they followed. He also dismissed the suggestion that this was a sudden decision, explaining that for a long time most of their members had been disproving of it, adding that there should be a proper ban on 'stylish beards' to discourage the youth from adopting it.

"Our barber members throughout the Khyber-Pakhtunkhwa are happy and satisfied with this decision," Adil said satisfactorily. "They have decided that they will strongly act on it and will not make stylish beard in future."

Another group of barbers in a news conference last week had said that this decision was being imposed on them and had vowed to oppose it, noting that it was choice of an individual [customer] to do what they want with their beard.

However, the Sulimani association dispelled the notion that they were imposing their decision on others.

"Even Punjab Chief Minister Shahbaz Sharif dislikes such beards," Adil claimed, adding that the Swabi deputy commissioner had issued a similar notification. 

Published in The Express Tribune, March 6th, 2018.
COMMENTS
Comments are moderated and generally will be posted if they are on-topic and not abusive.
For more information, please see our Comments FAQ