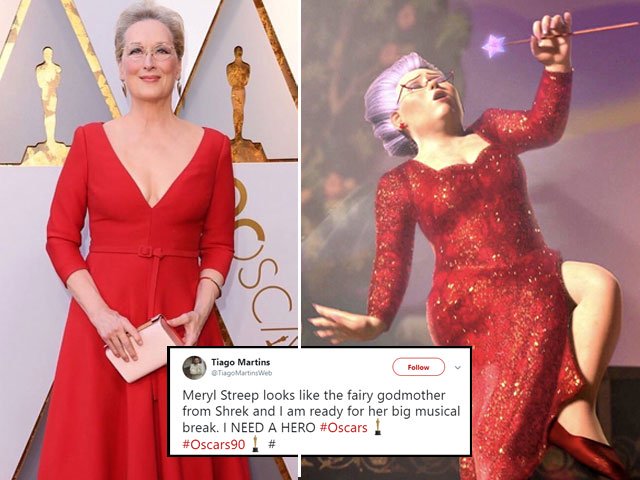 ---
Apart from the actual winners themselves, the hilarious memes that emerge out of awards ceremonies are the best part of the night.

Sunday's Academy Awards proved to be no exception, as witty social media trolls hopped online within seconds of the show start to create memes that will leave you laughing all year long.

Jennifer Lawrence steals the limelight at the Oscars yet again

After a night of memorable performances, surprise wins, and amazingly hilarious celebrity reaction shots, it's no surprise that the memes from the Oscars are on point.

Here are a few that are well on their way to becoming all-time classics.

Paying Meryl Streep respect the right way!


Tiffany Haddish just jumped in front of Meryl Streep on the #Oscars carpet and curtsied pic.twitter.com/uqGTqRGW1b

— Mia Galuppo (@miagaluppo) March 5, 2018


The Academy is not messing around with their envelopes this year.


Warren Beatty: And the Oscar goes to...The Shape of Water
Me: Are you sure?
*Del Toro checks envelope*
Me: Okay #Oscars

— The Marksman on Demon Time (@Markieace_) March 5, 2018


Jennifer Lawrence climbing over a chair and not falling down garnered massive applaud!


Jennifer Lawrence climbing over seats in that dress without spilling a drop of wine deserves an Oscar, tbh pic.twitter.com/R8v6u6QSio

— UPROXX (@UPROXX) March 5, 2018


Meryl Streep dressed as Fairy Godmother was our fairy tale come true!

https://twitter.com/TiagoMartinsWeb/status/970466907311796225

When fans didn't agree with the winners honoured with the prestigious awards:


Happy #Oscars Day to everyone except those who think Gary Oldman deserves to win Best Actor over Timothée Chalamet or Daniel Kaluuya. pic.twitter.com/8KIaO3ULcy

— Richie, you're on mute... (@RichieOnTV) March 4, 2018
This Is Me didn't win Best Song at the Oscars? How?!? It was literally the only true competitor for that. #oscars

— Sean The Mondasian Psychic (@WhoPotterVian) March 5, 2018
I wished that The Shape Of Water had a La La Land moment today! 🙄😒#Oscars #Oscars2018 #TheShapeofWater #Oscar90

— Ankit Acharya (@chaisenbergg) March 5, 2018
Must have been a slow year in animation. #Oscars pic.twitter.com/itCTqcAcLm

— Reno (@RenoNY) March 5, 2018


Last, but definitely not the least, we give a thumbs up for not repeating last year's snafu!


Caption anyone? #Oscars pic.twitter.com/C1IPLVw9M9

— جوزفين (@JosphineMamdouh) March 5, 2018
Have something to add to the story? Share it in the comments below.