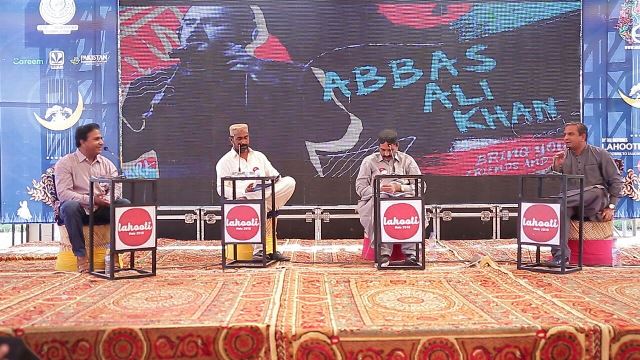 ---
HYDERABAD: Expressing love for the land, speaking against oppression and raising a voice for their rights are the most well known characteristics of the poets of Sindh.

The session, 'Poetry of the Troubled Land' at the Lahooti Melo 2018 held on Sunday at the Hyderabad Club, discussed in detail the nature of Sindhi poetry and how has it emerged over the years.

On the second day of the festival, the hall could be seen filled with people from across the country who had gathered to explore Sindhi art and literature.

From Shah Abdul Latif Bhitai to contemporary poets, Sindhi poets have always used the forums of art and literature to express ideas which many are scared to speak about. This was the gist of the discussion.

As the panelists spoke, one common factor observed amongst all of them was love for the land of Sindh. "Sindhi poetry is incomplete without the mention of love for the land of Sindh," the moderator, Institute of Sindhology Director Ishaq Samejo said.




Poet Mahar Dribai saw the land of Sindh as an entire nation and not only as a region. Partition divided the territories but could not divide the people, said a poet from Thar, Khalil Kumbhar. "In the past, Sindhi poetry was sung in both mosques and temples alike," he said.

Reciting a poem he had written on the festival of Holi, the Hindu festival of colours, Indus Cultural Forum Chairperson Niaz Nadeem gave a message of how the land of Sindh was not limited to certain religions or ideologies but was rather full of diversity.

Through his poetry, poet Kumbhar also reflected upon the resistance nature of Sindhi poetry. Applause filled the hall as his poetry recitation came to an end.

"Resistance is in the blood of Sindhi people," Dribai said. According to the poet, the people of Sindh have been fighting for their rights for years and hence, their struggle continues.

Painting a picture of the present situation, he recited poetry he had written about how the treasures of Sindh are being exploited by those in power.

Hyderabad welcomes back Lahooti Melo with open arms

Agreeing with Dribai, Nadeem said, "Romanticising resistance is the identity of Sindhi poetry". He said resistance and romance goes hand in hand in Sindhi poetry.

Explaining the idea of resistance in poetry, Nadeem said it was the way of challenging power, tyranny, suppression of voices and the violation of rights. He said it is the power to challenge the imposition of one specific narrative as well as a struggle to promote diversity.

Discussing the poetry of the troubled land, the session reflected upon diversity in Sindhi literature, the way this medium was used for attracting the attention of people and rulers towards key issues and how it helped in being a voice of the masses.
COMMENTS
Comments are moderated and generally will be posted if they are on-topic and not abusive.
For more information, please see our Comments FAQ