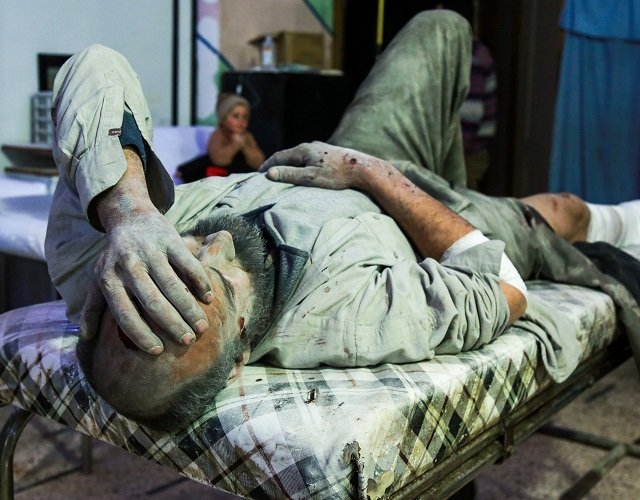 ---
DAMASCUS: The United Nations said it plans to deliver much-needed humanitarian assistance on Monday to Syrians besieged in the rebel-held enclave of Eastern Ghouta near Damascus.

A convoy that would enter the enclave would consist of "46 truckloads of health and nutrition supplies, along with food for 27,500 people in need", the UN Office for the Coordination of Humanitarian Affairs, or OCHA, said on Sunday in a statement.

Eastern Ghouta's 400,000 residents have lived under regime siege since 2013, facing severe shortages in food and medicine.

Ali al-Zaatari, the UN's humanitarian coordinator in Syria who will be leading Monday's operation, said: "We hope that the convoy may proceed as planned and will be followed by other convoys."

"Our teams on the ground are ready to do all that is needed to make this happen," Zaatari added.

Russia-backed regime forces have since February 18 killed more than 640 civilians -- including over 150 children -- in a ferocious bombardment of Eastern Ghouta, one of the armed opposition's last strongholds in the country.

UN officials voice frustration over lack of cease-fire in Syria

Fighting on the ground has intensified, with government forces reportedly advancing on several fronts since Thursday and are said to have recaptured two areas in the east and southeast of the enclave.

The clashes between regime forces and rebels come after Russia on Tuesday started a daily five-hour "humanitarian pause".

OCHA said the aid would be taken in to Eastern Ghouta by the UN and its partners, after they "received approval to deliver assistance for 70,000 people in need in the besieged enclave".

"The UN has received assurances that the remaining supplies for all approved people in need will be delivered on 8 March 2018," the statement added.

"The United Nations calls on all parties to facilitate unconditional, unimpeded, and sustained access to all people in need throughout the country," it added.

The only UN delivery of assistance to Eastern Ghouta this year took place on February 14 when a convoy with assistance for 7,200 people reached Al-Nashabiyeh.
COMMENTS
Comments are moderated and generally will be posted if they are on-topic and not abusive.
For more information, please see our Comments FAQ