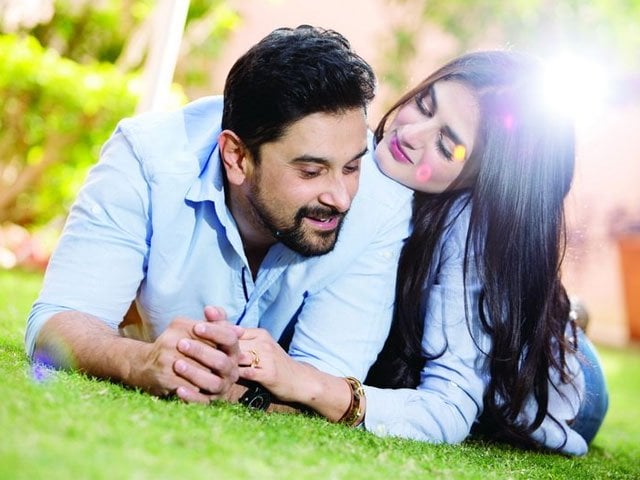 ---
DUBAI: Hira Mani is a versatile actor, host and singer. She made her debut as a hostess on a television show alongside her husband Mani (Salman Sheikh) but later went on to act in dramas as a lead heroine - namely Preet Na Kariyo Koi (opposite Ahsan Khan), Sun Yaara (opposite Junaid Khan) and recently was seen in the hit drama serial, Yaqeen Ka Safar with Sajal Ali, Ahad Raza Mir and Shaz Khan.

The Express Tribune talked to Hira about her ambitions, being pegged as 'Mani ki biwi' and her upcoming singing solo.

ET: Did you always want to be an actor?

HM: I never wanted to be an actor. I was sort of a heroine in my own head. I grew up just wanting to find that real-life-hero, and I somehow thought that would never happen because everyone around me was having affairs and of course, also breakups! I wanted the life that women lead in movies: girl meets guy and falls in love and gets married and have a home. I think it's probably because I grew up on so much Bollywood.




I used to watch films like Main Ne Pyaar Kia; I used to love listening to the very filmy songs. I wasn't ever this passionate about acting and for that reason, never went to auditions. I started getting offers after I got married. If I did want to pursue acting, I wouldn't have gotten married or have had kids.

ET: What about singing?

HM: Yes. I did audition a lot for singing. Yeah, that was one thing I always wanted to do: be a singer. I used to put a bucket in front of my face and sing into it in the bathroom.

I remember once Nayyara Noor gave me a present in an academic function when I sang one of her songs (Watan Ki Mitti). If there was a family wedding, I'd sing and dance. I was an average student, not very ambitious but yeah, loved singing.

ET: It's a very clichéd question that women are often asked when they are balancing career and family – so tell us how do you do it?

HM: I try not to ignore the kids and my work (laughs). Drama is something that drains you so I often fondly think of the time when I was a host. I guess I decided very late in life to be an actor. Momina Bhabhi offered me a script about seven or eight years ago and I rejected it then because Muzammil was very young.




I used to think the whole acting thing was very time-consuming. Mani launched me in a very clever way; he launched me as a host first, and then prepared me to be onscreen this way. He guided me a lot. When Ibrahim grew up a little, Mani said you should work in dramas, he believed a lot in me.

Mani supports me so much that I can't do anything without him. And if he ever stops me from anything, I have my own mind; I'm not just saying that to make a 'statement' but when we disagree, we disagree. But he has been a tremendous support to me.

ET: How do you feel when they always refer to you as 'Mani's wife'?

HM: I feel it's because audiences don't accept me as me and hence, they're comfortable labelling me as 'Mani's wife'. I started interviewing people from Imran Khan to Humayun Saeed and Aamir Liaquat on live shows. My husband became what he became because of his originality. He wasn't a burger kid, he wasn't a fair-skinned hero – he was Mani. And he got ahead based on pure talent. I was never afraid going into showbiz because I always saw him being fearless; he inspires me.




However, some are still unsure of my ability to be good at what I do, so they often cut me down in other ways. One of them is calling me 'Mani's wife'. This makes people easily stereotype me – 'hey we can't invite her to award shows, we can't give her these or these gigs because she's a wife with kids who's just sitting at home'. That's the kind of mindset we live around. So I've just started taking pride in this label. I'm content with it.

ET: What are your upcoming projects?

HM: I'm about to do another drama with Junaid Khan. After Sun Yaara people really wanted us to do another drama together. We got offered a really good script from Imran Nazir.

I'm also working on another drama which has a very dark subject. I've also sung a song which will be released soon. I'll also be releasing a single very soon.

ET: What about films? What is your opinion on the kind of films we're making?

HM: I think we're making films a little too quickly. There's a rat race between people. It's almost like, "You've made a film? Oh look I've made a film too." So many films were made last year and only Punjab Nahi Jaungi was good. Directors and actors are making films just to get commercials? Why? Producers' money is being ruthlessly wasted on terrible films.




We shouldn't do films just because we have to do films; we should do films with a proper thought and idea. And I won't say that I'm the kind of person who doesn't watch Bollywood or I don't find a little bit of Kareena in me. I do. I own good actors. I love good actors. Whether it is Shahnaz Sheikh or Sridevi - a good actor is a good actor and that fact should be appreciated.

ET: There are a lot of 'roti dhoti' women in our dramas. Your take?

HM: When I was a host I used to be really against women-victimising dramas. I was like why do these women do these stupid crying roles. But tell me, something, if you want to act, what are you going to do because that's all scripts are made of?

Dramas are our main medium. And these subject lines are rampant in our industry. Women are portrayed as the victims and men are evil. If you notice my role in Yaqeen Ka Safar, my husband dies in the middle of the serial. And after that, maybe people expected saas-bahu fights. But no, they illustrated this capable woman going on with her life with dignity, resuming her career and my character provides emphasis on good men, who are dignified and respectful. This is the kind of scripts we need.

ET: What is the ideal kind of film/role you'd like to do?

HM: Every scene should be natural and fun to do because all said and done, acting is more than just crying and weeping. I'm in love with my face, I'll be honest and can't even think or imagine losing it in an accident… so I'd want to do the role of an acid attack victim or a burn victim. Because I have an innate fear of a catastrophe like this happening to me, I think I could play that character from the heart.




Or the role of a mother who loses her child – that is also a role that could come from deep within me. The film I'd like to do where I can perform to the fullest. I want to sing. I want to dance. I want to act well. The list goes on.

Commercial comedy is my strength and I haven't done comedy in a while and I miss doing that. I'd love to do a comedy film like that.

Have something to add to the story? Share it in the comments below. 
COMMENTS
Comments are moderated and generally will be posted if they are on-topic and not abusive.
For more information, please see our Comments FAQ