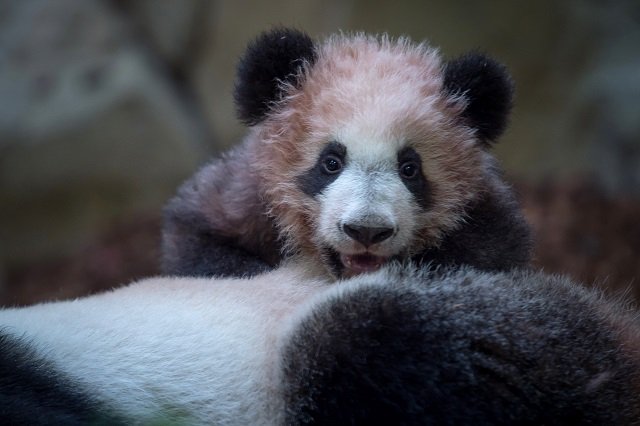 ---
AHTARI: The new home of Chinese giant pandas Huabao and Jinbaobao in central Finland officially opened to public on Saturday following a two-and-half-week trial period.

They landed in Finland from China in January this year, and spent one month in quarantine. "Now they have adapted perfectly well," said Jukka Salo, a zoologist working with the Ahtari Zoo, some 300 kilometers north of Helsinki.

Salo said the pair were completely ready to meet the public. During the experimental days, they were curious about people, and did not react in bad way to the appearance of people. "They are truly ambassadors of China," added Salo.

France's first panda cub makes debut appearance

Finnish Prime Minister Juha Sipila was among the hundred guests taking part in the official opening ceremony at the zoo on Saturday.

Talking to the press, Sipila said the arrival of the pandas was "a great thing" for Finland, and it was the result of the bilateral trust.

He said the cooperation on the research of giant pandas was important for Finland and he expected "a lot from this cooperation."

Chinese Ambassador to Finland Chen Li said the pandas were not only the ambassadors for friendship, but opened the channel for other kinds of cooperation as well.

Giant panda artificially inseminated in Taipei zoo

"Finland hopes the arrival of pandas will bring more opportunities for local economy, the construction of infrastructure as well as a boom in tourism," Chen told Xinhua.

Expecting "the panda economy" to come up, Chen said the better mutual understanding and stronger friendship, the more willing to explore new chances between the two nations.

At the opening ceremony on Saturday, Yang Chao, director of the State Forestry Administration of China (SFA), handed over the pandas' genealogy report to Finnish Minister of Agriculture and Forestry Jari Leppa and Permanent Secretary Jaana Husu-Kallio.

An agreement on implementation of the scientific research plan was signed. Mayors of the city of Dujiangyan and the city of Ahtari also signed a memorandum of understanding for cooperation.
COMMENTS
Comments are moderated and generally will be posted if they are on-topic and not abusive.
For more information, please see our Comments FAQ