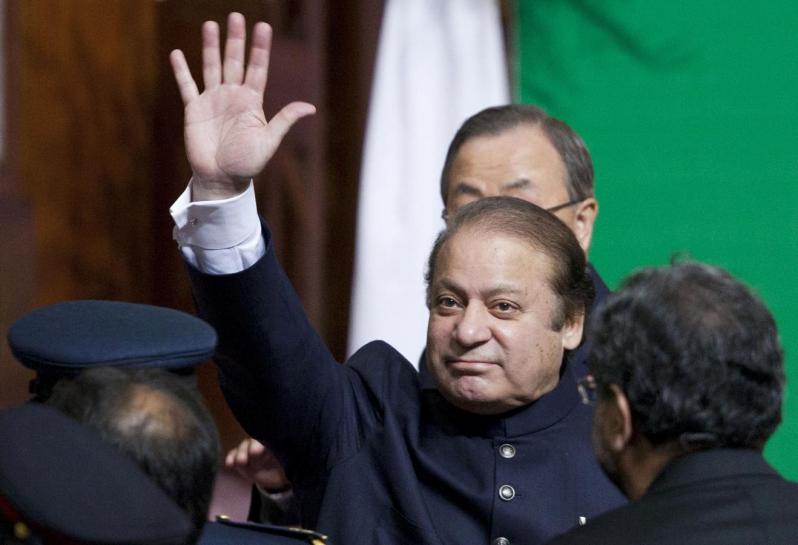 ---
ALL STATIONS: Amid allegations of horse-trading, the Senate elections for half of its seats on Saturday concluded with the ruling Pakistan Muslim League-Nawaz (PML-N) – whose candidates had to contest the polls as independents after the Supreme Court's Feb 21 order – taking the lead with a total of 15 seats.

The second largest party in the National Assembly, the Pakistan People Party (PPP), however, exceeded expectations particularly in the Khyber Pakhtunkhwa (K-P) and Sindh by securing a total of 12 seats.

The Pakistan Tehreek-e-Insaf (PTI), which managed to win six seats, had to face disappointment in K-P where it got one seat less than its expectations, with the PML-N and the PPP both performing better than their total votes.

For PML-N, Shehbaz is the obvious choice

The PML-N faced a similar disappointment in Punjab with one of its seats mysteriously going to the PTI's Chaudhry Sarwar, against all expectations. In Balochistan, where the PML-N government was recently toppled, the most number of seats (6) were bagged by a group of independent candidates backed by the dissident PML-N lawmakers.

The Muttahida Qaumi Movement (MQM-P), practically divided into two factions over the award of Senate ticket to Kamran Tessori, received a major setback with only one of its candidate reaching the Senate despite a 'patch-up' between the rival factions just a day earlier.

The Senate elections for the four provinces were held in their provincial assemblies, while the balloting for the two federal capital and four Federally Administered Tribal Areas (Fata) seats was held in the Parliament House amid tight security.

PPP manoeuvres draw PML-N, PTI ire

PML-N sweeps Punjab
Despite making all efforts to clean-sweep Senate elections in Punjab, the PML-N could grab 11 seats of a total of 12. The rival PTI succeeded in clinching one seat – a fact that shows that a number of PML-N MPAs also voted for Chaundry Sarwar, who got 44 votes.
On seven general seats, PML-N candidates Dr Asif Kirmani won by securing 42 votes, Rana Mehmood-ul Hassan 42 votes, Rana Maqbool Ahmed 43 votes, Shaheen Khalid Butt 41 votes, Musadik Masood Malik 42 votes and Haroon Khan 42 votes. One PML-N candidate Zubair Gull lost the general seat managing 38 votes.

PPP's Shehzad Ali Khan lost the general seat by securing 26 votes despite the fact that the PPP has only eight legislators in Punjab Assembly. PML-Q's candidate Kamil Ali Agha secured only 7 votes. Jamaat-e-Islami legislator Dr Waseem Akhtar cast vote in favour of the PTI on first priority and the PML-Q on second. PML-Q voters cast vote to Agha on first priority and PTI on second.

On two seats for technocrats, PML-N's Hafiz Abdul Karim won by securing 160 votes while former finance minister Ishaq Dar won with 155 votes. PTI candidate Malik Muhammad Asif Javed lost this seat securing 34 votes while PPP's Muhammad Nawazish Ali Pirzada lost the seat obtaining 12 votes.

PML-N eyes 25 Senate seats

On two women seats, PML-N's Sadia Abbasi won with 160 votes and Nuzhat Sadiq won by securing 152 votes. PTI's Andleeb Abbas lost this seat by securing 46 votes. On one seat for non-Muslims, PML-N's Kamran Michael won by securing 321 votes and defeated rival PTI candidate Victor Azariah who obtained 36 votes.

A source in the ruling party told The Express Tribune that more than eight female legislators did not vote for the party. The source said the party will take action against them who voted to the opposition camp.
Another source said the pattern of rejected votes was also astonishing. Eleven votes were rejected on one non-Muslims seat, 10 on two women seats, 6 on two technocrat seats while only 3 on general seats.

PPP rules in Sindh

In Sindh, the PPP swept the election by getting 10 seats out of the total 12. On seven general seats, five PPP candidates – Raza Rabbani, Maula Bux Chandio, Mustafa Nawaz Khokhar, Mohammad Ali Shah Jamot and Imamuddin Shauqeen – stood victorious. Rest of the two general seats went to PML-F's Muzaffar Hussain Shah and MQM-P's Farogh Naseem.
There were two women seats and both were bagged by PPP's Quratulain Marri and Krishna Kolhi – the latter being the first woman from scheduled caste to become a senator.
The only minority seat was also secured by PPP's Anwar Lal Din. The party also won the two technocrat seats on which Dr Sikandar Mandhro and Rukhsana Zuberi got elected.

PML-N's Pindi lions finally roar

Sindh Assembly comprises 186 votes, but only 161 votes were cast on Saturday. Two seats were vacant following the death of Mir Hazar Khan Bijarani and Sardar Ahmed Ali Pitafi while five MPAs, including Adil Siddiqui of the MQM-P and Owais Muzaffar of the PPP, were abroad.

It surprised many when the PML-F, which has only seven MPAs, won a seat by getting 23 votes with the help of three PTI, five PML-N and eight former members of the MQM-P who have now jointed the Pak Sarzameen Party (PSP).

The MQM-P members protested when those eight MPAs arrived in assembly to cast their votes. Those MPAs had tendered their resignations after joining the PSP but their resignations had not been accepted.

The MQM-P has a total of 37 MPAs in the house. However, after the division of the party into two factions, Dr Farough Naseem could secure his seat by getting only 19 votes.

Horse trading: Imran reiterates call for direct Senate elections

There are reports that around 10 MPAs of MQM-P also supported PPP candidates. "Today, 10 MPAs of the party arrived in the assembly in the PPP ministers' vehicles," Dr Farooq Sattar said while blaming the PPP for horse-trading.

A day before the Senate election, two MQM MPAs – Heer Ismail Soho and Naila Muneer – were found in the Chief Minister House during a PPP parliamentary party meeting for Senate elections.

There are reports that both female MPAs had supported the PPP candidates and are likely to join the party in next few days.

Strict security measures were in place with heavy contingents of Rangers and police deployed within and outside the Sindh Assembly. Use of cell phone was also banned in the house.

Around 800 ballot papers had been published for all categories. Provincial election commissioner Mohammad Yousaf Khattak was the presiding officer and seven senior most officers of the ECP were working as polling officers.

ECP issues guidelines as preparations for upcoming Senate elections conclude

PTI dominates in K-P
Although the ruling PTI won five seats, it lost a seat in the general category which it was expecting to win – a fact that spoiled its taste of victory. As expected, the JI and the Jamiat Ulema-e-Islam-Fazl (JUI-F) managed one seat each in the general category.

However, the PPP and the PML-N won two seats each. This was an unexpected outcome and the PTI leaders accused the PPP of horse-trading. The PPP has a total 7 votes in the assembly. The Awami National Party and the Qaumi Watan Party failed to get their candidates elected.

The PTI secured the seats of Azam Khan Swat in the technocrats' category and Dr Mehar Taj Roghani in the women category. Faisal Javed Khan, Ayub Khan and Fida Muhammad stood victorious on three general seats. The PTI was expecting Khial Zaman to secure the fourth general seat but he lost.

PPP's Rubina Khalid won the women's seat and Behramand Tangi got elected in general category. The PML-N-supported Pir Sabir Shah got elected on a general seat and Dilawar Khan on one for technocrats. JUI-F's Talha Mehmoood and JI's Mushtaq Ahmed Khan were elected on general seats.

Senate elections to be held on March 3: ECP

The PTI with 61 seats could only see Faisal Javed Khan elected in the first count in the general category. Faisal Javed Khan got 18 votes in first priority while Ayub Khan and Fida Muhammad got elected after a very tough competition in the 7th count with few points, which means the PTI voters got deflected.

The PTI was also eying to get JUI-S chief Maulana Samiul Haq elect. Haq was in the run as independent candidate on a seat for technocrats.

A total of 13 candidates were in the run for general seats, seven for women seats and five for technocrats seats. A total of 122 votes were registered and polled. The name of PTI member-elect Baldev Kumar was not present on the voter list, thus he was not brought for casting his vote.

Upset in Balochistan

The dissident group that revolted against the PML-N government in Balochistan emerged as the majority group in the Senate election on Saturday, by winning six of the 11 seats.

The alliance of Pashtoonkhawa Milli Awami Party (PkMAP) and the National Party (NP) could win four seats, while the JUI-F, which had played an important role in ousting the PML-N-led government, managed only one seat.

ECP all set to hold Senate elections in March

According to unofficial results, Ahmed Khan Khilji, Anwar-ul-Haq Kakar, Mir Sadiq Sanjrani, Khuda Babar (all independents), Khuda Muhammad Akram Dashti (National Party), Sardar Shafiq Tareen (PkMAP) and Maulvi Faiz Muhammad (JUI-F) were elected on seven general seats.

On technocrat seats, Mir Tahir Bizenjo (National Party) and Nasibullah Bazai (Independent) were elected. On women seats, Abida Omer Dotani (PkMAP) and Sana Jamali (Independent) were elected.

Earlier, the pro-government dissident group had claimed to win at least nine seats out of 11 in all the three categories. The National Party and the PkMAP alliance was expecting five while the JUI-F was hopeful for two, including one technocrat seat.

The Balochistan National Party-Mengal (BNP-M) which was part of the PML-N dissidents in removing the coalition government could not succeed in getting its candidate elected.

No Senate elections in K-P until Baldev Kumar takes oath, PHC observes

In the 2015 Senate elections, BNP-M President Sardar Akhtar Mengal had played his cards very intelligently and managed to get Dr Jahanzeb Jamaldini elect despite having only two votes.

According to results, JUI-F's Maulvi Faizullah narrowly escaped defeat in the election as he was given five votes in the first preference while the JUI-F has eight members in the Balochistan Assembly.

However, he got the required points in the second count when some other members gave him second preference which helped in his success. The returning officer in the first count declared Yousaf Kakar of the PkMAP winner but later in recounting he lost the election and Shafiq Tareen of the PkMAP won the seat.

Mir Tahir Bizenjo, a joint candidate of the NP and the PkMAP, got the highest votes, 28, on technocrat seat. Nasibullah Bazai who had joined hand with PML-N dissidents was also elected on technocrat seat.
Mir Afzal Mandokhel, the PML-N's only candidate who was in the run as independent, could not get the required number of votes. The polling started in the Balochistan Assembly Hall at 9am, but the first vote was polled by Sardar Aslam Bizenjo after 11am.

LHC dismisses petition seeking to disbar Ishaq Dar from Senate elections

PML-N victorious in Islamabad

As expected, independent candidates backed by the PML-N for the two federal capital seats, emerged victorious. Asad Ali Khan Junejo bagged the general seat while Mushahid Hussain Syed got elected on the technocrat seat.

For the general seat, Junejo bagged 214 votes while Syed secured 223 votes, according to unofficial results. For the general seat, PPP's Raja Imran Ashraf bagged 45 votes while PTI's Kanwal Shauzab secured 32 votes. For Islamabad's technocrat seat's PPP's Raja Muhammad Shakil Abbasi bagged 64 votes.

For the general seat, a total of nine votes were 'rejected' while 13 were rejected for the technocrat seat. The votes which were declared rejected also include those which were cast 'blank'.

Elections for the two seats of the Senate were held in the Parliament House in which a total of 300 MNAs cast their votes. In a house of 342 members, a total of 340 MNAs were eligible to cast their votes.
PML-N's Kulsoom Nawaz has not taken oath as MNA yet, while election for a National Assembly seat for Fata has not taken place.
PTI Chairman Imran Khan maintained the tradition of not coming to the Parliament House for voting.

MQM-P leader Farooq Sattar and Awami Muslim League head Sheikh Rashid were also among the ones who did not cast their vote in Saturday's elections.

PML-N Senate nominees to contest as independent candidates: ECP

Independents rule Fata

From Fata, independent candidates – Hidayatullah, Hilalur Rehman, Shamim Afridi and Mirza Afridi – were elected as senators. All these candidates secured seven votes each.

Two MNAs from the ruling PML-N, Ghalib Wazir and Shahabuddin, while PTI's Qaisar Jamal and Nasir Khattak did not exercise their right to vote.

A total of 24 candidates contested the election, out of which only four contested election on the PPP ticket. All the PPP candidates, including Jangriz Khan, Syed Akhonzada Chitan, Shahban Ali and Farhad Shabab, failed to bag any vote.

Independent candidates Pir Muhammad Aqal Shah and Syed Ghazi Ghazan Jamal secured one vote each. A total of 30 votes were cast for Fata and all were declared valid.