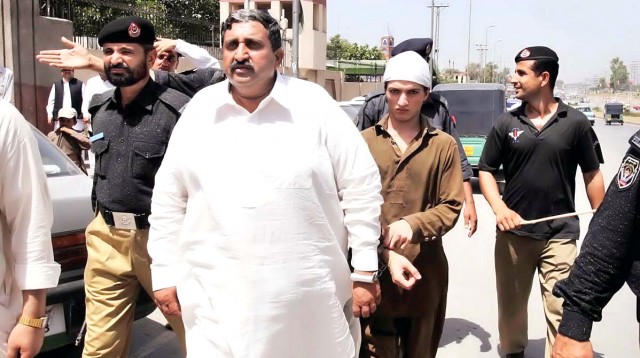 ---
PESHAWAR: A furious eunuch at the centre of a scandal in Peshawar told a court on Wednesday that police allegations claiming the teenager married a middle- aged businessman were a "conspiracy".

Kashif, alias Rani, and 50- year old fertiliser dealer Malik Iqbal were remanded in judicial custody for a further two weeks as a court gave police time to build the case. "It is a conspiracy against us. I had no intention of getting married," the 19-year-old Rani told the court, bound in handcuffs to Iqbal. "A man cannot marry another man or a eunuch. The allegation against us is incorrect," Iqbal told the judge. Judicial Magistrate Syed Shaukatullah Jan remanded the pair for 15 days in Peshawar's central jail. If put on trial and found guilty of an "unnatural sexual offence," the pair could face life behind bars.

The judge also released on bail around 40 people, who were arrested as guests at the Tuesday night-party – billed as a birthday bash, but which police say was an "illegal" wedding dinner. They included 28 eunuch friends of Rani. Hundreds of people gathered outside the court on Wednesday to boo Iqbal and Rani as they walked into the building. Rani wore a colourful embroidered party outfit, with polished nails and a headscarf, while Iqbal wore white shalwar kurta. "We did not marry and we have no such intention," Rani told AFP, appearing uncomfortable. "It was my birthday and Iqbal is our fan. We invited him to attend the function. "But police did not want to see us happy and arrested us on false charges," Rani said.

Iqbal, who owns the building in the working class neighbourhood of Faqirabad where the function was held, said Rani and other eunuchs are his tenants. "I went to attend Rani's birthday but police raided the premises and booked me on false charges," he told AFP. "I have not committed any crime. Why should I feel ashamed?" He and Rani were initially remanded into police custody on Tuesday. Police insisted it was Iqbal's "Valima." "Our investigation showed they married sometime back and the wedding dinner was held on Monday," police officer Shaukat Ali said. "We have recovered Rani's bridal dress, make up and some photographs from the house," he said.

Published in the Express Tribune, May 27th, 2010.