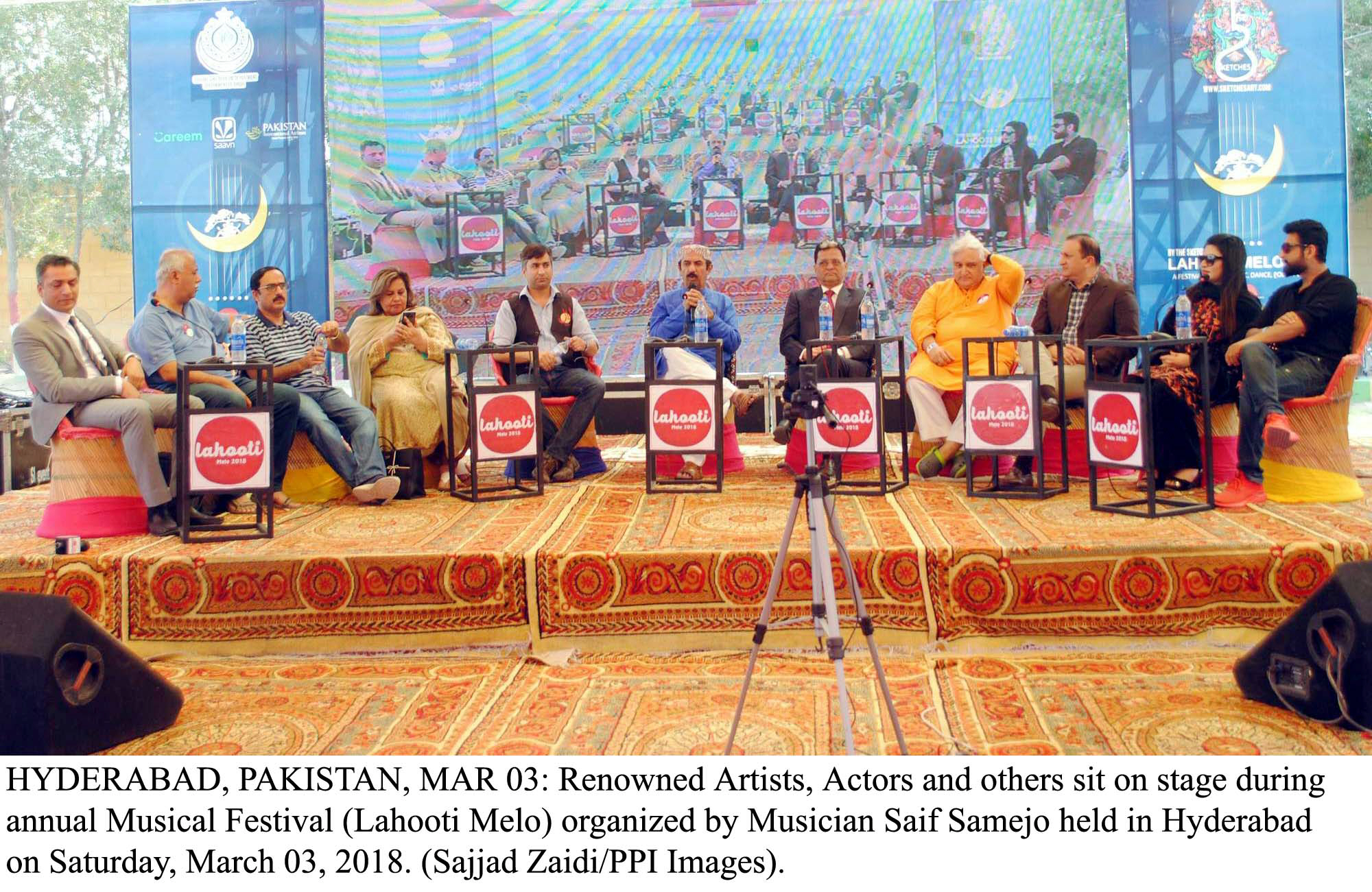 ---
HYDERABAD: Featuring a medley of music, talks about music and folk and rock musicians of both national and international fame, the third edition of the Lahooti Melo began in Hyderabad on Saturday. The two-day journey offers the audience a thrill, with an assortment of instruments, dances, songs and recitals of poetry in over half-a-dozen languages.

Around 50 artists are performing in four separate sessions divided into daytime and nighttime events on both days. The event, organised at the Hyderabad Club, has also been laced with intellectual discourse with music experts and a cross-section of society sharing their views during a dozen panel discussions.




The brains behind the festival, Saif Samejo of the band The Sketches, promised perpetual fun and a greater comprehension of music and its associated matters to the audience. He said that discussions on climate change, teaching music as part of school curriculum and sex education have been added alongside a variety of discourse on music.

Lahooti Melo: When music woke up Hyderabad

The festival is also aimed to be a launch pad, especially for the folk singers of Sindh and Balochistan who feel ignored by the music industry. They are not only given the opportunity to perform but also to interact with top singers and musicians from across the country.

Although attendance appeared to be moderate during the day, apparently due to hot weather, the club's sprawling lawn brimmed with music enthusiasts after sunset.




Inaugural session

Followed by Nepali flute player Umesh Pandit's performance, three musicians, two academicians, a dramatist, a politician, a policeman and a civil society activist started the talk on the festival's significance. "Woodstock," said musician and actor Khalid Anum to describe the growing popularity of the Lahooti Melo. "This Melo [festival] will turn into Woodstock pretty soon."

In 1969, the Woodstock music and art fair was organised on a farm in southern New York in the United States. The event is acknowledged as momentous in the history of popular music and one which paved the way for a counterculture generation.

This year's Lahooti Melo promises a lot more than just music

Taimur Rehman of Laal believed that Sindh's secular culture offered a ripe place for the growth of art and music. However, he lamented that the province's artists are often ignored by the corporations that dominate the music industry. "For them, the Lahooti Melo is a perfect place to demonstrate their knack."




Playwright Noorul Huda Shah said Sindh's culture is pluralistic and assimilated people from different races and religions. "Tasawuf, religion, art, music and dance exist in harmony here [in Sindh]. No one can break them apart."

She said Samejo personified the people of Sindh, whose centuries-old culture has bonded them with partiality for art and music.

Journalist Wusatullah Khan, who attended the festival for the third consecutive year, found the perception about a stifling environment in Pakistan vis-a-vis music and dance exaggerated. "Such a suffocating situation doesn't exist," he argued.

Activist and writer Jami Chandio said a society that does not recognise art, music and literature is unfortunate. He felt relieved that Lahooti has connected the youth with music in a society where the culture of going to libraries, reading books and engaging in other enlightening activities is slowly dying.

Lahooti Melo kick starts with a feast of folk, mainstream music

"I remember in 2011 Saif used to say that he wants to see a platform to draw youth to music and to get recognition for folk artists. Today I can see his dream being fulfilled," observed Senator Sassui Palijo, who was the province's culture minister in 2011. She said in Sindh, festivals usually take place at shrines and suggested that such events should also be organised in cities.

Hyderabad DIG Javed Alam Odho lamented that past mistakes by the countries' rulers have resulted in the menace of terrorism and events like music festivals requiring strong security deployment. "Gun-toting policemen shouldn't be here. It is my dream that when this festival is organised again, after one or two years, there will be no gun-toting policemen around and I am not invited as a security head but as a music lover," DIG Odho said.




"The team at Lahooti has created a colourful environment under the sizzling sun," observed Prof Dr Fateh Muhammad Burfat, vice-chancellor of Sindh University. "Saif has connected us with the souls of the people who lived here hundreds of years ago."

Tajdar Zaidi moderated the session while Vice-Chancellor of Liaquat University of Medical and Health Sciences Prof Dr Bikha Ram Devrajani also shared his views. The session culminated with the celebration of Holi as Devrajani coloured the faces of all panelists in pink.

Lahooti Melo appeals to your ears and mind

Two more panel discussions, on folklore finesse and bake the cake, were also held on the first day. The latter was related to the upcoming movie 'Cake' featuring Aamina Shaikh, Sanam Saeed, Adnan Malik and director Asim Abbassi. The movie includes three songs in Sindhi, which have been composed by Samejo.

Watch the video here:


COMMENTS
Comments are moderated and generally will be posted if they are on-topic and not abusive.
For more information, please see our Comments FAQ