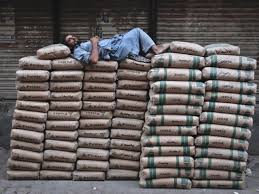 ---
LAHORE: Cement exports in February increased 18.41% compared to the corresponding month of previous year, a positive sign for an industry that has been suffering due to falling exports for quite some time, said the All Pakistan Cement Manufacturers Association (APCMA) on Friday.

Though domestic cement consumption continued to grow robustly with a rise of 9.38% in February, the pace of increase in exports was higher than the local consumption for the first time in current financial year.

Market watch: Cement sector shines as KSE-100 rises 271 points

According to the association, average monthly cement sales crossed three million tons in first eight months (Jul-Feb) of the current financial year. In two of these months, the sales even crossed four million tons.

Total cement sales in Jul-Feb 2017-18 stood at 30.106 million tons compared with 26.339 million tons in the corresponding period of previous year. This showed an increase of almost four million tons or 14.30%.

Capacity utilisation in the eight months was estimated at 91.34% of installed production capacity of the cement industry.

In February alone, cement sales were calculated at 3.781 million tons, of which demand in the north totalled 3.052 million tons whereas in the south it stood at 0.729 million tons.




Exports from north-based manufacturing units were 0.181 million tons while shipments from south-based units were 0.120 million tons.

An APCMA spokesperson, in a statement, called the cement industry one of the highest contributors to the national exchequer over the past few years as its contribution grew to Rs117 billion in 2016-17 from Rs39 billion in 2012-13.

Market watch: Oil and cement garner attention as KSE-100 gains 0.57%

In financial year 2016-17, per ton impact of duties and taxes was calculated at Rs3,082 or Rs154 per bag. "This incidence of high taxation negatively affects domestic consumption," the spokesperson said.

"At present, federal excise duty (FED) on cement is Rs1,250 per ton or Rs62.5 per bag; the government should keep its promise and gradually reduce the FED to zero in order to encourage cement demand," he said.

He believed that this would support housing and infrastructure development and create more employment opportunities in the country.

Attributing domestic consumption growth to government's policies and its thrust on mega infrastructure projects, the spokesperson emphasised that local production could increase substantially if the authorities were able to curb smuggling of cement through the Iranian border.

Published in The Express Tribune, March 3rd, 2018.

Like Business on Facebook, follow @TribuneBiz on Twitter to stay informed and join in the conversation.
COMMENTS
Comments are moderated and generally will be posted if they are on-topic and not abusive.
For more information, please see our Comments FAQ