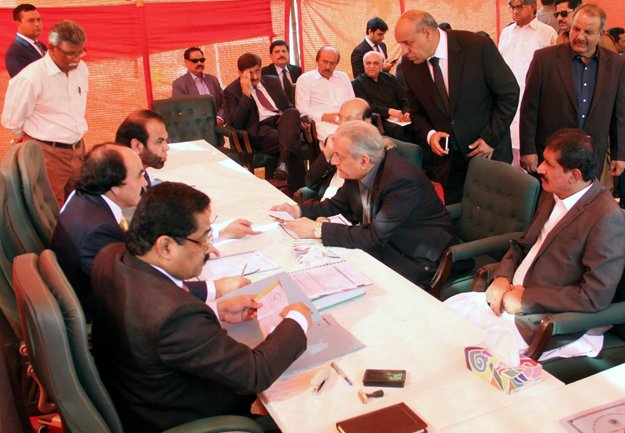 ---
Elections to the Senate are held in accordance with Article 59 of the Constitution. Each provincial assembly elects 23 members respectively. These include 14 general, four technocrat, four women and one non-Muslim seats. Four – two general, one technocrat and one woman are elected from Islamabad Capital Territory (ICT). Eight members are elected from the Federally Administered Tribal Areas (FATA).

On March 3, elections for 52 Senate seats will be organised. Separately, two seats have been lying vacant. Mushahid Hussain, elected on a Pakistan Muslim League-Quaid (PML-Q) ticket in 2012, recently tendered his resignation after switching allegiance to the Pakistan Muslim League-Nawaz (PML-N). Hussain, whose term was set to expire next month, is in the race for a new Senate seat. Saifullah Bagash, a Pakistan Peoples Party senator, died recently. His term was also expiring next month.



On March 1, independent candidate Asad Ashraf emerged victorious in by-elections on a seat vacated after the apex court convicted Nehal Hashmi of contempt of court. The PML-N-backed candidate secured 298 votes. His rival, the Pakistan Tehreek-i-Insaf's (PTI's) Zarqa Suharwardi, polled 38.

Explore the data: ECP releases final list of candidates for 2018 Senate election

Up for grabs

The Punjab and Sindh provincial assemblies will elect 12 senators. The Khyber Pakhtunkhwa (K-P) and Balochistan assemblies, 11. Elections will be held across seven general, two women and two technocrat seats. The Punjab and Sindh provincial assemblies will elect an additional non-Muslim senator.

Senate polls are held through proportional representation employing single transferable vote. Provincial assembly members (MPAs) mark votes in order of priority. Those ranking on the top get elected.

For example, to emerge victorious on a general seat, a winning candidate would require a plurality of votes arrived by dividing the number of votes in a pertinent house with the number of Senate seats in the respective category. Therefore, a winning candidate for a general seat from Balochistan would require 9.2 priority votes (65/7). Similarly, a woman senator would require 32.5 votes (65/2). Likewise, non-Muslim candidates obtaining most votes from the Punjab and Sindh Assemblies would be declared victorious.

Polls will also be held for one general and one technocrat ICT seats. Candidates obtaining a simple majority in priority votes would be elected.



National Assembly members (MNAs) from FATA elect senators to represent the region. Presently, there are 11 MNAs from FATA with another seat lying vacant. They will elect four senators next month. Every FATA MNA marks four aspirant ballot papers. Those with most ticks emerge victorious.



ECP issues guidelines as preparations for upcoming Senate elections conclude

How does one contest Senate polls

Any individual seeking election to the Senate should be no less than 30 years of age. Aspirants should be registered voters in areas where they seek to be elected from. Candidates must meet other qualifications prescribed under Article 62 of the Constitution.

An individual contesting elections from a province has to be proposed and seconded by an MPA from the region before the submission of nomination papers. ICT senators need to have their candidature endorsed by two MNAs. FATA MNAs propose and second candidates aspiring to represent the region.

Chairman and deputy chairman

After the Senate has been duly constituted, a chairman and deputy chairman are elected by the members. They serve a three-year term. In the absence of the chairman, the deputy chairman acts as the chairman.

Casual vacancy and by-elections

A casual vacancy caused by the resignation, death, incapacitation, disqualification or removal of a member is filled through election by the respective electoral college. The then elected member holds office till the remainder of their predecessor's term expires.