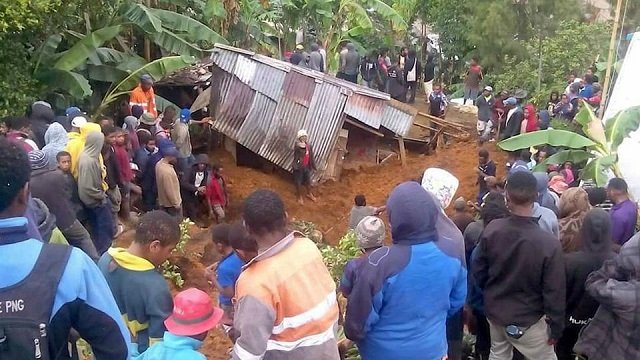 ---
SYDNEY: A state of emergency has been declared in Papua New Guinea's (PNG) remote highlands after a major earthquake shook the region in what Prime Minister Peter O'Neill said was an "unprecedented disaster" for local communities.

O'Neill said his government was working to restore services and provide aid to the affected Hela, Southern Highlands, Western and Enga provinces in the Pacific nation's mountainous interior.

More than 30 believed dead in Papua New Guinea earthquake: report

"This is an unprecedented disaster in the Highlands region and the appropriate response is underway by the national government," O'Neill said in a statement late Thursday.

"A state of emergency has been declared to expedite the restoration of essential public services including healthcare services, schools, road access, airports, power and communications facilities."

The PNG leader added that 450 million kina (US$140 million) had been allocated by the government for disaster relief.

The International Federation of Red Cross and Red Crescent Societies (IFRC) said Thursday that it was contributing a further US$221,000 to support the relief operations.

There have been multiple and conflicting reports of casualties amid severely impacted communications and poor access to the affected areas.

One administrator in Hela told PNG's The National newspaper on Friday that at least seven people had died in the 7.5-magnitude quake on Monday, which struck 90 kilometres (55 miles) south of Porgera in Enga province.

The PNG Post-Courier newspaper on Wednesday said 14 victims had been confirmed in the Southern Highlands and Hela. There has been no official toll released by the government so far.

Local media have reported that aerial surveys of the worst-hit areas showed bridges and infrastructure destroyed, along with private homes, while images revealed large cracks in the ground.

Some roads were blocked by landslides and sinkholes, while others had collapsed in places.

Koroba-Lake Kopiago district administrator Johnson Tiki, from Hela province, told the National that "80 to 90 per cent of all buildings are down".

"All district administration buildings are down, hospital down, Catholic Church down, public servants' houses down," he added.

Strong quake shakes Mexico, causing panic

Aftershocks have continued to rumble through the rugged region. The latest was a 5.9-magnitude tremor that struck about 1.00pm local time (0300 GMT) Friday.

Tiki said there was "great fear in the whole of Hela" amid the aftershocks, adding that locals were experiencing them "every 30 minutes, five minutes, two minutes".

The region is home to oil and gas production, and ExxonMobil and Australia's Oil Search said earlier this week that they had shut down their facilities after the quake to access the damage and as a precautionary measure.