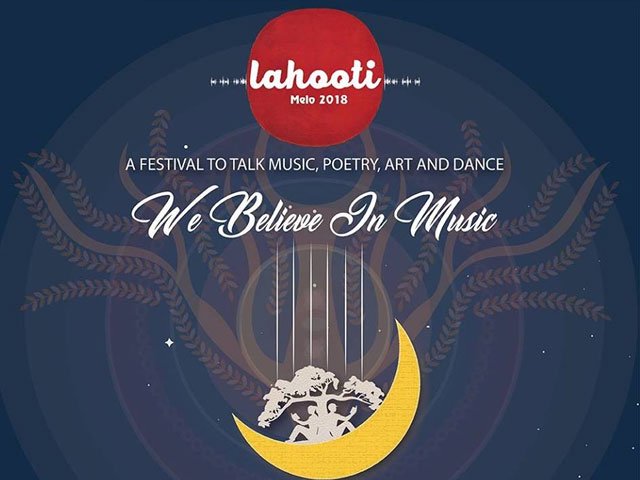 ---
KARACHI: Saif Samejo's Lahooti Melo returns for its third edition in 2018. The two-day festival, starting March 3, offers a marathon of music, poetry, dance and panel discussions around several subjects.

As to what's in store for the festival, Samejo spoke with The Express Tribune, saying, "We have a lot planned for this year. Apart from the musical performances, we have sessions about climate change with people such as Afia Salam and others talking about policies. Then there is no one talking about sex education and that causes cases like Zainab's to happen. We have one session regarding that too."


Lahooti Melo 2018 -
We are back with the 3rd edition of Lahooti Meloo 2018 on 3rd & 4th of March by THE SKETCHES! - A Festival to Talk Music, Dance, Poetry & various genres of Art in Hyderabad, Sindh, Pakistan. ''We Believe In Music''

#LahootiLiveSessions #TheSketches #LM2018 pic.twitter.com/zwWrmszcx2

— Lahooti Melo (@LahootiMelo) February 8, 2018


He continued, "Another revolves around the role of music in education. The idea is to make music part of the curriculum, not merely as an extra-curricular activity. We've gathered policy-makers to talk about it. Then we have a session about folklore. We live in stories, even religion is full of stories - right or wrong - but we believe in them. So, the session revolves around folk storytelling in our lives."

Samejo shared that one session will include poet and storyteller from New Mexico, who preserves native American indigenous stories and sounds, while another will be about poet Shah Abdul Latif Bhittai's poetry.

There are over 50 artists performing at Lahooti Melo 2018 such as Aaroh, Samejo's very own The Sketches, Somewhat Super, Lyari Underground, Akbar Khameeso Khan and Suhaee Abro -  a dance performance - being a part of it.


Session: Bake The Cake | 3rd March - 3:45pm | 45min

Moderator: Rahul Aijaz
Speakers:
Asim Abbassi (Film Director)
Adnan Malik (Actor)
Amina Sheikh (Actress)
Sanam Saeed (Actress)
Saif Samejo (Musician The Sketches)#LahootiMelo2018 #LM18 #LM2018 #Lahooti #LahootiMelo pic.twitter.com/S02bISSbLw

— Lahooti Melo (@LahootiMelo) February 26, 2018


The Sketches front man shared they will also celebrate Holi as part of the Lahooti Melo this year. Another segment will revolve around the upcoming Aamina Sheikh and Sanam Saeed-starrer film Cake, whose music has been composed by Samejo himself. "In the segment, director Asim Abbasi and the cast (Sheikh, Adnan Malik, and Saeed) will talk about the relation between Sindh and their film and its music."

Cake includes three songs in Sindhi - one of which titled, Meri Dunya - was released just yesterday. "Cake's music is very interesting and it's a fusion of Sindhi indigenous instruments," said Samejo.

When Samejo started Lahooti Melo a couple of years ago, the idea was to bridge the gap within the music industry and provide a social event for the people.

Being questioned if he has succeeded in doing it so far, the musician said that he likes to think they had made a slight difference. "I look at the society and it's getting darker. Even the industry is biased, especially against Balochis and Sindhis. As a musician, I am just being honest. Sindhi artists aren't given space and we have tried to create some influence. It's just a few lobbies that rule the industry. So, Lahooti Melo gives such artists a space."


He also said that artists coming from small communities, who play folk music are pushed into a corner and treated as if they are substandard. "Artists like Mai Dhai and others are to be respected and given the spotlight, not treated as inferior while other mainstream artists take centre stage. These artists create real music and are not even paid properly. They come from a humble background, so they don't even ask twice for money."

Samejo concluded, "Lahooti is our gift to the society and it's creating its space. We need to have a place to learn, preserve values and have a discourse. We should be proud of it and promote our culture."

Have something to add to the story? Share in the comments below.