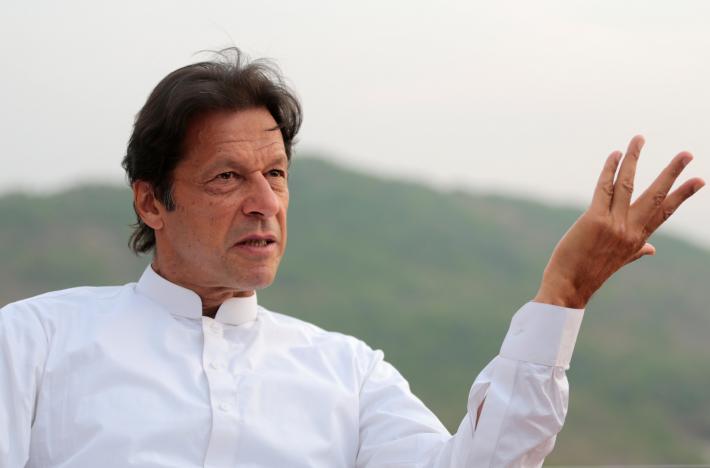 ---
PESHAWAR: Even as their member of the provincial assembly was de-seated for dishonesty, the PTI chief railed against the indirect election of lawmakers to the upper house of Parliament, noting that should they form the next national government, they will change the system.

Addressing the media at the Khyber-Pakhtunkhwa Chief Minister House on Thursday, Pakistan Tehreek-e-Insaf (PTI) Chairman Imran Khan lamented that the indirect election system for Senate provided legislators in the provinces the opportunity to "sell their votes" and engage in horse-trading.

On the other hand, Imran contended that a direct election system — like the one in vogue in the United States and the UK — there was no chance of horse-trading.

Pakistan is among a handful of countries which has a mixed electoral system. Direct elections for the lower house and indirect election for the upper house. This system is followed by India as well.

Imran reiterated a suggestion he had made during the Senate elections in 2015 – hold direct elections for upper house hopefuls.

Lamenting how his suggestion had been rejected then, Imran said that should his party win the upcoming general elections, he would try and change the system.

Petrol hike

The PTI leader also took aim at the government for a massive Rs3.56 hike in fuel prices, accusing Islamabad of "targeting the public" and adding to their burden of taxes.

"It is shameful that government refuses to collect taxes from the powerful and allows the Sharif family and others to continue draining national resources through money laundering," Imran shared.

Soft on militants

Imran appreciated the olive branch extended by Afghanistan President Ashraf Ghani to the Afghan Taliban, offering to recognise them as a legitimate party in negotiations. However, the PTI chief showed that he was pained after his suggestions of holding a dialogue with the Taliban were scoffed at.

"When I suggested that dialogue is the final solution to the 16 years of war [in Afghanistan], everyone called me 'Taliban Khan' and 'pro-militant'," Imran grudged, adding that all these years later, everyone now seemed to have realized that the sole solution to this problem was to seek a solution by talking to the Taliban.

Rejecting criticism

He also aimed criticism at critics of his Billion Tree Tsunami plantation programme, noting that the province run by his party had been singled out for praise by the Chief Justice of Pakistan while other provinces had opted to emulate it.

Accusing the federal government of adopting failed foreign policies had failed, Imran pointed out that the country was finding itself in record debt. He also accused federal ministers, involved in Liquefied Natural Gas (LNG) cases of holding dual nationality.

Taking a swipe at Punjab Chief Minister Shahbaz Sharif and members of former prime minister Nawaz Sharif's family of corruption, he said that when former Lahore Development Authority (LDA) director general Ahmad Cheema had been arrested, some officials in the Punjab Secretariat had closed down their offices.

Imran alleged that these offices had been closed on directives from Shahbaz and added that the Sharif family supported the corrupt since they were involved in corruption.

Khyber-Pakhtunkhwa (K-P) Chief Minister Pervez Khattak, while responding to a question, said that the direct election suggestion by Imran had been taken up by the K-P Assembly Speaker. However, they could not gather support from other parties.

He rejected accusations that the PTI and PML-N had allegedly held talks to support each other's candidates during the Senate elections. Reminding that the PTI was fielding six candidates, Khattak hoped they will all be elected.

Published in The Express Tribune, March 2nd, 2018.
COMMENTS
Comments are moderated and generally will be posted if they are on-topic and not abusive.
For more information, please see our Comments FAQ