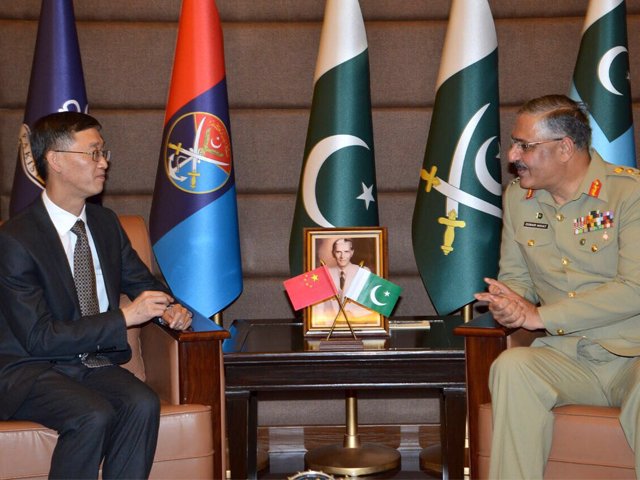 ---
China's ambassador to Pakistan, Yao Jing called on Chairman Joint Chiefs of Staff Committee (CJCSC) General Zubair Mahmood Hayat at the Joint Staff Headquarters in Rawalpindi on Thursday, the military's media wing said.

Matters related to changing geo-strategic environment and further strengthening of security and defence cooperation were discussed during the meeting, said a statement issued by the Inter-Services Public Relations (ISPR).

The two sides reaffirmed the resolve for furtherance of deeper strategic ties.

The ambassador applauded the professionalism of Pakistan's armed forces and acknowledged sacrifices made by the country in war against terrorism.

The meeting took place two days after a Chinese foreign ministry's spokesperson said that China highly valued active measures taken by the Pakistan government to strengthen financial supervision and crackdown on terrorist financing.

Pakistan, China made a beautiful example of friendship: Khawaja Asif

He also asked the international community to justly view and evaluate Pakistan's efforts in the field of international anti-terrorism, instead of accusing it of bias and prejudice.

"We hope all concerned parties in the international community can give an objective and fair assessment of this," Lu Kang said referring to the Financial Action Task Force (FATF) meeting's outcome of placing Pakistan on its grey-list in June.

Earlier this week, Yao Jing and the Minister of State for Information Marriyam Aurangzeb kicked off the two-day China-Pakistan Economic Corridor (CPEC) Cultural Caravan Festival.

Wooing CPEC investment: Peshawar mayor plans to hire Chinese languageinstructors

It was held at the Pakistan National Council of the Arts (PNCA) amidst thrilling beats of the dhol — traditional drum, coupled with a host of events such as fashion shows, photo exhibitions, documentary screenings and cultural performances from Pakistan and China.

Jing said the success of CPEC depends on the interaction and collaboration between people from both countries. This cultural collaboration, he hoped, would enhance ties for a lasting bilateral economic and political bond between Beijing and Islamabad.

COMMENTS
Comments are moderated and generally will be posted if they are on-topic and not abusive.
For more information, please see our Comments FAQ