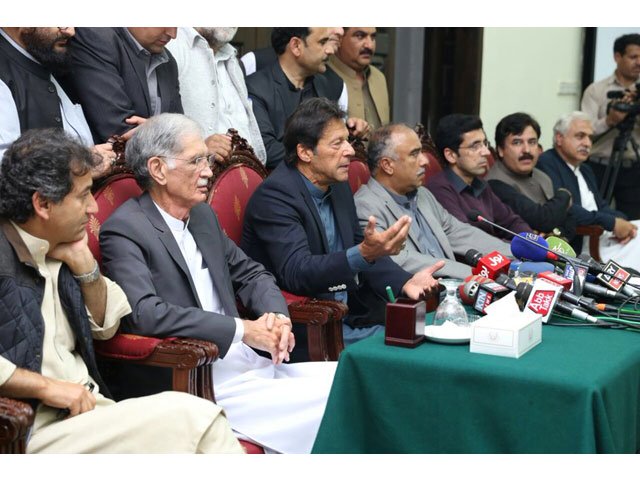 ---
[fbvideo link="https://www.facebook.com/etribune/videos/2226122767404737/"][/fbvideo]

Pakistan Tehreek-e-Insaf (PTI) chairman Imran Khan has said that the Afghan president extending Taliban the offer to hold dialogue has vindicated his stance 16 years ago of holding the talks to end the war.

In a clear departure from the Afghan government's earlier stance, Ashraf Ghani proposed on Wednesday peace talks with Taliban without preconditions. However, on Thursday, the movement's chief spokesperson said Kabul Process was simply aimed at seeking the "surrender" of the Taliban.

"They called me Taliban Khan when I called for peaceful dialogue with the Taliban," Imran said during a presser in Peshawar on Thursday. "We were criticised by everyone and even called pro-Taliban."

Now, he added, after years of confrontation and bloodshed, they have reached the point where they want to hold talks and drop arms.

Imran reiterated that the PTI will win the forthcoming general elections and bring the "change" in the system.

Ater being elected, he added, PTI will hold direct elections of Senate to ensure absolute transparency and change the system that allows 'horsetrading.'

PML-N dwells on 'unverified' Bani Gala NOC submitted by Imran in SC

"We are trying that our six senators get elected," he said. "How will people put their confidence in the political leaders if the top leadership makes it to the helm of affairs after horsetrading."

"I'm proud of the system put in place by the K-P government and challenge other political parties that have been there for decades and done nothing."

Imran said that despite a heavy budget, Punjab government couldn't do what K-P has done with meager funding.

"Schools, hospitals, police forces have been completely reformed in K-P and its visible," he added.

On the deteriorating foreign policy situation, Imran said, "Pakistan's biggest policy failure was at Financial Action Task Force (FATF), India has such a successful foreign policy of isolating Pakistan, and we will be sanctioned in June adnd we're facing a bigger crisis."

"We have been isolated on the foreign policy front. Economically, people are being burdened yet the government won't change its policies," he concluded.