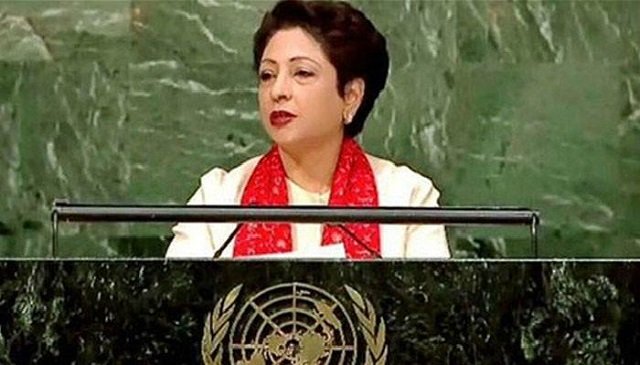 ---
A top Pakistani diplomat has blamed the lack of progress in the long-running negotiations to restructure the UN Security Council on a group of countries - in an apparent reference to India, Brazil, Germany and Japan - who, she said, have remained 'inflexible' in their push for permanent seats on the 15-member body.

"Responsibility for this deadlock for over 10 years lies with those who have not budged from their inflexible positions," Ambassador Maleeha Lodhi, permanent representative of Pakistan to the United Nations (UN), said on the second day of the interactive session of the Intergovernmental Negotiations (IGN) aimed at making the Security Council more effective, representative and transparent.

US threatens to unveil anti-Pakistan actions

Despite a general agreement on enlarging the Council, as part of the UN reform process, member states remain sharply divided over the details.

Known as the "Group of Four" - India, Brazil, Germany and Japan - have shown no flexibility in their campaign for expanding the Security Council by 10 seats, with six additional permanent and four non-permanent members.

On the other hand, Italy and Pakistan-led Uniting for Consensus (UfC) group opposes any additional permanent members.

As a compromise, UfC has proposed a new category of members - not permanent members - with longer duration in terms and a possibility to get re-elected once.

Maleeha Lodhi demands democracy be a 'central tenet' of the UNSC reform process

The Security Council is currently composed of five permanent members - Britain, China, France, Russia and the United States - and 10 non-permanent members that are elected in groups of five to two-year terms.

"The UfC has always been willing to look for common ground, revise our original proposal and to show flexibility," Ambassador Lodhi said in a debate convened to break the impasse in the reform process.

"None of this can be said of those delegations who have adopted a take-it-or-leave-it position," she said.

Dealing with the Group of Four proposal for additional permanent members, the Pakistan envoy wondered how would it enhance the Security Council's accountability.

Pakistan, US resetting ties amid changing geopolitical situation: Maleeha Lodhi

"If the Council needs to adapt to changing realities, how can a so-called solution, fixed in time, such as permanent seats, account for this transient global reality; and, if the Council remains paralyzed to accommodate the interests of five permanent members, how will an enlarged Security Council with more permanent members, calibrate the interests of all these permanent members and yet, operate at an optimal level, to address the increasingly fraught and complex global peace and security landscape," she asked.

In the circumstances, ambassador Lodhi urged the co-chairs of the Inter-governmental Negotiations - Kaha Imnadze of Georgia and Lana Nusseibeh of the United Arab Emirates - to help build on and enlarge the range of convergences of the conflicting positions taken by different groups.

Full-scale negotiations to reform the Security Council began in the General Assembly in February 2009 on five key areas - the categories of membership, the question of veto, regional representation, size of an enlarged Council, and working methods of the council and its relationship with the 193-member Assembly.
COMMENTS (1)
Comments are moderated and generally will be posted if they are on-topic and not abusive.
For more information, please see our Comments FAQ