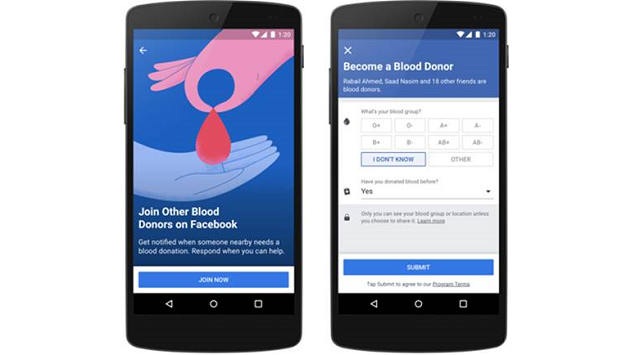 ---
Facebook launched a new feature in Pakistan that makes it easier for people to donate blood or find blood donors.

"Pakistan, like many countries, has a shortage of safe blood. In some cases, this shortage means patients and their families are responsible for finding donors to replace the blood they receive from blood banks or hospitals," according to a press release.

Facebook censors 30,000 years old statue of 'Venus of Willendorf'

Pakistan has over 100,000 people in blood donation groups on Facebook where people post very frequently about blood donation.

To make it more localised, an Urdu version of the new feature has also been made available on the main page.




Facebook is working with non-profit organisations, "health industry experts, potential donors and people who have used Facebook to find blood donors" to ensure that the feature becomes a success and can be used by the ones who require it when in need.

"We hope that by increasing awareness and providing tools for people and organizations in need to connect with those who are willing to help, we can make it easier for people to donate blood," said Hema Budaraju, Head of Product, and Health at Facebook.

The blood donation feature is not just for individual users but also for organisations; blood banks and hospitals. By default, your Private information remains confidential with the"Only Me" option chosen. You can, of course, change this in the options provided.

"Safe Blood Transfusion Programme is proud to work with Facebook. We are confident that now this gap will soon become history," according to Prof Hasan Abbas Zaheer, National Coordinator, Safe Blood Transfusion Programme, Ministry of National Health Services, Government of Pakistan as he talked about working closely with Facebook.

German court rules Facebook's use of personal data illegal

As far as the organisations are concerned, they can host blood camp events in Pakistan by creating an event on Facebook.

"For 70 years, the Pakistan Red Crescent has worked to prevent and alleviate human suffering. We believe Facebook's Blood Donation feature will make it easier for people in need to find donors and increase blood donations overall," said Dr Saeed Elahi, Chairman, Pakistan Red Crescent Society.

This feature will be available on Android, iOS, and desktop.
COMMENTS
Comments are moderated and generally will be posted if they are on-topic and not abusive.
For more information, please see our Comments FAQ