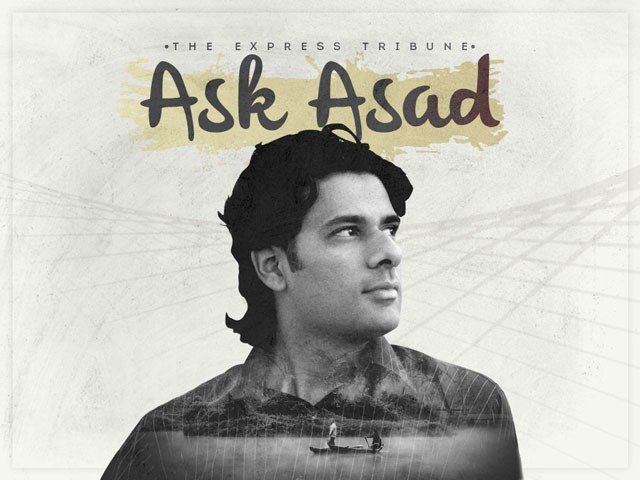 ---
Dear Asad

My wife and I got married five years back. It was an arranged marriage. Her family was not well off, but we were. She was a good wife, religious and pious. She respected my parents, and they adored her. However, I was a bit short-tempered. Sometimes I would get angry and say something that I should never have said, but I would usually apologise later. I took my ex-wife to visit many countries around the world. After a year of our marriage, God blessed us with a son.

There were a couple of issues between us. She used to work, but never spend anything on the house. She used to hide all her money from me. My parents told me never to ask her where she spends her money or what she does with it. She would also avoid any kind of physical intimacy with me.

After four years, my brother, who is head of the department in the company he works for, gave her a job in his office, with a better salary package. Four months after that, she applied for divorce. I did everything to stop her from doing so, my parents tried to make her change her mind, the court appointed arbitrators to stop the divorce, I offered her more than 30 million rupees, but she refused to live with me and went ahead and got the divorce.

Ask Asad: My married cousins look down upon me because I am single at 30. Is it my fault?

She got custody of my son also as per the laws of this middle eastern country. Now as per the court order I see my son for two days a week over the weekend. My ex-wife, if she marries again, will lose my son's custody. I doubt she will marry again as she is already 34 years old and it's difficult in our culture for a divorcee with a child to find a good suitor.

I am happy that I did whatever I could to stop the divorce. When my son grows up he will also realise it. I still have all the emails and the messages that I sent to my ex-wife and I will show them to him when he is old enough to understand.

My mother wants me to remarry, but I am afraid I might not be able to do justice to my second wife due to my commitments with my son. I don't want to be unfair to the second wife as I miss my first wife very much. I have tried to forget her but to no avail. What should I do?

Divorced Husband



Dear Divorced Husband,

I am sorry to hear about your divorce. No doubt divorce is a big deal which in most cases completely shatters the lives involved. For some it might be a much needed and much desired change – like perhaps your wife – but for most it's an extremely unhappy event.

I am not trying to fix the blame on someone here but after reading what you have described, it does seem that your behaviour played a big part in leading up to this situation. Although it takes a big heart to apologise later but that's not always enough and sometimes it's too little, too late.

You mentioned that she was a good wife and a good daughter-in-law. Proof of this is that your parents adored her, which is not that common in our part of the world. This shows that she was a good person overall. Therefore, if she avoided physical intimacy with you and then took a divorce as soon as she was financially stable then most probably she couldn't bear anymore of your behaviour towards her.

Note: I don't believe there could be another reason for her taking divorce from you, such as being interested in someone else. As you admitted yourself that she was a good and pious person and was also mindful of her religious duties.

Ask Asad: What should I do about my cheating husband?

Taking your spouse for holidays all over the world is a nice thing and I am sure she must have enjoyed it. But that doesn't compensate for an ill behavior. The problem with our society is that a husband wants to be put on the highest pedestal and wants his wife crouching around his feet worshipping him and rushing to carry out his silliest of wishes. It is true that in many households, the poor wife doesn't have much of a choice and continues to live in this pitiful state but in some cases, as in yours, your ex-wife had the option and she exercised it to leave you and end the marriage.

Although it's not completely avoidable but for the sake of your son I hope both of you will not drag him unnecessarily – when he's old enough – and force him to take sides in deciding who was at fault for your divorce. This will leave psychological scars that he then most probably will have to battle against for the rest of his life.

What's done is done. You can't undo it. You can't bring her back. Let her go. You owe that much to her and also to yourself if you want to move on and be happy again in the future. Whether she is able to find someone who wants to marry her, despite her age and having a child, should not be your concern. Let it go, otherwise it will take a toll on your future happiness.

I completely agree with you about not marrying again at this point of time. You still miss your ex-wife – naturally so – and haven't gotten over her yet. Don't rush into a second marriage just because your family wants to or because you feel lonely. In fact, it will actually make you feel worse to jump into a new relationship when you are not nearly over the old one. Marrying someone new will make you constantly compare that person to your ex-wife, and will use up a lot of emotional energy for dealing with the second wife . Not only will rushing into a new relationship make it harder for you to get over the old one but it will also cause pain for your second wife.

Ask Asad: I am a 55-year-old widower without children – how do I tell my siblings I don't want to marry again

To cope with your divorce, start by following these steps.

Give yourself time to grieve!
If you want to cope with your divorce as best as you can, then you need to give yourself time to grieve. You can't just expect to move on fully as soon as your ex-wife moves out or as soon as the divorce is finalised. Even if the relationship had gone sour a long time ago, you will still need time to deal with the emotional pain of ending a relationship with someone you once deeply loved.

Let go of your regret!
Though you regret deeply hurting your loved one, you can't waste your time asking "What if..." all day long. This will only make you feel more upset as you try to change things that are out of your control.

Note: It's likely that your ex-wife is filled with regret too. But reminding yourself of this won't lead you anywhere.

Tip: Try making a list of all of the things you regret and then tearing it up. Once you write down all of the things that you regret, you will be able to deal with them more easily.

Don't go through it alone!
Once you are ready to talk to your family and friends about the divorce, you should take the time to open up to a few close friends or family members so you don't have to face all of your hurt feelings by yourself.

Tip: You don't have to talk about your divorce if you are not feeling up to it yet, but you can't keep all of your pain and hurt to yourself forever.

Accept that it's over!
You may not be able to accept that your relationship is really over. It takes time to accept the fact that your life with your ex-wife didn't turn out as you expected, but that doesn't mean that the rest of your life won't go on without her. Take the time to see that it's really over and that no amount of talking, self-improvement, or compromise will change that.

Note: You will only be able to begin to move on if you accept that your marriage is truly over. Until you do, you won't be able to enjoy your new life.

Take it easy on yourself!
While you are starting the healing process, you should avoid being hard on yourself or raising your expectations for how you should behave. You can try to achieve your goals once you are feeling a bit more mentally sound – until then, just focus on keeping your head above water.

Note: Don't berate yourself for eating too much, waking up late, or forgetting a friend's birthday. Though you can't use the divorce as an excuse for less than desirable behaviour forever, you can't hold yourself to the highest standards in a time of grief.

Admit your shortcomings and work on them!
Though you may mostly blame your ex-wife for the end of the marriage by not giving you another chance, you weren't completely blameless in the process. There must have been many occasions where you could have acted differently, and you must have a few character traits that you would like to work on to ensure success in your future relationships.

Tip: Make a list of all of the qualities you would like to change about yourself and make a game plan for addressing them. This will give you a positive way to occupy your time and will make you feel less anger about the end of the relationship.

Warning: Don't make yourself even more overwhelmed. Addressing your shortcomings doesn't mean feeling like you're an unworthy person full of negative qualities.

Find your own path to healing!
People around you will give you a flurry of well-intentioned advice, a lot of which will be useless or won't apply to you. You may be told to stop believing in love, try to move on immediately, or to try to stay so insanely busy that you won't have time to breathe.

You will have to find your own path instead of following all of the advice that you will hear. Every relationship is different, and so is the end of any relationship - therefore, you will have to decide which advice is helpful and to find your own path to happiness.

Be healthy!
Working on acquiring healthy life habits will help you start to feel mentally more stable and physically stronger. Work on eating healthy and balanced meals, getting 7-8 hours of sleep at around the same time every night, and working out at least a few times a week.

If you try most of the suggestions above and still find yourself in the same situation after a year then it might be a good idea to seek professional help from a psychologist specialising in grief counselling.

Take care!

Asad



Asad is a counsellor, life coach, inspirational speaker and a personal-development expert. He advises on social, personal and emotional issues. You can send him your questions for this weekly column at [email protected] with "Ask Asad" mentioned in the subject line and provide as many details as possible.



Note: The opinions expressed in this article are those of the author and do not necessarily reflect the views of The Express Tribune.
COMMENTS (1)
Comments are moderated and generally will be posted if they are on-topic and not abusive.
For more information, please see our Comments FAQ