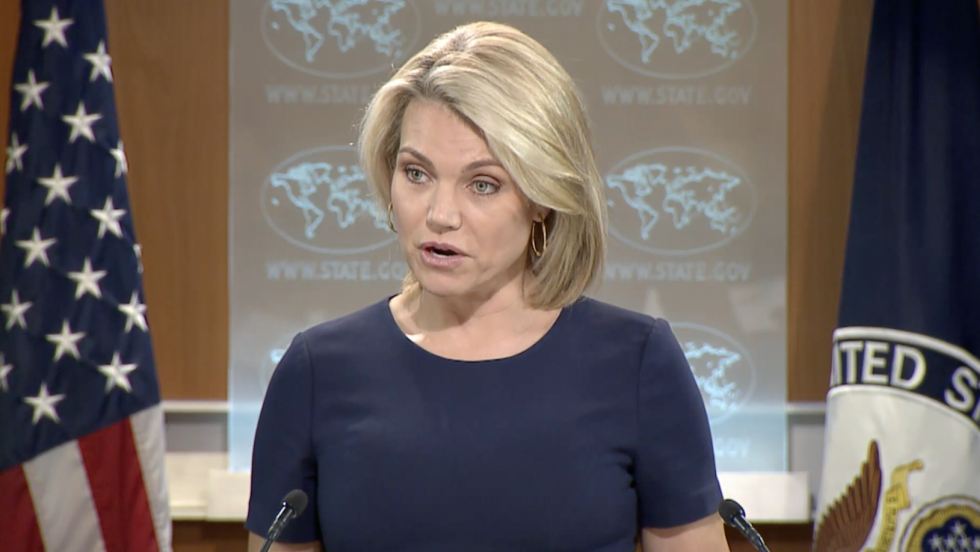 ---
Pakistan and India need to sit and talk about their escalating border tensions, the US State State Department spokesperson Heather Nauert said on Tuesday during a media briefing.

"We think that both sides would certainly have to sit down and have talks about that," Nauert said when questioned about the role the US could play in de-escalating tensions between the nuclear-armed neighbours.

Two women killed as Indian forces open fire along the working boundary

Cross-border shelling across the Line of Control and unprovoked firing by Indian forces had taken 832 lives, left 3,000 injured and had damaged 3,300 houses in the first half of 2017, according to experts. Despite calls for restraint, India continues to indulge in ceasefire violations

Nauert, when asked about Afghan peace talks said the US believes "any peace talks with Afghanistan have to be Afghan-led and Afghan-owned. That has long been our policy."

She reiterated that there is no military solution for Afghanistan and "ultimately it has to be a political solution."

"And that can best be done, if the Taliban is willing to sit down and have talks – certainly the United States Government could have a role in that. But that is up to – that's really up to Afghanistan," Nauert added further.

Pakistan to back fresh Afghan peace initiative

Responding to a question about the Kabul conference, Nauert stated the US is "pretty enthusiastic about it, at least in terms of our participation and our long-term hopes for Afghanistan."