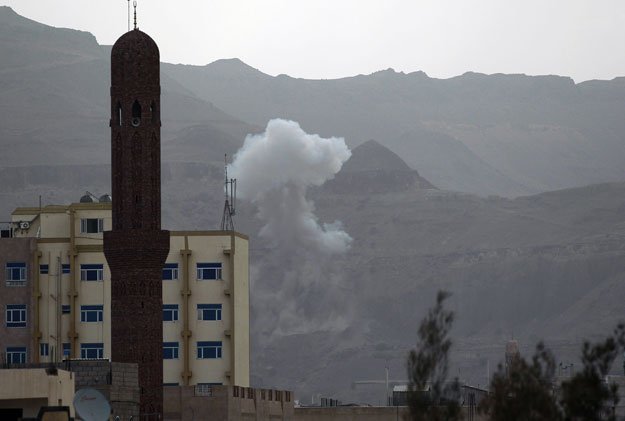 ---
ADEN: At least nine Yemeni civilians were killed and several others injured by Saudi-led airstrikes in two provinces of the war-torn Yemen on Wednesday, medical officials told Xinhua.

Local medical sources said about four Yemeni civilians were killed in airstrike that targeted a house in the northern province of Sa'ada, the major stronghold of the Shiite Houthi group.

Houthi-affiliated media outlets also reported that heavy artillery shelling by the Saudi forces targeted residential buildings in Sa'ada province, causing casualties and damages there.

Saudi-led strikes on Yemen market kills 14 civilians

Elsewhere in western Yemen, fighter jets of the Saudi Arabia-led coalition launched airstrikes against Houthis, but mistakenly targeted a farm and killed four girls in the port city of Hodeidah.

Meanwhile, fierce fighting continued between the Iranian-backed Houthis and the forces allied with the internationally-backed government in various areas of Yemen.

According to the country's defence ministry website, more than 17 Houthi rebels were killed in fighting with pro-government forces in Nihm district near the capital Sanaa.

Saudi-led air strikes kill 136 civilians in Yemen: UN

The Saudi-backed Yemeni government forces also managed to arrest 33 Houthi rebels during the ongoing fighting near the Houthi-controlled capital Sana'a, the ministry website said.

Yemen's government, allied with the Saudi-led Arab military coalition, has for about three years been battling Iran-backed Shiite Houthi rebels over control of the country.

The coalition began a military air campaign in March 2015 to roll back Houthi gains and reinstate exiled Hadi and his government to power.

The coalition also imposed air and sea blockade to prevent weapons from reaching Houthis, who had invaded the capital Sanaa militarily and seized most of the northern Yemeni provinces.

UN says Saudi-led coalition raids in Yemen kill 109 civilians

UN statistics show more than 10,000 people, most of them civilians, have been killed since the coalition intervened in the Yemeni civil war that also displaced around 3 million.

The Arab country is also suffering from the world's largest cholera epidemic since April, with about 5,000 cases reported every day.
COMMENTS
Comments are moderated and generally will be posted if they are on-topic and not abusive.
For more information, please see our Comments FAQ