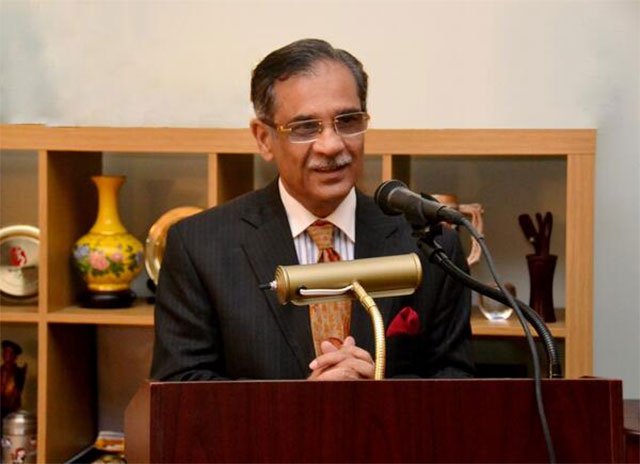 ---
Chief Justice of Pakistan (CJP) Mian Saqib Nisar on Wednesday said that neither he nor the judiciary can force the Parliament into lawmaking but can point out the flaws in any matter.

A three-member Supreme Court (SC) bench, headed by the CJP initiated the hearing of the illegal transplantation of kidney cases.

Dr Mirza Naqi Zafar appeared in the court and briefed the court. In his remarks, the CJP said that the illegal transplantation of kidneys was a great evil and that nobody should be forced to donate their organs.

A hearing regarding this issue will be held in Karachi on March 10, in which Dr Adeeb Rizvi will guide the court further.

SC orders inspection of packaged milk producing companies in Sindh

Dr Zafar told the court that this illegal profession was quite an old one. "The surgical procedures take place at hidden places," he said, adding that there exists no authority at the local or national level to combat this menace. He further stated that authority at the provincial and federal level was impotent.  The Additional Advocate General Punjab said that authorities were present in Punjab and Khyber-Pakhtunkhwa.

Justice Nisar said that it's impossible that no authority was present at the local level according to the federal and provincial laws against illegal transplantation. He remarked that in this case, the lack of implementation of laws was the main stumbling block. Saying that nobody can force the lawmakers to legislate more laws, the CJP said we can definitely point out the flaws in the law.

Dr Mirza Naqi told the apex court that there was still lack of awareness amongst people about organ donation. "There are people out there who want to donate their organs, but the concerned authorities need to devise a proper procedure to donate organs."

The CJP asked concerned authorities to submit a written guideline on how to donate organs. He further stated that if the bench doesn't hold the hearing in Karachi on March 10, they will definitely be there on March 17.

Moving forward: PHOTA approves amendments to organ transplantation laws

On Tuesday, the Minister for Specialised Healthcare and Medical Education Khawaja Salman Rafique said the Punjab Human Organs Transplantation Authority (PHOTA) had approved amendments for PHOTA Act which would be sent to the Department of Law for further scrutiny. The recommended amendments were made to improve the current system thus controlling illegal organ transplants.

During the meeting, it was decided to joint programmes and to encourage collaborations with foreign institutions to promote cadaveric transplantation while also creating educating people on organ donation.