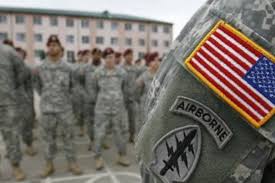 ---
WASHINGTON: An envelope containing an "unknown substance" was opened at a US base near Washington on Tuesday, leaving 11 people sick, including military personnel, the Marine Corps said.

The envelope, which was received at Joint Base Myer-Henderson Hall around 3:30 pm (2030 GMT), led to an evacuation of the building, the US Marine Corps said in a statement.

"Shortly after receiving the letter, 11 people started to feel ill," three of whom were "transported in stable condition for further medical evaluations," it said.

Fencing along Pak-Afghan border in Chaman to begin soon

"Joint Base Police Department officials are working with local HAZMAT teams, NCIS (Naval Criminal Investigation Service) and the FBI. The building was screened and cleared," it said.
CNN reported that a corporal, gunnery sergeant and a colonel complained of a "burning sensation" on their hands and face.

Marine spokesperson Major Brian Block said it was too soon to say whether the incident was being considered a terror attack.

Indian army chief's statement is tantamount to an invitation for nuclear war: Khawaja Asif

"It's way too early to start speculating on any of that, we have to wait and let the investigators do their jobs," Block told AFP.
Joint Base Myer-Henderson Hall overlooks Arlington Cemetery just across the Potomac River from Washington.




COMMENTS
Comments are moderated and generally will be posted if they are on-topic and not abusive.
For more information, please see our Comments FAQ