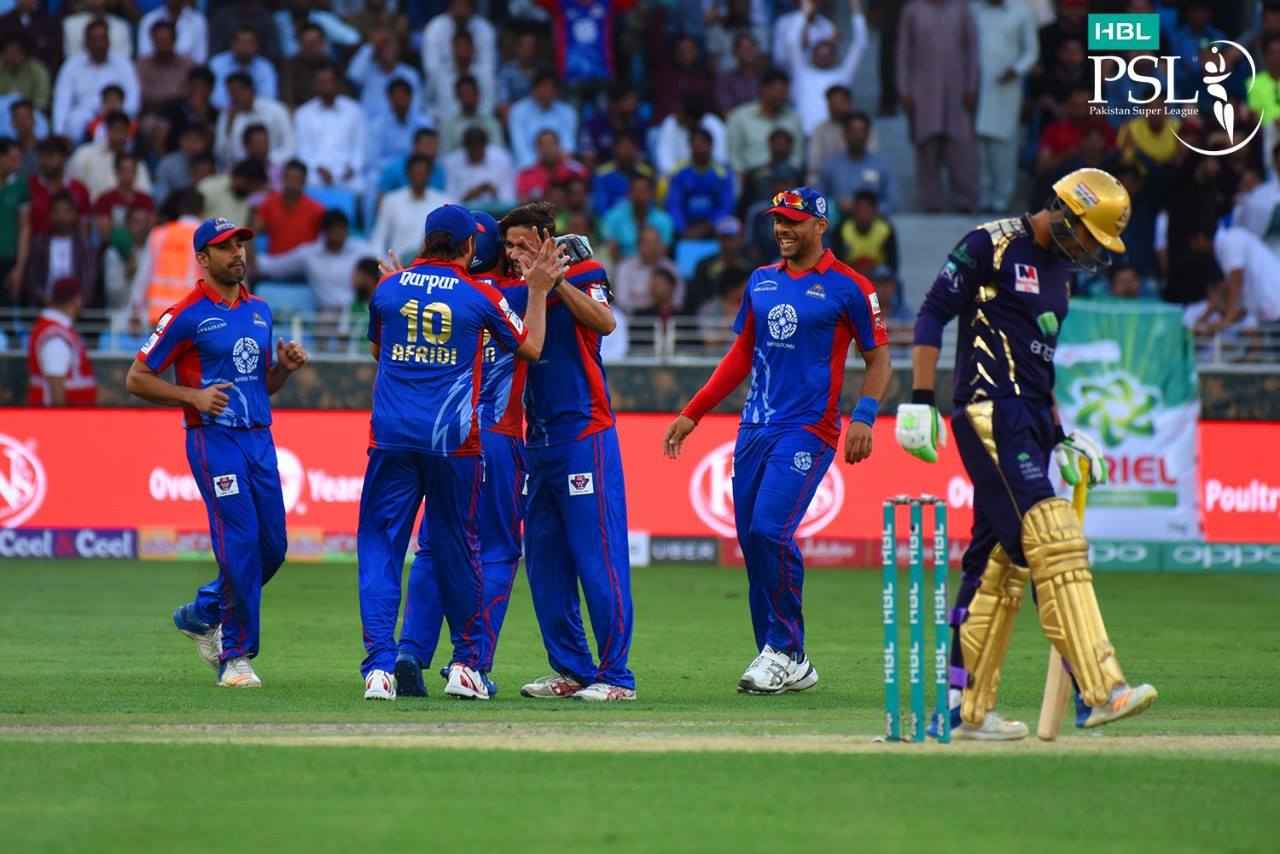 ---
KARACHI: The moment a sport loses its capacity to surprise the viewer is the moment it stops being worthy of their time. Cricket, for all its obsession with stats and patterns, still has the happy propensity of defying logic and confounding common sense. And so we come to Karachi Kings' early form.

Letting Kumar Sangakkara, Shoaib Malik and Keiron Pollard leave for a direct rival would not be a recipe for success in anybody's books. Yet it has somehow worked wonders for this Karachi side.


Imad Wasim promises to lead Karachi Kings to PSL3 final


In Imad Wasim, they have a captain who is not only young but also likes to lead by example; a perfect blend of ruthless attacking intent and calm defensive composure. In Shahid Afridi, they have a player who refuses to be written off, who continues to hog the limelight with moments of sheer blinding brilliance. In Ravi Bopara, they have surely the PSL's best performer across the three seasons.  In Muhammad Amir they have one of the finest bowlers in the world.

Yet Karachi have proven to be one of those wonderful sides whose whole is greater than the sum of its parts.


Karachi, Lahore resume PSL rivalry


Under Imad, Karachi play with a kind of intensity that had seemed almost alien to them in the first two editions. A fire burns within this Karachi side and in the first three games it has consumed them and the opposition. How else do you explain the nigh-on impossible catches taken by an almost unknown Englishman and a 37-year-old retired superstar? How else do you explain the sixes hit by Bopara and Ingram when the team seemed to be struggling for momentum? How else do you explain Muhammad Amir confusing Peshawar Zalmi for India? How else do you explain a team losing three of its best players and becoming much better because of it?

Yet it would be disservice to the Karachi Kings think-tank to suggest there isn't any method to this wonderful method.

Such is the balance within their squad that they can morph themselves to counter whatever conditions or opposition they come up against. On spinning tracks, the trio of Usama Mir, Afridi and Imad make up arguably the best spin-bowling attack in the tournament. On pace-friendly conditions, Usman Khan Shinwari, Amir, Tymal Mills and Muhammad Irfan Junior can form as deadly a quartet as any. On batting pitches that require more risks from batsmen, and hence longer batting line-ups, Karachi can have Bopara bowl four overs and hence get away with playing just two bowlers. Add to this the fact that they are the best fielding side out there and you can see why Karachi are top of the table.

Ask a group of people who Karachi's main man is and chances are you may get a different answer from all of them. Therein lies their biggest strength and their biggest weakness. How do you stop a team that has neither any perceptible weakness nor any overpowering strength?

It may be too early to call but Karachi Kings and Multan Sultans seem to be heads and shoulders above the other four teams. The decision to let Pollard, Sanga and Malik leave for Multan may yet come back to haunt Karachi but for now they are reaping the benefits on what seems like a counterintuitive decision.

What is even scarier is that there is still room for improvement within this Karachi side. England limited-overs skipper Eoin Morgan is set to join the side after England's series with New Zealand, the likes of Muhammad Rizwan, Khurram Manzoor and Babar Azam are yet to hit form and Amir has only bowled six overs in the tournament so far.

There is still a lot of cricket to go but right now there seems to be no reason why Imad and his men cannot harbour realistic dreams of being crowned champions in front of what will surely be a frenzied National Stadium of Karachi.

It has taken them three editions, but Karachi Kings are finally looking like royalty.
COMMENTS
Comments are moderated and generally will be posted if they are on-topic and not abusive.
For more information, please see our Comments FAQ