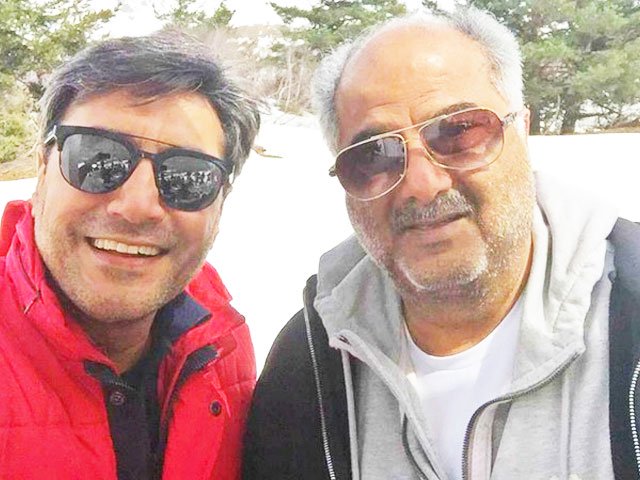 ---
Sridevi's shocking demise has left Bollywood and the rest of the world stunned. Bollywood's first female superstar passed away due to accidental drowning after losing consciousness.

According to a report in Mid-Day, Pakistani actor Adnan Siddqui was among the first ones to reach Jumeirah Emirates Hotels after the shocking news broke.

"I got a call from a journalist at around 11 pm asking if the news about Sridevi's death was true. I immediately called up Boney [Kapoor] saab and rushed to him."

People in Pakistan are going to miss Sridevi: Adnan Siddiqui

The actor says he reached the hotel to find the investigation going on and the room cordoned off. "I got to Jumeirah Emirates at around midnight. Initially, I was not allowed to go upstairs. At the time of the investigation, only Boney saab and Dubai officials were present. So, I waited in the lobby for about an hour," he revealed.

"When everything was settled, Boney saab called me upstairs. He was there along with a family friend, his wife and a daughter. Boney saab was inconsolable. I was with him until 5am. He was under a lot of stress, so I advised him to rest, and then left," said Siddiqui.

The Sammi star's pictures with the Kapoor clan on a family wedding went viral just last week.

Pakistani celebs mourn Sridevi's sudden demise

"When I landed in Dubai at 11pm last week, I called up Boney saab and asked him if it made sense for me to come at that hour considering the function may have been over. He said, 'Even if the function gets over, we will wait for you'. So I drove for two hours to Ras Al-Khaimah," recollected Siddiqui, adding that true to her word, Sridevi was waiting for him. "I can't believe that I met her four days ago and now, she is no more."

Previously, talking to IANS, the actor expressed shock and despair over her sudden death.

"I am in Dubai. I was invited for Sridevi ji's nephew's wedding. She was there smiling and dancing, looking as beautiful and healthy as ever. Who would believe that she wouldn't be here just four days later? I met her husband Boney Kapoor saab last on February 17," Adnan said.

The actor also said, "I am truly saddened that she is no more with us and we won't see her again. The people in Pakistan are going to miss her as much as the people in India. God give strength to her family."

Sridevi's death: What went down the night she died

Paying tribute to the doe-eyed diva, the Mom co-star took to Instagram to share an image of the actor and wrote, "Life is so unpredictable."

"A lady with not just extreme talent but also a beautiful soul, Sri Devi Kapoor leaves us heavy hearted. So many memories attached while shooting Mom with her. Just a couple days back I met her at Boney Kapoor's nephews wedding and who would have thought that it is the last time I'm seeing her. I'm still in a state of shock and out of words to describe my feeling! May her soul rests in eternal peace hereafter," concluded Siddiqui.

Have something to add to the story? Share it in the comments below.