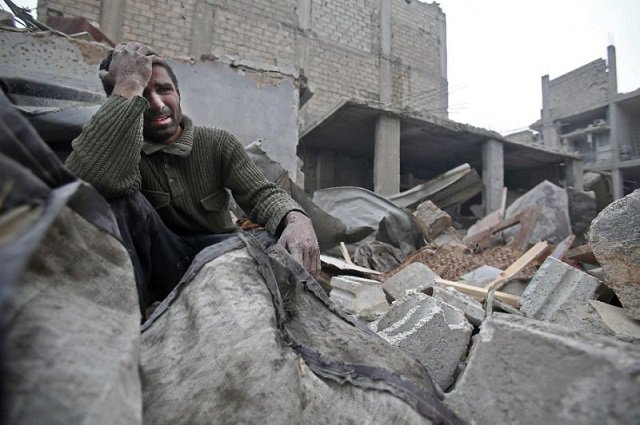 ---
WASHINGTON: Russia is acting as "both arsonist and firefighter" in Syria, where it claims it wants to settle the civil war even as it stokes the conflict, a top US general said on Tuesday.

General Joe Votel, who heads the US military's Central Command (Centcom), blasted Moscow for its role in Syria's seven-year-old war that in recent weeks has morphed in unexpected ways — including an incident that saw apparent Russian mercenaries killed after they attacked US advisors and Kurdish forces.

"Diplomatically and militarily, Moscow plays both arsonist and firefighter, fueling tensions among all parties in Syria," Votel told lawmakers.

Russia calls daily truce in battered Syria enclave

Moscow then serves "as an arbiter to resolve disputes, attempting to undermine and weaken each party's bargaining positions."

Russian President Vladimir Putin stepped into Syria's civil war in late 2015, when Moscow began assisting President Bashar al-Assad's regime, while a US-led coalition separately battled the Islamic State group in the country's north.

More than two years later, with momentum on Assad's side, Putin ordered the partial withdrawal of Russia's troops from Syria in December, saying their task in the war-torn country had been largely completed.

Observers question how much of a withdrawal has actually taken place, and Votel said Russia is using its presence in Syria to test and exercise new weapons and tactics, "often with little regard for collateral damage or civilian casualties."

While the United Nations in Geneva is trying to find a solution to the bloody conflict that has claimed more than 340,000 lives, Russia is leading a separate peace process in the Kazakh capital Astana, along with Turkey and Iran.

"Moscow continues to advocate for alternate diplomatic initiatives to Western-led political negotiations in Syria and Afghan-led peace processes in Afghanistan, attempting to thwart the UN's role and limit the advance of American influence," Votel told the House Armed Services Committee.

"Either Russia has to admit it is not capable or it does not want to play a role in ending the Syrian conflict. I think their role is incredibly destabilizing at this point," he added.

In Syria, the US-led coalition is backing a largely Kurdish group called the Syrian Democratic Forces, which is fighting IS.

US blasts Russia over strikes on Syria rebel enclave

The coalition on February 7 struck a formation of pro-regime forces attacking an SDF position accompanied by US advisors east of the Euphrates river in eastern Syria, killing about 100 people.

Many Russian mercenaries were reported killed in the strike, according to their relatives and paramilitary groups, as well as political organizations that published information about the casualties.

Votel declined to publicly comment when asked if the men were in fact Russian, but said he would tell lawmakers in a classified setting.

"We have characterized them as pro-regime forces, at this point," is all he would say on the matter.

Russians killed in clash with US-led forces in Syria, say associates

While IS has lost almost all the land it once held in Syria, Votel warned that the fight is not yet over.

Still, he said he didn't not want to see the anti-IS mission broaden to take on militias backed by rival Iran, which supports Assad.
COMMENTS (2)
Comments are moderated and generally will be posted if they are on-topic and not abusive.
For more information, please see our Comments FAQ