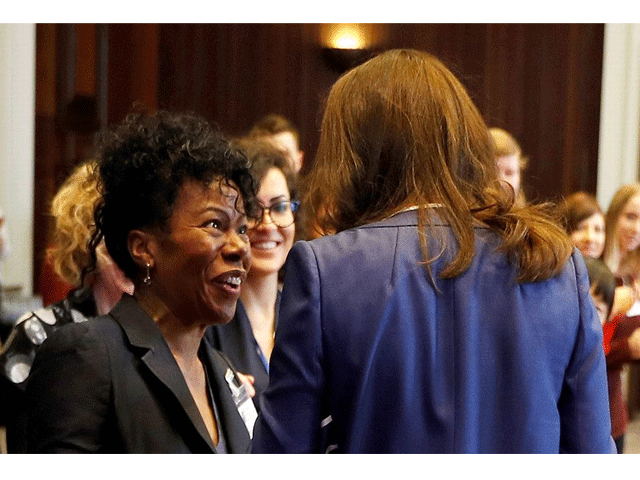 ---
LONDON: Kate, Britain's Duchess of Cambridge, met the midwife who helped deliver her daughter when the heavily pregnant royal visited London's Royal College of Obstetricians and Gynaecologists (RCOG) on Tuesday to become the charity's patron.

Kate, 36, the wife of Queen Elizabeth's grandson Prince William, hugged Professor Jacqueline Dunkley Bent after spotting her during the trip to the RCOG.

Midwife Dunkley Bent was part of the team which delivered Kate's daughter Charlotte in 2015 at the private Lindo wing of St Mary's Hospital in London where son George was also born two years earlier.

Prince William and Kate Middleton reveal royal baby's due date - and it's sooner than you think

"It's so great to see Jacqui as well," the duchess told the RCOG President Lesley Regan at the end of her visit to the charity, which was founded in 1929 and works to ensure high quality women's healthcare in Britain and abroad.

Kate is due to give birth to her third child in April.

Later, she visited London's St Thomas' Hospital to launch the Nursing Now campaign, a three year project aimed at raising the profile and status of nursing worldwide in collaboration with the International Council of Nurses and the World Health Organisation (WHO).