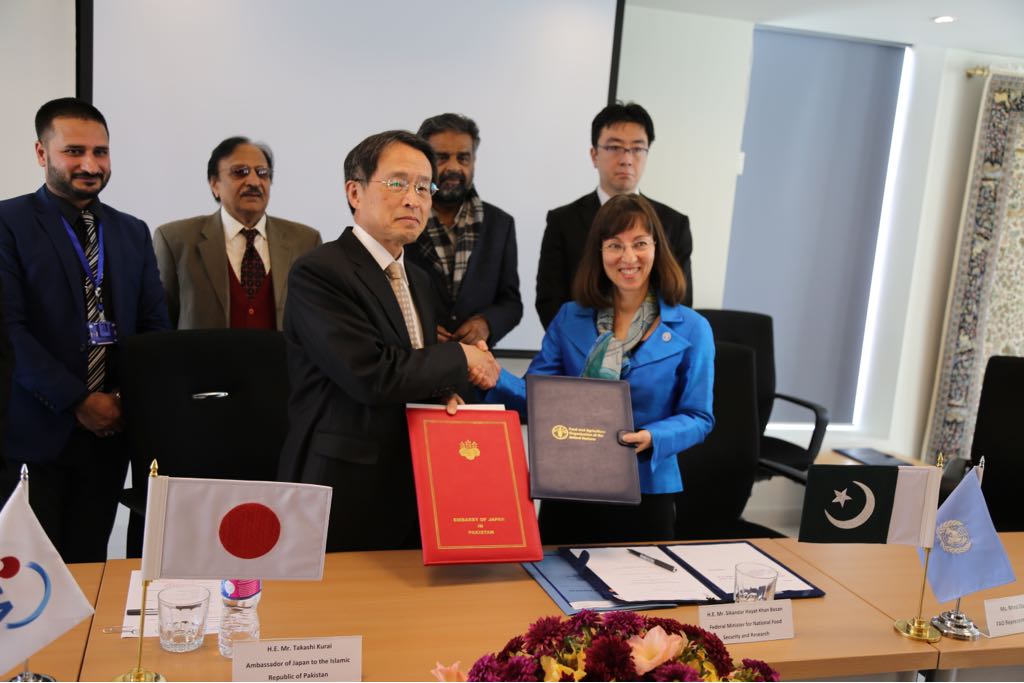 ---
PESHAWAR:
Japan announced on Tuesday to fund two projects for the United Nations' Food and Agriculture Organisation (FAO) in the Federally Administered Tribal Areas (FATA) as per an agreement signed between the ambassador of Japan to Pakistan Takashi Kurai and the FAO Representative in Pakistan Minà Dowlatchahi in the presence of Federal Minister of National Food Security and Research Sikander Hayat Khan Bosan.
According to a statement issued by the Government of Japan, grant worth US$2.7 million and US$5 million were released for the enhancement of  Foot and Mouth disease (FMD) control and the second phase of restoration of the livelihoods in Fata.
An agreement, outlining details of the implementation of the project, was signed between Chief Representative of Japan International Cooperation Agency (JICA) Yasuhiro Tojo and Dowlatchahi.
Japanese govt grants $7 million aid for Afghan refugees, host communities in Pakistan
The project aims to improve FMD outbreaks surveillance and introduce rapid response mechanism for disease control to curtail the losses caused by the disease and "improve productivity of livestock contributing to food security and improve resilience of livelihood of livestock farmers to animal disease threats."
In 2015, Japan funded a US$5 million the first phase of the restoration of livelihoods project where approximately 77, 000 households resumed agricultural production that helped improve food security and livelihoods. The second phase the project aims to reduce poverty and promote economic opportunities in the region through agriculture development which will support stabilisation and economic growth in the area.
Speaking at the ceremony, Bosan said that the "Government of Pakistan considers agriculture as a key area of focus to ensure food security for all segments of the society."
"A growing agriculture sector not only plays a vital role in boosting national economy but also reducing poverty and improving access to food," he said. "For improving nutrition diversification of agriculture by enhanced focus on high value horticulture, livestock and fisheries is main thrust of new 'Agriculture and Food Security Policy'."
The FAO representative thanked Japan for aid, highlighting that the projects "will cover important areas of interventions for the FATA Transition Plan."
"These interventions will contribute to the development of the agricultural sector in Fata region by improving food security, boosting economic activities and markets and as a result help achieve peace and security in the area," she said. "The FMD project emphasizes the importance of animal health as part of the One Health agenda, which is crucial for addressing food insecurity, improving nutrition and rural livelihoods that are dependent on livestock."