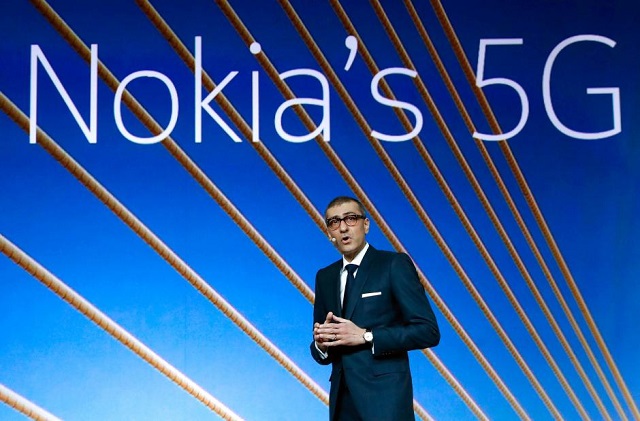 ---
Major telecom operators are accelerating their timelines for adopting next-generation 5G networks by up to a year, boosting Nokia's confidence of an uplift for its own business later in 2018, Chief Executive Rajeev Suri said on Sunday.

The mobile network equipment industry, dominated by China's Huawei, Finland's Nokia and Sweden's Ericsson, is weathering the toughest part of a decade-long cycle as demand for current fourth-generation gear has slid.

Trump security team sees building US 5G network as option

The first commercial 5G roll-outs are now due to begin this year and Suri said he expected large deployments in the United States, South Korea, Japan and China to take place sooner than what the industry could have expected a year ago.

Nokia said on Sunday it had struck a partnership agreement with China Mobile - the biggest mobile operator globally by subscribers – to develop new 5G networks for industrial uses across the world's most populous country.

Nokia also hinted that it expected to announce some form of deal with Vodafone, but declined to elaborate. UK-based Vodafone owns majority stakes in dozens of operators globally.

"The confidence about where that 5G uplift comes from is understanding the accelerated timelines operators now have," Suri told Reuters in an interview ahead of the Mobile World Congress taking place in Barcelona this week.

A year ago, operators were saying 5G rollouts would take off in earnest around the back end of 2019. Many cash-strapped phone service providers were then questioning whether there any were good business justifications for upgrading to 5G, he said.

"Now, it has accelerated by almost a year, which is good news for the sector, because then they'll be the next wave of investment coming." Europe, however, so far lacks the catalysts for rapid, large-scale 5G rollouts, he added.

"Far and away, the US and China activity will dwarf Europe ... (but) I think some 5G will be launched (in Europe) at some point in 2019," he said.

Nokia said last month that its stepped-up capital spending to win future 5G upgrade deals would weigh on profitability this year. It forecast an operating margin of 6-9 per cent for 2018 but predicted a steady rebound to around 9-12 per cent in 2020.

Nokia signs its first official 5G equipment deal with NTT DoCoMo

Nokia said it would collaborate with Facebook to deliver high-capacity wireless signals in dense urban areas where fiber optic cabling is not practical to deliver to each household. The technology can be strung from street lights.

The service relies on unlicensed, high-frequency 60 gigahertz airwaves which have been freed up in countries including United States, United Kingdom, Germany, China, South Korea, Japan, Facebook has previously said.

Nokia also said it agreed to acquire US mesh networking software firm Umium to boost its wi-fi product offerings for both service providers and consumers to help them quickly diagnose and fix connection issues. No terms were disclosed.