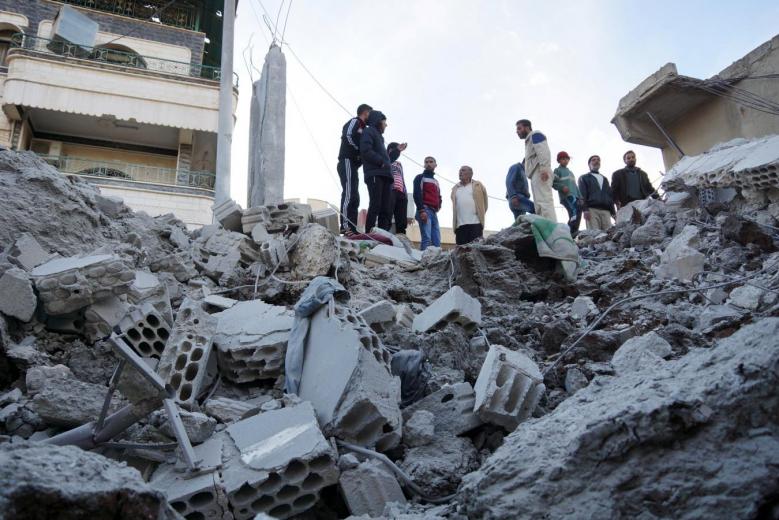 ---
BEIRUT: The two main groups controlling Syria's rebel enclave of Eastern Ghouta have welcomed a UN Security Council demand for a ceasefire, but vowed to fight back in case of renewed attacks.

Islamist rebel groups Jaish al-Islam and Faylaq al-Rahman issued separate statements late Saturday after the council demanded a ceasefire, following seven days of ferocious regime bombardment that has killed more than 500 civilians in Eastern Ghouta.

Strikes pound Syria's Eastern Ghouta as world fumbles for response

The resolution, adopted after repeated delays, did not specify when the truce would go into force but said it should be implemented "without delay" to allow for humanitarian aid deliveries and medical evacuations.

"Jaish al-Islam is committed to protecting humanitarian convoys that will enter Ghouta," the group said in a statement.

But it warned that its fighters will "immediately respond to any violation" committed by regime forces.

Faylaq al-Rahman echoed that position.

"We confirm our full commitment to the (UN) resolution... Nevertheless, we reserve the right to defend the civilians of Eastern Ghouta in case of renewed attacks," it said in a statement.

More bombs fall on Syria's eastern Ghouta ahead of UN vote

Both Faylaq al-Rahman and Jaish al-Islam are Islamist factions founded in 2013.

They have taken part in Syria peace talks in Geneva, which were brokered by the United Nations, and in the Kazakh capital Astana, organised by regime allies Russia and Iran and rebel backer Turkey.

The two rebel groups share control of Eastern Ghouta, where Syria's former Al-Qaeda affiliate is also present.
COMMENTS
Comments are moderated and generally will be posted if they are on-topic and not abusive.
For more information, please see our Comments FAQ