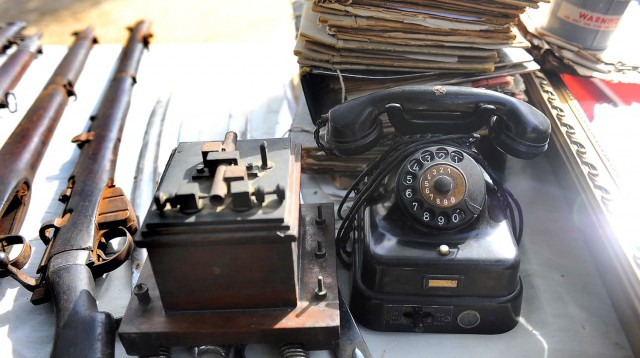 ---
KARACHI: Dusty registers, faded ink, vintage rifles and antiquated equipment tell a story about the historic pre-partition Sindh police force - and now the police want to share the story with you.

Old and dated instruments are being collected from all of the city's police stations for the establishment of the Sindh Police Museum, the first of its kind in the country. The museum, an idea of IG Sindh Salahuddin Babar Khattak, will have a collection of historical weapons, uniforms, registers, documents and FIRs. Out of the weapons collected for the museum, the oldest one is an 1832 rifle. Part of the artefacts is a telephone and a register belonging to the Crime Investigation Department (CID) police, established by the British in 1930. The Garden police station, which was build by the first Sindh police force established during the British Raj, will be turned into the museum.

The police station is being renovated, but without changing its vintage exterior. The scrubbing and polishing has begun inside, with new wooden and glass shelves being made to place the aged cannons, guns, pistols, police boots, belts, uniforms, gas marks, telephones and pictures. According to officials, the Sindh police force is the only police force that was formed before the inception of Pakistan. Additional IG CID Saud Mirza, who is heading the museum project, thinks that the first police museum can be inaugurated within one month. Talking to the Daily Express, he said that the museum is an effort to bridge the gap between the people and the police, creating awareness about the force's history.

"It will be very helpful for researchers and historians," he added. Research was conducted to trace the history of the Sindh police and many retired and serving police officials were interviewed. Efforts are also underway to make the Garden police headquarters, constructed in 1865, a cultural heritage site. IG Mirza said that the provincial culture ministry is supporting the effort and paperwork has begun. "In the second stage of the efforts, all the police stations built before the Partition will also be renovated so we can preserve our cultural heritage," he added.

Published in the Express Tribune, May 27th, 2010.
COMMENTS
Comments are moderated and generally will be posted if they are on-topic and not abusive.
For more information, please see our Comments FAQ