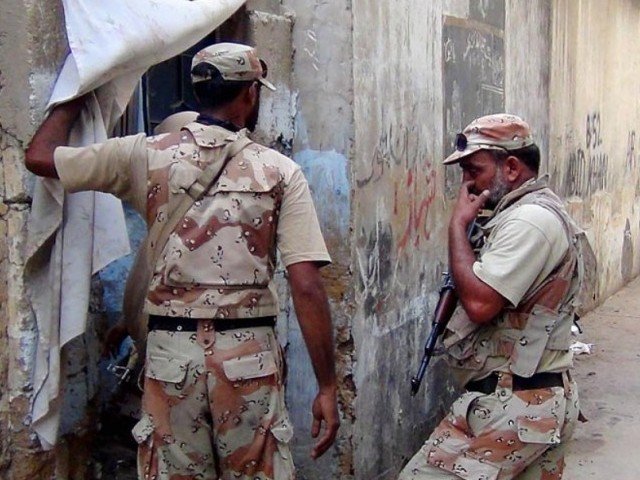 ---
LAHORE: The National Accountability Bureau (NAB) on Saturday arrested the owner of an engineering firm in connection with the Ashiyana Housing Scheme scam as the civil bureaucracy in Punjab failed to develop a consensus on protest against the arrest of Ahad Khan Cheema, the former director general of Lahore Development Authority (LDA).

The arrest of Shahid Shafiq Alam, the owner of Bismillah Engineering Services, apparently came on the information provided by Cheema.

Security at the NAB's Lahore headquarters was, meanwhile, beefed up as extra contingents of the Pakistan Rangers were called in on the request of NAB chairman. According to a NAB spokesperson, deployment of Rangers is necessary for security of Cheema and the case record.

An investigator said the graft-buster had accessed data from mobile phone and laptop of the accused and started analysing conversations collected from the devices. He said NAB might engage experts for retrieving deleted data.

Cheema was arrested on Wednesday for alleged misuse of authority in awarding Rs14 billion Ashiyana-e-lqbal project to Lahore CASA Developers, a joint venture (JV) said to be ineligible for the contract.

Ahad Cheema arrest: Rangers guard NAB Lahore amid security concerns

According to NAB, the inquiry revealed that Bismillah Engineering Services, a major shareholder of JV titled Lahore CASA Developers, was a proxy firm working on behalf of Paragon City (Pvt) Ltd.

NAB also claimed that Cheema received an illegal gratification in the form of 32 kanals of land, valuing Rs30.090 million approximately, from the owners of Paragon City Ltd.

An accountability court on Thursday remanded Cheema in the NAB custody for 11 days.

After Cheema's arrest, the civil servants started a protest and also passed a resolution against the NAB action. A high-level delegation of the bureaucracy met Punjab Chief Minister Shehbaz Sharif and presented a charter of demands.

However, the bureaucracy remained divided over the issue as the PMS Group and Police Group refused to accept the Pakistan Administrative Service's demand to boycott official work in protest against the arrest. Sources said the even Punjab Chief Secretary Zahid Saeed could not convince the PMS to become part of the protest.

Ahad Cheema handed over to NAB on 11-day remand

Talking with reference to the arrest of Bismillah Engineering Services owner Shahid Shafiq Alam, a NAB official said he was arrested for alleged fraud, corruption, embezzlement and forgery in the housing scheme.

According to NAB, Alam is involved in the scam that caused the national exchequer a loss of Rs1,000 million.

The investigator said, "Shafiq in connivance with officers/ officials of LDA presented false documents of Joint Venture/ Consortium consisting of three firms/ companies namely M/s Bismillah Engineering Services Co. M/s SPARCO Construction Company and M/s China First Metallurgical Group Co Ltd, and thereby obtained the contract of Rs14 billion in an illegal mariner."

Being the owner of C4 Company, he was not eligible for the contract, he added.

The investigator said the accused fraudulently represented Sparco Construction Company as lead member of JV whereas as per JV agreement dated 18.05.2015 signed by him, the actual lead member was M/s Bismillah Engineering Services co.

Cheema's promotion becomes talking point in Punjab Assembly

"This malicious act was done to conceal the poor and ineligible financial and technical capabilities of M/s Bismillah Engineering Service Company," he added.

The accused, with fraudulent intentions, obtained constructive possession of Ashiyana-e-lqbal project without financial close and willfully failed to complete the project which caused loss to government exchequer to the tune Rs1,000 million approximately.

He claimed that the accused was given a fair chance to explain the allegations levelled against him, but he failed to submit any plausible reply.

"It was likely that he may escape or go underground or tamper the prosecution evidence through coercion, criminal inducement and criminal intimidation.  Therefore the arrest of the accused was necessary for the recovery of corruption money, collection of evidence and concluding the investigation in accordance with law," he added.

The official said the accused would be presented before an accountability court for a physical remand of 15 days.

NAB followed due process

A NAB spokesperson responded to the Punjab government's claim that NAB bypassed procedure to arrest Cheema and claimed that the LDA former chief was arrested following due process of law.

"An inquiry is an initiative which then translates into a reference that is sent to a board for approval, and after approval a reference is filed. And through a court order, arrest warrant is obtained. But Cheema was during inquiry stage," Punjab Law Minister Rana Sanaullah said in press conference on Saturday.

NAB arrests former LDA chief over Ashiana Housing Scheme scam

The spokesperson said: "NAB had substantial evidences in this regard. NAB will keep on doing its work in a transparent and lawful manner, come what may and will not allow any threat, censure, pressure or protest in its working."

A detailed report of the situation will be presented before the court after the completion of due course of physical remand. No query or allegation will be responded as the matter was sub judice, he added.

However, he assured that there is no chance of discrimination. "NAB has no political affiliation. Its first and the last affiliation is with Pakistan, the Constitution of Pakistan and its people," he added.