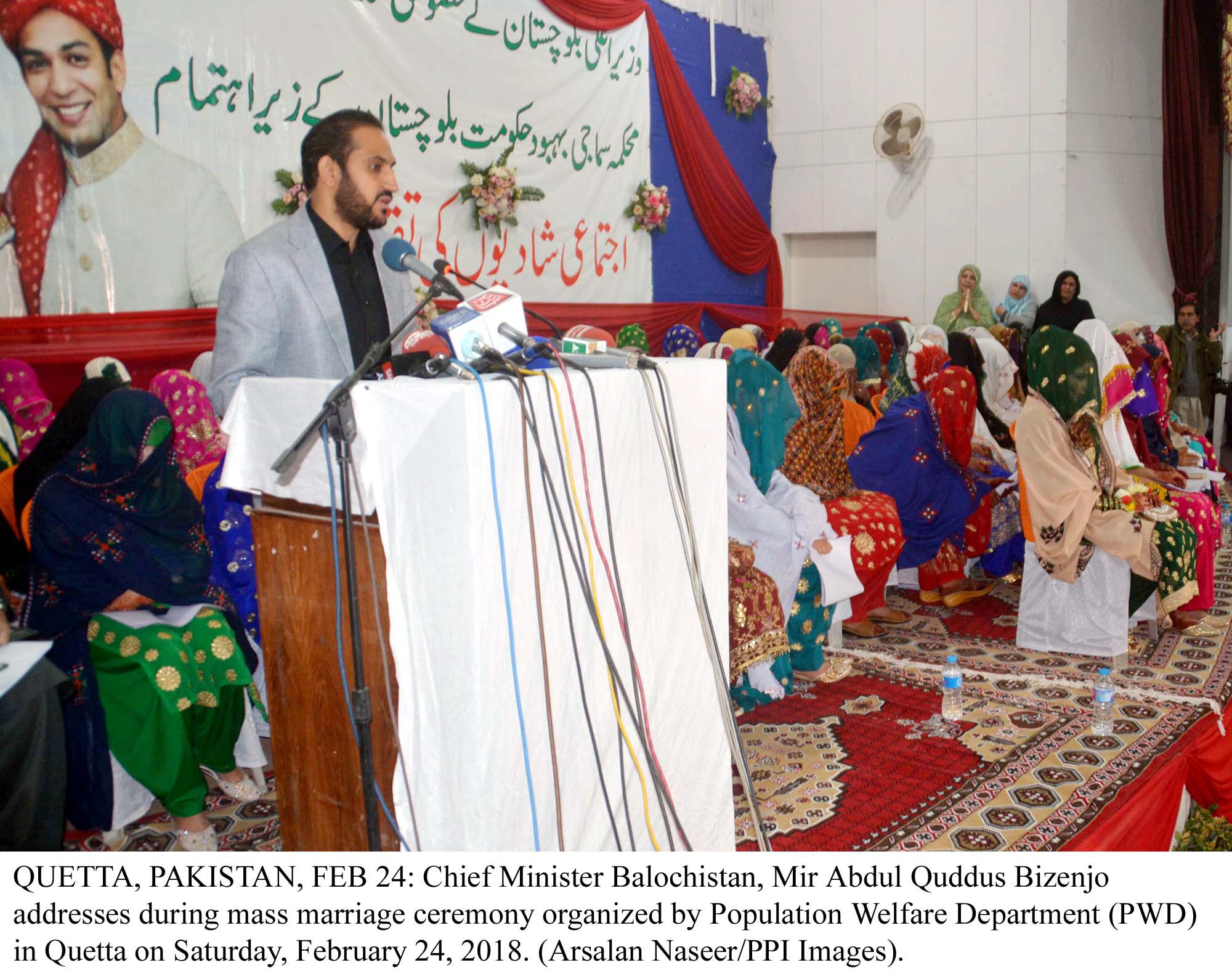 ---
QUETTA: "Your wedding day will come and go, but may your love forever grow," were the well wishes offered by the audience to the 75 couples, who tied the knot during a marriage ceremony held at Quetta Boy Scouts ground on Saturday.

The event was organised by the Social Welfare Department, Balochistan.

Balochistan making strident economic, social progress: Zehri

Balochistan Chief Minister Abdul Quddus Bizenjo, who was the chief guest of the ceremony, congratulated the newly wedded couples and announced Rs100,000 gift for each couple.

Addressing the audience, the chief minister said, "The government is focusing on social welfare as the province and its people are the top priorities of this government."

Even with limited resources and little time, the provincial government was putting all efforts in improving the daily life of people, he added.

COAS assures continued support for Balochistan uplift

"We plan to wed 200 more couples and in the annual budget we will allocate a handsome amount as fund for collective marriages," Bizenjo added. "I want to stay in contact with my people as they rely on us for solution to their issues."

Taking over the podium, Adviser to the Chief Minister on Social Welfare Shahzad Saleh Bhotani said that the provincial government was planning to arrange collective marriage ceremonies annually. "This year the Social Welfare Department has wedded 100 couples with a cost of Rs20 million," he added.

Social Welfare Department Secretary Sardar Khan Bugti said that wedded couples were also being provided with dowry, including cash and necessary utilities. "Next year collective marriage ceremony will include 200 couples," the secretary said.