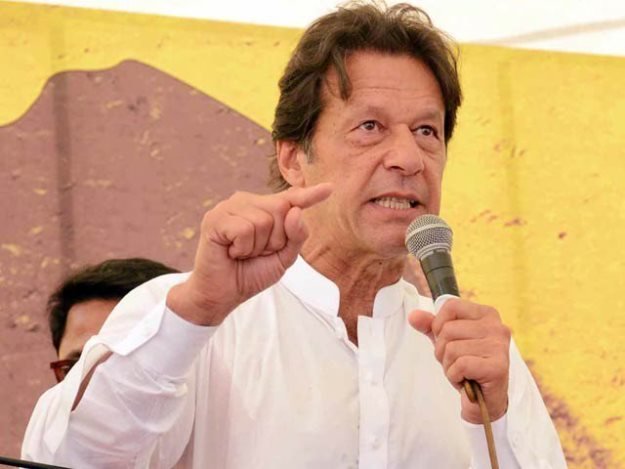 ---
ISLAMABAD: Pakistan Tehreek-e-Insaf (PTI) Chairman Imran Khan on Saturday fired a broadside at Punjab's bureaucracy for 'having a nexus with the Sharif family' and alleged that Ahad Cheema is the frontman of Punjab Chief Minister Shehbaz Sharif.

At a news conference in Islamabad, Khan claimed that Cheema served the interests of the Punjab CM, who feared that the bureaucrat's arrest would expose the corruption he had done.

He said it is utterly shameful how bureaucracy chose to go on protest against accountability.

"Godfather Shehbaz Sharif and his 'scion' Fawad Hassan Fawad has netted bureaucracy with their lackeys and crippled the whole system," claimed the PTI chairman.

People don't trust Punjab police force, claims Imran Khan

The PTI chairman stated that the "Sharif mafia is petrified of what Ahad Cheema may say to save himself from falling into NAB's custody". He said the apex court "has rightly stated that all the institutions are being controlled".

"All the dirty work for the people at top is done by the bureaucrats at the bottom," he alleged, adding that Cheema's arrest had irked the 'Sharif Mafia'.

Khan alleged there were Rs14 billion worth of corruption cases on Cheema in just one project.

He called Prime Minister's Principal Secretary Fawad Hassan Fawad 'bureaucracy's godfather', and Intelligence Bureau's Aftab Sultan "another pawn of this gang of crooks who is minutely observing which PML-N candidate could win which constituency".

He said former NAB chairman Qamar Zaman's corruption was another brick in Sharif's wall of corruption. The PML-N used him to clear their names in Hudabiya Paper Mills case, he said, adding that Zafar Hijazi, the former chairman of the Securities and Exchange Commission of Pakistan, was another servant of the Sharifs.

The PTI chief mentioned the report compiled by the International Monetary Fund (IMF) which claimed that leaders of the third world countries like Pakistan earn kickbacks through mega projects.

In nine years, Shehbaz spent Rs9 trillion that could be seen nowhere, he said, adding that all the tax payers' money was spent on Sharif family's children and the bureaucrats.

"Nation cannot be fooled anymore, playing the victim card and the mantra of 'Mujhy Kyun Nikala' will soon be a thing of the past," he said.
COMMENTS (1)
Comments are moderated and generally will be posted if they are on-topic and not abusive.
For more information, please see our Comments FAQ