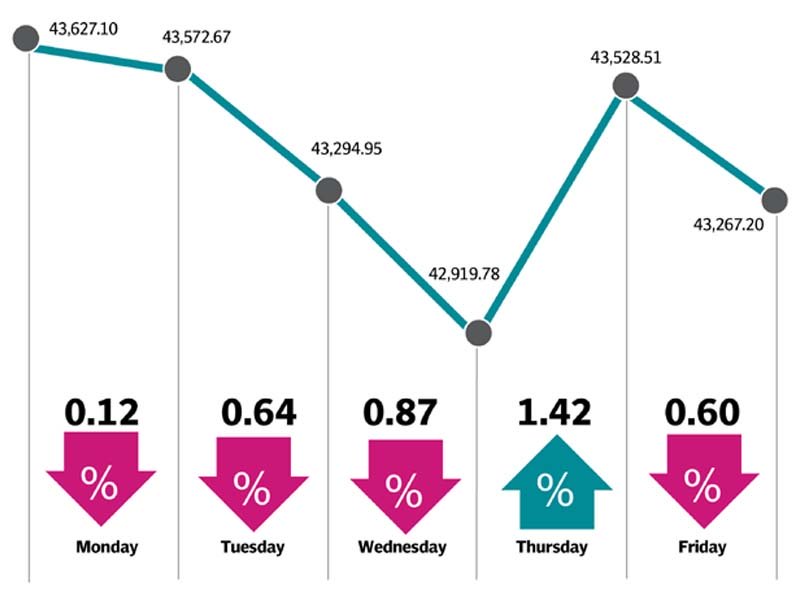 ---
KARACHI: The stock market witnessed a turbulent week as economic and political news kept the index under pressure, pushing the benchmark down 360 points or 0.8% week-on-week to settle at 43,267 points.

Trading kicked off on a negative note as speculation over Pakistan's inclusion in the Financial Action Task Force's terror financing watchlist led to a lacklustre session. The index continued to drop for the following two sessions, as investors remained uncertain and chose to book profits. Matters were further aggravated when the banking sector came under selling pressure, amid reports of an unfavourable decision for UBL against non-compliance of anti-money laundering laws of US.

However, things took a positive turn on Thursday.

On the political front, the Supreme Court barred former prime minister Nawaz Sharif from heading the PML-N. This news, coupled with foreign minister Khawaja Asif's tweet that Pakistan has escaped being placed on the terror financing watchlist, revived the market from its three-day losing streak. Investors took the opportunity to buy stocks at attractive valuations, leading the KSE-100 to rally 1,200 points in intraday movement.


Weekly review: KSE-100 endures roller-coaster ride, ends 0.41% lower


Meanwhile, on the last day of trading, stampede was observed amid unconfirmed news that Pakistan was added to the terror financing list. The market went down by 514 points, however, announcement of financial results of scrips such as INDU, KAPCO and NML prevented the market from dropping further.

In terms of sectors, the banking sector led the overall decline, tanking the index by 199 points. Cements and oil marketing companies took away 50 points and 43 points, respectively. On the other hand, oil and gas exploration (E&P) companies were the largest gainers of the week - contributing 78 points to the index.

From a macroeconomic vantage point, the week did not fare any better either, as release of latest numbers continued to reflect cracks on the external account front. The current account deficit for January 2018 clocked in at $1.62 billion, 27% higher month-on-month.

As a result, the country continues to bleed foreign exchange reserves, which further declined by $139 million during the week to $18.83 billion - lowest since November 2017 (pre-bond issues level), in spite of Pakistan procuring additional $533 million commercial loans from foreign banks in Jan 2018.

Overall activity slowed as volumes were down by 7.5% week-on-week to 184 million shares, while value traded decreased 10%, clocking-in at $73 million.

Scrip-wise, Pakistan Oilfields was the single largest contributor to the index, adding 126 points. The increase was due to Pakistan Petroleum Information Services (PPIS) data, which showed higher than estimated reserves at Jhandial field. The stock prices reacted positively to the news despite significant reserve downgrades at Mardankhel and Makori East. LUCK (39 points) and NESTLE (23 points) also contributed positively to the index.

On the flip side, UBL (68 points), MCB (43 points), OGDC (43 points) and FCCL (27 points) dragged the index lower.

That said, major foreign selling was witnessed in commercial banks ($3.9 million), fertilisers ($3.9 million) and technology and communication ($0.2 million). On the domestic front, buying was reported by insurance companies ($14.5 million), other organisations ($8 million) and companies ($3.6 million) while individuals and mutual funds offloaded $9 million and $6 million, respectively.

Week-On-Week: SPI drops 0.03%

Among major news of the week was; government to retain 51% PIA shares, customs value of pipes and pipe fittings revised, ADB showed interest in co-financing, all oil-fired power plants to be shut down by 2019-20 according to State Minister Water and Power, Nepra slashed power tariff by Rs3.34 per unit, and import bill surged due to oil price spike.

Winners of the week

National Foods




National Foods Limited is a diversified food manufacturer. The group's products include recipe blends, dehydrated vegetables, pickles, salts, snack foods, desserts, and a number of kinds of health foods.

Pakistan Oilfields




Pakistan Oilfields Limited specialises in the exploration, drilling, production and transmission of petroleum. The company also markets Liquefied Petroleum Gas (LPG).

Losers of the week

Murree Brewery




Murree Brewery Company Limited specialises in the manufacture of beer and Pakistan Made Foreign Liquor. The group also has juice extraction and food manufacturing divisions, located at Rawalpindi and Hattar respectively. Their glass division manufactures all the group's bottles and jars.

Pioneer Cement




Pioneer Cement Limited produces ordinary portland cement and sulphate resistant cement.

Published in The Express Tribune, February 25th, 2018.

Like Business on Facebook, follow @TribuneBiz on Twitter to stay informed and join in the conversation.
COMMENTS
Comments are moderated and generally will be posted if they are on-topic and not abusive.
For more information, please see our Comments FAQ