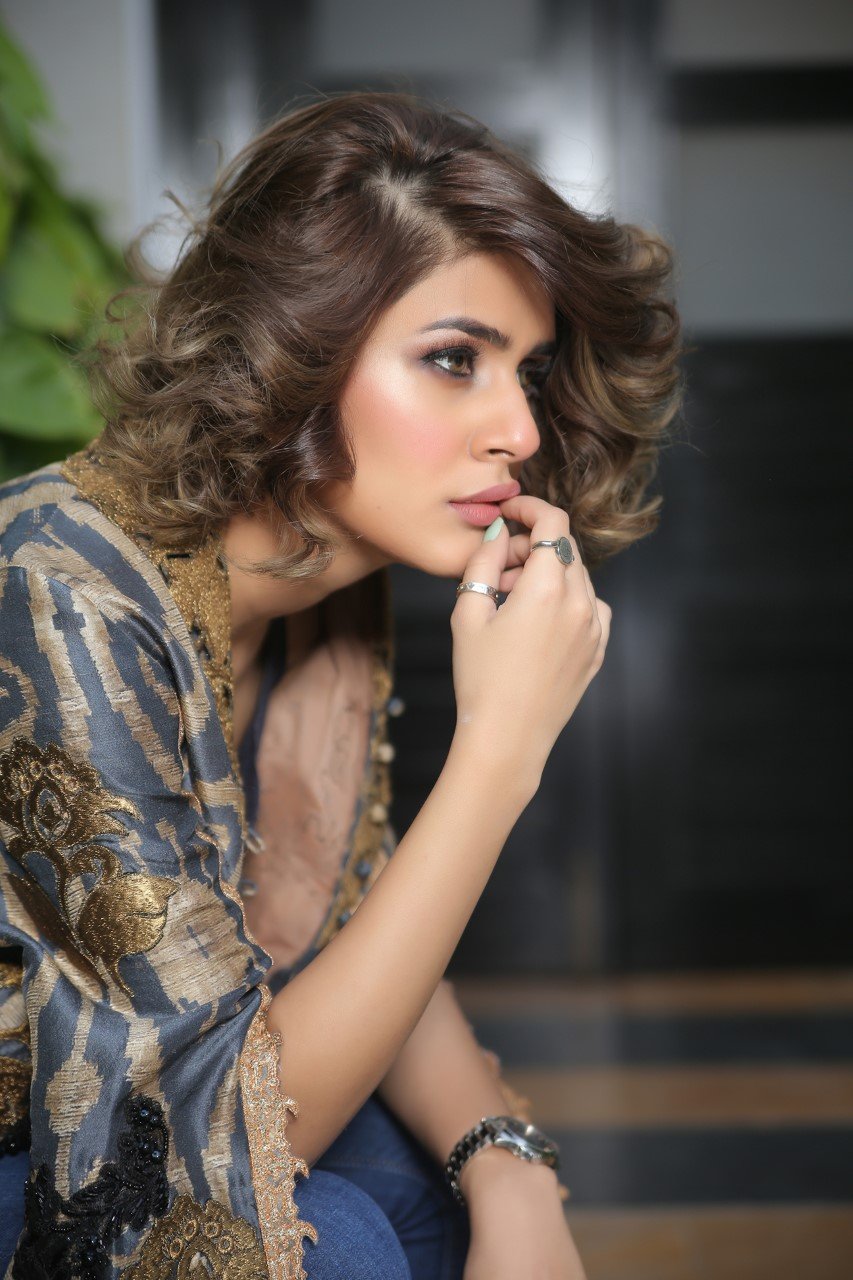 ---
ISLAMABAD: British-Pakistani model-turned-actress Rabia Khan, better known as Kubra Khan is more than what meets the eye. She's the ebullient starlet who's also a Motor Engineer with specialisation in Formula One. Following her comeback of sorts, in no time at all, she's built a formidable position for herself in the entertainment scene. In the last two years, she's appeared in seven serials altogether, most of which have been with leading banners and were top-listing plays throughout their run on the small screens.

However, it wasn't her foray into television that introduced us to the fresh-faced starlet. In fact, it was long before, in Fizza Ali Meerza and Nabeel Qureshi's 2014 satire, Na Maloom Afraad (NMA), which saw Khan playing Mohsin Abbas Haider's love-interest and the saviour of three hooligans trying to better their lives ending up in much absurdly punishing situations; post which, she was nowhere to be found in local productions for over two years.




"NMA came as a surprise to me; I never thought that I would get into acting. At that point, it was a one-off for me. The same year, I got offered a movie, which we never made as the production house had its downfall," she told The Express Tribune as we caught up on what kept her away and more. "Things were going well though, but I wasn't too sure if acting was something I wanted to do. When I went back home after NMA, to London, I had a job there and I was happy. I had no intentions of coming here and staying."

Meanwhile, Khan did branch off to other avenues and starred in British film, The Conversations and Bollywood's Welcome to Karachi; refusing to feature in item numbers, intimate scenes and anti-Pakistan narratives, Kubra opted out of the latter. The seemingly Indo-Pak friendship venture turned into the complete opposite as a new writer came on-board midway, only to drastically change the Arshad Warsi-starrer's script.

"In no way would I ever defame my country; my blood is Pakistani. And why don't we add to our own industry? There's so much great work here. If you solidify your own ground, you don't have to go to somebody else," she commented with extreme patriotism, adding that she isn't aiming at securing roles elsewhere. "I'm still in touch with people, but I've lost the will of going there. Even recently, I had a great offer for a Netflix series from across the border and they wanted me to do the lead, but again, my character was of an Indian soldier, so I had to decline."

A fan of Bollywood music otherwise, Kubra reveals that films like Saba Qamar's Hindi Medium, with a substantial role for a Pakistani actor in India, appeal to her. Locally inclined, one wonders if she's simply stopped exploring external opportunities.




"There's no time now unfortunately," she responds. "The reason I got those films (The Conversations and Welcome to Karachi) was because I was in London at that time. Even now, when I go back, I resume my life there instantly. I get the same kind of work that I used to get. It's not that I've stopped looking, but I'm focusing on this (work in Pakistan) for now. Like they say, you shouldn't put your feet in two boats at the same time."

Rewinding a little to her two-year-long-sabbatical, Kubra says she didn't see it as a hiatus, but more of a termination from performing arts, until, of course, her television debut, Sang-e-Mar Mar came along. The serial, having an ensemble star cast of Nauman Ijaz, Sania Saeed and Mikaal Zulfiqar, highlighted the harsh realities of family annihilation in the conservative community of the Swat valley.

"Sang-e-Mar Mar changed everything for me. It made me realise how much I love doing this. My character, Shireen was quite similar to me, generally in her attitude to life. But the environment she had been in, the restrictions and the fact that I could project someone else's feelings was a very beautiful feeling," she said of her turning point. "Every single character I've done, has been different. And my mind changed because of Shireen; I fell in love with her."

Right after, Kubra went on to tackle spirituality and dealt with child abuse and rape, respectively with her serials, while also dabbling into comedy, and the theme of illegal-immigration in another. However, what saw a fleeting rise to her success was the recently-concluded, Alif Allah Aur Insaan that delved into multiple position issues. To her, TV is a reflection of society and hopes to shed light upon various affairs going forward as well.




"Whether we admit it or not, as actors, we have certain power to influence our audience and what they watch on TV, they reciprocate. Why not target issues that are happening around us to make their lives better? For instance, child abuse very much exists, but we don't talk about it," Khan observed, sharing that she's consciously encouraged pertinent debates. "Had we actually spoken about it, people would've known what's right and wrong. We deny the reality and I feel accepting is the first step to change."

Cinematically, this year, Kubra will have an integral supporting role in Air Force's Hamza Ali Abbasi, Hania Amir and Ahad Raza Mir-starrer, Parwaaz Hay Junoon, while she takes the lead in Jawani Phir Nahi Ani's second installment opposite Humayun Saeed. Returning to the local silver screens after nearly four years, Kubra feels that the industry has only evolved for the better.

"In the first Jawani Phir Nahi Ani movie also, Mehwish (Hayat)'s character was very important and even Sohai (Ali Abro)'s was very flamboyant and people remembered it. I'm not saying my character here is the biggest thing in the movie, but it has substance," Kubra assures of holding her own in a buddy-movie. "When she enters, everything revolves around her, including the male lead. It's pretty trendy. It won't be the same screen-time as Humayun's or Fahad Mustafa's, but whenever I am there, there will be some presence."

Steering the conversation to the industry dynamic, compared to her peers, Kubra's insight remains unparalleled; having begun her career with a leading modeling-agency in UK to bagging protagonist parts. She points out how work-ethic, punctuality and the clinched screenplays in particular, is how Pakistan differs, or perhaps lacks, from the British line. Has she been able to adapt the local culture? Apparently not, and for other reasons than professionalism, one discovers.

"I still don't know how the industry works. I have very few friends and the only thing I focus on, is my work and to learn. Fortunately or unfortunately, the industry isn't just 'acting', it's a lot more," she says of the baggage that comes with being a public figure in Pakistan. "It's a whole different ballgame of communication and contacts, and I'm the worst person to do that. I'm in introvert that way; I cannot go out at parties and socialise unless I know the people personally. I've realised that it's ok to not know the industry as long as you know where your call lies."




Introduced to a wide range of notables, how real is casting coach? "I don't think it exists. There's only so much you can get out of that," she replies with her principles in order. "I feel the industry is very respectful at large, people take you on-board because of your performances over anything else. At the end of the day, it's about your attitude and the amount of hard-work you're putting in, that's what gets you somewhere."

In her pursuit to finding and eventually, essaying meaningful characters, the only fright one would believe she would have is of over-exposure. Much to my surprise, unwanted glare isn't a concern; as Kubra is taking a breather, not to avoid being typecast a certain way or turn to exclusivity, but for her own stability. Mind you, whilst she finalises her next outing.

"As long as it's good work you know. One does become over-exposed and right now, I'm hibernating. I genuinely needed a break. More than anything, it's important for your sanity. When I was working back-to-back, I even worked 22-hours' day since two of my serials were clashing and they were two very different characters. It does affect the quality of your work as you've under-slept," Khan confesses on a parting note. "For now, I'm reading an MD Productions' serial, and I've shot for some campaigns, but I haven't made it as crazy for myself right now."

Have something to add to the story? Share it in the comments below.
COMMENTS (4)
Comments are moderated and generally will be posted if they are on-topic and not abusive.
For more information, please see our Comments FAQ