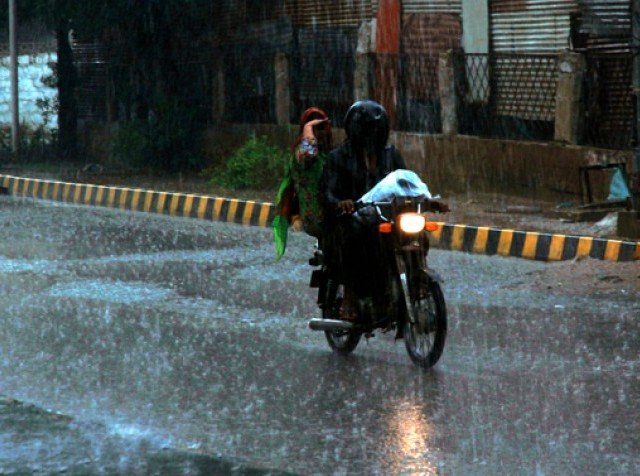 ---


Rain in different parts of Pakistan has caused the temperatures in many areas to drop, Express News reported.

Heavy showers continue to fall in Punjab, including Lahore, Sargodha and other areas, causing the weather to grow cold once again.

Thunderstorms in Khanpur has sparked power outages across the district.

But rain across the province is being celebrated by farmers.

In Punjab's Chichawatni district and its surrounding areas, farmers celebrated the light rainfall with intervals, saying it will be beneficial for the crops.

Express News further reported the ongoing sporadic showers in Sargodha has muddied the ground in Company Bagh that had been readied for today's (Saturday) rally for former prime minister Nawaz Sharif's daughter Maryam Nawaz.

Maryam is expected to address a Pakistan Muslim League-Nawaz (PML-N) social media convention there. However, PML-N workers say they might change the venue depending on weather conditions.

Roads closed in the north

Mountains in the north continue to receive snow whereas the Pakistan Meteorological Department (PMD) forecasts snowfall in the mountaneous areas of Azad Jammu and Kashmir (AJK), Gilgit-Baltistan (G-B), Federally Administered Tribal Areas (FATA), and Balochistan's Zhob Valley as well as Kalat division.

Rain, snow claim five lives in K-P

Roads have been close due to continuous snowfall in the Mansehra valleys of Naran and Kaghan and surrounding areas as well as the Babusar Top.

PMD has also predicted rainfall for areas in Khyber-Pakhtunkhwa (K-P).