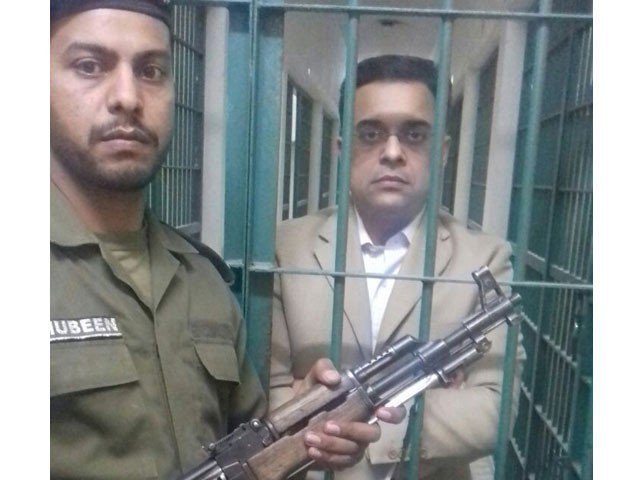 ---
LAHORE: The opposition used its usual trump card of pointing to the lack of quorum to disrupt assembly proceedings and protest against the reaction of Speaker Rana Muhammad Iqbal Khan.

The speaker was responding to a question over what message the promotion of a man, who was being held by NAB for his alleged corruption in a multibillion housing scheme, gave to society.

In a 10 minute long session, the legislators of treasury and opposition benches were just at loggerheads over former DG LDA Ahad Cheema's promotion to grade-20 during the course of an investigation against the officer. While responding, the speaker said this was a matter for the federal government.

NAB to submit reply over Cheema's arrest

The house proceedings started at 9:50am despite a scheduled time of 9am. The speaker, after Tilawat and Naat, had just started reading agenda items when PTI legislator Dr Nausheen Hamid, on a point of order, stood up and expressed her displeasure over Cheema's promotion. She asked what sort of message the government was giving to society by promoting a man who was in NAB custody.

PTI's Dr Murad Rass said the government was backing a corrupt mafia which means the leaders were protecting themselves as they feared Cheema may reveal their corruption if investigated by NAB.

Meanwhile PML-N's legislator Rana Arshad tried to defend the allegation, adding that those who are leveling allegations were corrupt themselves. He said PTI could not tolerate Punjab's progress. Arshad was delivering a fiery speech when another opposition legislator intervened and suggested that the PML-N leader refrain from protecting corrupt individuals.

PPP's Faiza Ahmed Malik said the CM was serving his "younger brother Cheema" through tactics of promotion so that he could turn to him when in need. However, the speaker did not pay heed to the comment.

Anti-corruption Establishment recovers Rs7.1m from accused

The speaker started calling the names of those legislators who put their questions forward. After this, PPP's Faiza Ahmed Malik said that if Speaker would not hear genuine concerns, they would not let proceedings run and she pointed to the lack of quorum at 10:00 am.

speaker ordered to ring the bells for five minutes due to the lack of legislators. At 10:05am, the house was adjourned for 15 minutes. At 10:40, proceedings started once again, but the speaker finally had to adjourn matters till 2pm on Monday as the government failed to show the required number of legislators.

On the agenda, there were questions relating to Labour & Human Resource and Auqaf & Religious Affairs departments. However, the ministers of both departments were not present when the session started. Parliamentary secretary for Labour and Human Resource Mian Naveed Ali was also not present at the time. A bill was to be introduced, annual activity reports to be laid and another Punjab Charity Bill was to be moved.

Also, the legislators of both benches, standing on the chairs of assembly, chanted slogans against the leadership of each other's parties.

Punjab most corrupt among provinces: Rasheed

Talking to the media, PTI's Mian Aslam Iqbal strongly condemned the locking of their offices by bureaucrats. He warned the chief secretary of a protest in front of the secretariat if the offices were not opened by Monday. He said the bureaucracy is a "wing" of PML-N and the CM is being protected through the chief secretary.

PML-N's Waheed Gull gave a fiery speech over the country's top court decision, saying that people will stamp a "lion's mark" on whatever verdict comes out of the SC. He said they were being forced to come on the roads through such decisions.

Published in The Express Tribune, February 24th, 2018.
COMMENTS
Comments are moderated and generally will be posted if they are on-topic and not abusive.
For more information, please see our Comments FAQ