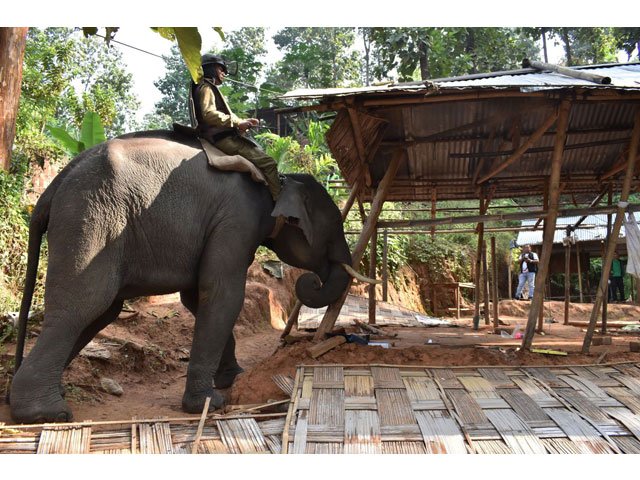 ---
NEW DELHI:
At least six homes are destroyed and 30 people forcibly evicted each hour in India as authorities modernise cities and build highways, activists said on Friday, highlighting the urgent need for greater investment in social rental housing.
'Smart Cities' projects and other upgrades were responsible for most evictions, data compiled by the advocacy group Housing and Land Rights Network (HLRN) showed.
#HLRN study reveals that 147 houses were demolished every day, 6 houses were demolished per hour in 2017.

Press Release: https://t.co/DMJ9ttjppo

Fact Sheet on Forced Evictions: https://t.co/Xf3pZTF2GX@TheQuint @IndianExpress @ANI @ndtv @fayedsouza @livemint pic.twitter.com/PfWzHJipMY

— Housing & Land Rights Network (@HLRN_India) February 23, 2018
Infrastructure and development plans, wildlife conservation efforts and disaster management projects were also to blame.
"The notion that 'beautification' implies removing the poor from cities reflects an alarming prejudice and discrimination against the country's most marginalised populations," said Shivani Chaudhry, executive director of HLRN.
Its data showed about 53,700 homes were destroyed last year by authorities in cities, towns and villages, uprooting at least 260,000 people.
Chaudhry said the true figure was likely far higher, as its data was comprised only of cases reported to it. The evictions are the highest recorded by HLRN since it began collecting information in 2015, she told the Thomson Reuters Foundation.
"Homes of the urban poor continue to be considered illegal encroachments and are demolished without any consideration that people have been living (there) for decades ... and possess documents that validate their legality and proof of residence."
Officials at India's housing ministry could not be reached for comment on Friday. There is no official data on evictions.
Man collecting dowry for four daughters abroad unable to visit home for 25 years
An official with the Delhi Development Authority said the city abided by the law.
"Whenever an eviction is required, we take all the necessary steps and resettle whoever is eligible with all amenities," said Jai Prakash Agrawal, speaking of evictions in the city.
The rapid growth of Indian cities, combined with unclear land ownership, is increasingly triggering legal disputes and violent evictions of poorer communities, rights groups say.
Prime Minister Narendra Modi's Smart Cities Mission aims to modernise 100 cities by 2020. The plan to spruce up central business districts and build metro lines has triggered evictions of people from slums and informal settlements.
In nearly every case recorded last year, authorities did not follow due process, including giving communities sufficient notice, or offering adequate resettlement, Chaudhry said.
Police used force in several cases, with deaths reported from some such instances, Chaudhry said. Several evictions were carried out during the monsoon and in the winter, leaving families particularly vulnerable.
Agrawal denied that officials in New Delhi had used force at any time.
A government plan, Housing for All, is meant to create 20 million new urban housing units and 30 million rural homes by 2022. But implementation has been slow, and campaigners say it will not fix the issue of homelessness and informal settlements.
COMMENTS
Comments are moderated and generally will be posted if they are on-topic and not abusive.
For more information, please see our Comments FAQ