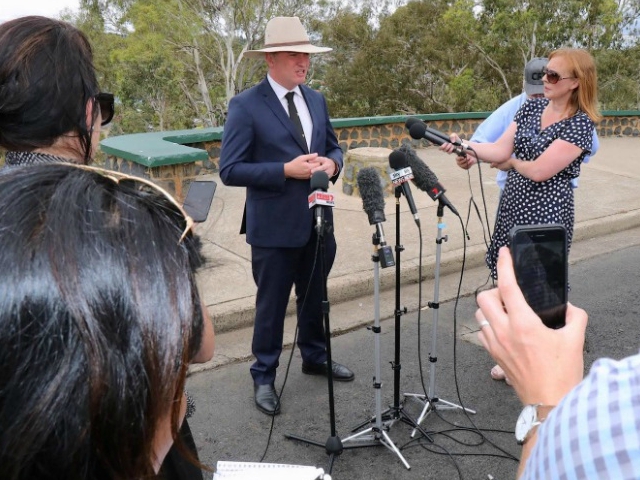 ---
Australia's deputy prime minister said on Friday he will resign as leader of his party after weeks of pressure over an affair with a staffer that brought him into open conflict with his premier and a new allegation of sexual harassment emerged.


Barnaby Joyce said he will step down on Monday as leader of the National party, the junior partner in Prime Minister Malcolm Turnbull's centre-right coalition, after resisting earlier calls to quit over the affair with his former media secretary, with whom he is expecting a child.




He will remain in parliament, safeguarding Turnbull's shaky one-seat majority.




Joyce's decision came after a falling-out with Turnbull, who is in the United States for meetings with President Donald Trump and who declined to leave him in charge while he is out of the country.




Turnbull called Joyce's affair a "shocking error of judgment" last week, to which Joyce responded by calling Turnbull "inept".




Australia bans sex between government ministers, staff




Joyce, a practising Catholic, has been married for 24 years and has campaigned on family values. He said he decided to quit after the new allegation of sexual harassment emerged on Friday.




He denied any wrongdoing but acknowledged the allegation had hastened his decision.




"I will say on Monday morning at the party room I will step down as the leader of the National Party and deputy leader of Australia," Joyce said.




Joyce, whose support base rests in Australia's traditionally conservative rural areas, wore his trademark Akubra bushman's hat as he spoke to journalists in Armidale, the farming town he represents about 485 km northeast of Sydney.




Little-known outside Australia, Joyce made international headlines in 2015 when he deported two dogs brought into Australia by U.S. actor Johnny Depp without the proper paperwork, a row that became known as the "war on terrier".




'Disunity is death'




Joyce had only been back in parliament less than a month after falling victim to a citizenship crisis that has dogged Turnbull's government. Australia's High Court deemed Joyce was a New Zealand citizen in October, forcing Turnbull to rule in minority until Joyce re-contested and won his seat again.





National Party federal director Ben Hindmarsh said on Friday the party had received the sexual harassment allegation against Joyce but declined to give any details.
A spokesman said Joyce believed the claim to be "spurious and defamatory" and had asked for it to be referred to police.
The National Party will now elect a new leader, who will also become deputy prime minister under the terms of the coalition agreement with Turnbull's Liberal party.
Veterans Affairs Minister Michael McCormack and David Gillespie, the assistant minister for children and families, both said they would contest the leadership ballot on Monday.
Joyce's resignation will potentially heal the rift between the Liberal and National parties, a political alliance that has existed for nearly 100 years.
Nick Economou, senior lecturer in Australian politics at Monash University in Melbourne, said it would have been impossible for both Turnbull and Joyce to return to parliament next week after they fell out.
"In Australian politics, disunity is death," Economou said.
Two-thirds of Australian voters wanted Joyce to resign, The Australian newspaper's Newspoll showed earlier this week.
Joyce's decision to resign should get the row off the front pages, offering Turnbull at least temporary respite, although Joyce will now sit on the backbench with former prime minister Tony Abbott, the man Turnbull ousted in a 2015 party-room coup.
Freed from Cabinet restraints, Abbott has criticized Turnbull's policies from the backbench, although Joyce said he would not destabilize the government.
Turnbull must head back to the polls by May 2019.
COMMENTS
Comments are moderated and generally will be posted if they are on-topic and not abusive.
For more information, please see our Comments FAQ