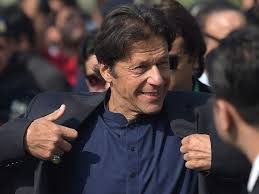 ---
Pakistan Tehreek-e-Insaf (PTI) chairperson Imran Khan, on Friday tweeted that the government of Khyber-Pakhtunkhwa (K-P) is ahead of all other provinces in promoting women empowerment.


خواتین کو بااختیار بنانے میں پختونخوا دیگر صوبوں سے کہیں آگے ہے۔ ملکی تاریخ میں پہلی مرتبہ جنگلات کی رائلٹی براہ راست خواتین کو دی جارہی ہے اور چترال سے اسکا آغاز کیا گیا ہے۔ یہ رائلٹی عنقریب مالاکنڈ میں بھی دی جائے گی. https://t.co/GE2q2MriCm

— Imran Khan (@ImranKhanPTI) February 23, 2018


PTI chief added that women living in rural areas of Chitral are now given royalty in the forests, and that this is just the start. He called it a 'historic' moment, claiming that it is the first time women in the country have been given such opportunities.

The province in the lead on women's empowerment

Previously only men of local communities had a share in the royalty for forests. However, after holding several meetings with the women councillors and local government officials in the area, the initiative was enacted.

In another tweet, Imran lauded the provincial government for its efforts in the area. "Women empowerment in KP moves another step forward. Royalty from sustainable forestry to be distributed directly to rural women (for the first time ever) in Chitral - will be followed soon by Malakand," he writes in a tweet.


Women empowerment in KP moves another step forward. Royalty from sustainable forestry to be distributed directly to rural women (for the first time ever) in Chitral - will be followed soon by Malakand https://t.co/qalJ7Hs1Ou

— Imran Khan (@ImranKhanPTI) February 23, 2018


Last month, Robina Gul of K-P swapped her needle for a trowel. Until recently, the villager from northern Pakistan got by making clothes for family weddings and religious festivals, but now she is encouraging other women to set up tree nurseries like hers that can earn them a handsome monthly income.

They first get black polythene bags from the forest department to fill with mud and manure, followed by seeds and training on how to sow them and tend to the trees. "I am now getting over Rs12,000 per month (from the subsidy), just by looking after the saplings in my home," Gul said. "I have also acquired the skills I need to grow different seedlings, and this will help me earn enough even after the project is wound up."

Billion tree tsunami: Women nurture trees and pride in forest drive

Zobia Gul, a community development officer in the forest department, mobilises women and educated girls in remote areas to play an active part in society by setting up nurseries. "Most of the families in the rural part of the province are conservative," she said. "Here comes the role of the female forest officials in reaching women in their homes and informing them about the project."