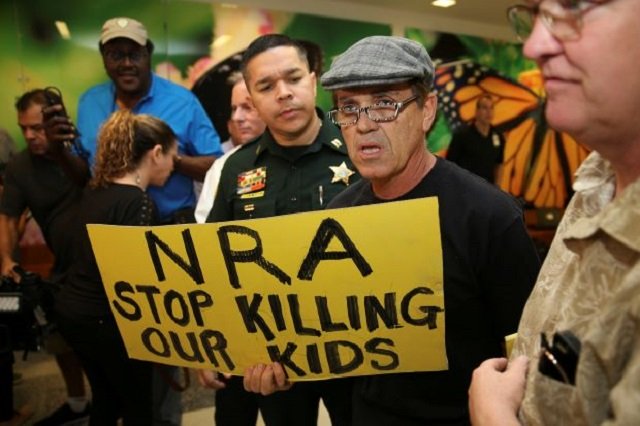 ---
WASHINGTON: US President Donald Trump has proposed arming "highly trained" teachers to deter school shootings, but the idea has drawn little support from those most directly concerned -- teachers.

"Parents and educators overwhelmingly reject the idea of arming school staff," said Lily Eskelsen Garcia, president of the National Education Association (NEA), the largest professional union in the United States.

"Bringing more guns into our schools does nothing to protect our students and educators from gun violence," said the head of the three-million-member NEA.

Randi Weingarten, head of the American Federation of Teachers, another union, condemned what she called an "arms race" and efforts to "turn schools into militarized fortresses by arming teachers."

17 killed in Florida school shooting by former student: Sheriff

Trump suggested giving teachers guns at a meeting at the White House on Wednesday with survivors of last week's shooting at Marjory Stoneman Douglas High School in Parkland, Florida, which left 14 students and three teachers dead.

The president then doubled down on the proposal Thursday, both on Twitter and at a subsequent White House meeting.

"Highly trained, gun adept, teachers/coaches would solve the problem instantly, before police arrive. GREAT DETERRENT!" Trump said.

"If a potential 'sicko shooter' knows that a school has a large number of very weapons talented teachers (and others) who will be instantly shooting, the sicko will NEVER attack that school."

Besides the major US teachers' unions, the proposal also drew criticism from Shannon Watts, the head of one of the leading gun control groups, Moms Demand Action For Gun Sense in America.

Florida massacre: Indian teacher blocks way of assailant saving dozens

"I'm honestly gobsmacked that the president used a forum with gun violence survivors to pimp the (National Rifle Association's) priority legislation and to suggest arming teachers," Watts said.

The NRA, the powerful gun lobby, has long argued for more armed security in US schools, and its leader Wayne LaPierre repeated the call in a speech on Thursday.

"Our banks, our airports, our NBA games, our NFL games, our office buildings, our movie stars, our politicians, they're all more protected than our children at school," LaPierre said.

He concluded his speech to a gathering of conservative leaders with the NRA catchphrase: "To stop a bad guy with a gun, it takes a good guy with a gun."

Several teachers at Stoneman Douglas and the head of the county school system where the shooting took place said they were skeptical about Trump's suggestion.

"We don't need to put guns in the hands of teachers," said Robert Runcie, the superintendent of Broward County Public Schools. "You know what we need? We need to arm our teachers with more money in their pocket."

Melissa Falkowski, a teacher at Stoneman Douglas who hid students in her classroom while the shooting was taking place, called the proposal "ridiculous."

"I have a problem with it on a lot of levels," Falkowski said in an interview with CNN.

Former student confesses to Florida school shooting

"Why are we treating our schools like they're supposed to be a military installation with teachers trained like police officers and military personnel?" she asked.

"I struggle to see how a teacher, even a highly trained teacher with a handgun, is going to go against somebody who's carrying an AR-15," she said. "Are those teachers going to be strategically placed around the school?"

Nikolas Cruz, the 19-year-old former Stoneman Douglas student accused of carrying out the shooting, was armed with a semi-automatic AR-15-style rifle.

Ashley Kurth, a culinary arts teacher at the school who also sheltered dozens of students during the shooting, also had her doubts.

"Am I supposed to get extra training now to serve and protect on top of educate these children?" Kurth asked at a CNN "town hall" Wednesday about gun violence.

Gun control in the US: issues and proposals

"Am I supposed to have a kevlar vest?" she said. "Am I supposed to strap (a gun) to my leg or put it in my desk?"

Joseph Connelly, a high school physics and chemistry teacher, took to Twitter to argue against the idea.

"I'm a teacher who qualified in the military on the rifle, handgun, light machine gun, heavy machine gun, grenade launcher, automatic grenade launcher, bayonet and hand grenade," Connelly said. "And there is zero change you'll convince me a school will be safer if teachers start carrying guns."

Eskelsen Garcia, the NEA president, said what is needed are "solutions that will keep guns out of the hands of those who want to use them to massacre innocent children and educators.

"Arming teachers does nothing to prevent that," she said.

Speaking at the CNN town hall, Scott Israel, the sheriff of Broward County, said simply: "I don't believe teachers should be armed. I believe teachers should teach.

"But that's exactly what's wrong with this country," Israel continued. "We have people in Washington DC — representatives, senators and legislators — telling teachers what they should do without asking teachers, 'What do you want to do?'"
COMMENTS
Comments are moderated and generally will be posted if they are on-topic and not abusive.
For more information, please see our Comments FAQ