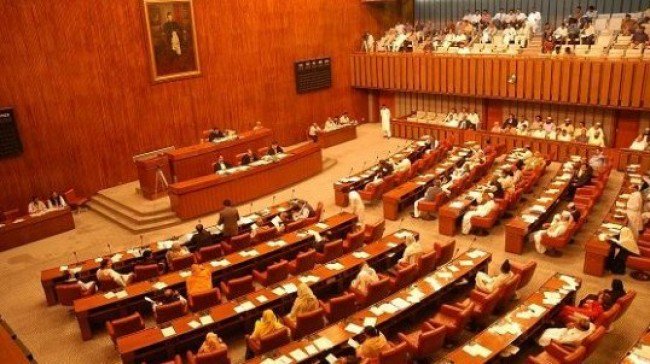 ---
ISLAMABAD: During the Senate session on Thursday, senators expressed fear over the imminent political situation in the wake of recent Supreme Court verdict, which is likely to trigger greater confrontation between state institutions.

Some lawmakers even feared that the situation was leading towards a possible "technocrat setup" in the country.

Senator Farhatullah Babar said although Nawaz Sharif was largely responsible for the situation created after the SC verdict, he could neither applaud the judgment as a triumph for anyone nor rejoice over it as member of Parliament.

"The verdict has enlarged the scope of Articles 62 & 63 on one hand and weakened parliament by striking down a law it passed on the other", stated Babar during his address.

The Pakistan Peoples Party (PPP) senator further said that since long a whispering campaign had been in motion, suggesting that efforts were afoot to get elections postponed and pave way for a technocrat government for three to four years, in order to eventually re-write the country's political landscape.

Zafarul Haq in the run for Senate chairmanship

He also stated that the verdict has potential to increase political instability and asked parliament to play its role in averting such a scenario.

Responding to the senator's comments, Chairman Raza Rabbani said that he has been repeatedly warning against undermining parliament's status. He expressed hope that the parliament will overcome these challenges.

Barrister Muhammad Ali Saif of Muttahida Qaumi Movement (MQM) said that with the apex court's verdict, it seems that state institutions are in for a confrontation, which is not a good omen for the democratic setup.

He also criticized Chief Justice Mian Saqib Nisar for calling lawyers his foot soldiers, saying that lawyers are the soldiers of judiciary and asking the lawyers to stand by his side shows that the chief justice wants hostility between institutions.

Furthermore, the MQM representative proposed to create a constitutional court exclusively for political cases, thus restricting judiciary to only routine cases, as the current judges had no idea of handling cases of political nature.

Senate polls to be held for 46 seats on March 3

Senator Ghous Baksh Niazi of Pakistan Muslim League-Nawaz (PML-N) said that reports of a possible technocrat system had been doing rounds for some time, but we did not pay any heed to them.

"We heard of a technocrat setup for an unlimited period of time. After the apex court verdict, it seems that something unconstitutional is going to happen," he warned.

Niazi further stated that parliament should play its due role in thwarting such elements bent upon wrapping up democracy.

In an obvious reference to SC, he warned that if laws enacted by the parliament were misused, the parliament will be left with no option but to limit the powers given to different state institutions.

Senator Usman Khan Kakar of PKMAP questioned how a court can determine the appointment of a political party's head, adding all this is being done to delay the Senate polls.

"It all started from Balochistan where a military brigadier changed the government, and now Rs40-50 are being offered for the seat of one senator, which reflects what is going on. The political parties must stop these interventions in matters of parliament," he added.

Apart from discussion on the SC verdict, other agendas were also brought forward during the session.

Chairman Standing Committee on Commerce and Textile Industry presented a report on completion of its tenure.

Likewise, Chairman Standing Committee on Finance presented a report for Calling Attention Notice (CAN) regarding the pending approval of 7500 sanctioned new posts for FATA.

While State Minister for Finance, Rana Afzal Khan also briefed on status of implementation of the recommendations of the Special Committee, regarding demands made by the Khyber Pakhtunkhwa government

The House also took up two CANs regarding difficulties faced by the Kalash Community and delay in the NFC Award. It also passed two motions under Rule 194 (1) to grant extension to Standing Committees on Law and Justice and Cabinet Secretariat for presentation of their reports.
COMMENTS
Comments are moderated and generally will be posted if they are on-topic and not abusive.
For more information, please see our Comments FAQ