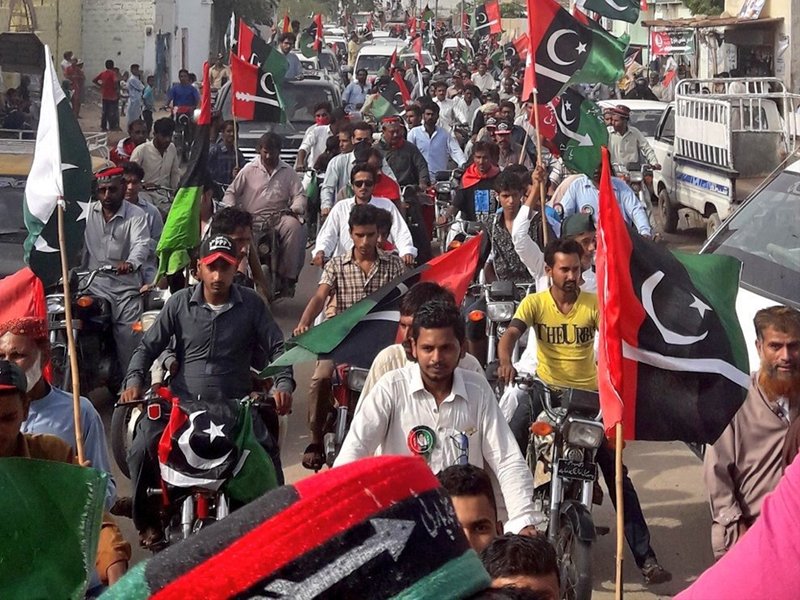 ---
The clouds of uncertainty supposedly hovering over the democratic set-up since its restoration in 2008 have long disappeared. The last two governments have for the most part survived two terms consecutively and are preparing to start a third one. This is a watershed moment for democracy in Pakistan. But is it a sufficiently successful feat or do we still need to ask whether dividends of the system reached commoners as well?

In all this time, democratic leaders have regaled the public with lofty pledges but have they really done anything? Hence, we are still grappling with basic problems like long hours of power cuts, absence of clean drinking water, environmental threats, poor health and education indicators. Further, the credibility of three key political parties — the PML-N, the PPP and the MQM — which have been in power at federal as well as provincial levels — can be gauged from the fact that they are facing serious allegations of corruption, incompetence and crime. The latter party has not only been a powerful but mercurial coalition partner.

The dynamics of voting in Pakistan is quite a complex phenomenon because social, economic and ethnic-related psychological factors play a huge role as opposed to performance and merit. Perhaps that is the reason such parties manage to win election after election.

Credit goes to the PTI for at least changing the electoral narrative to make corruption and bad governance a national issue. Following the PTI's entry in Punjab, there is fierce political competition, which offers a choice to the masses to vote out bad performers but in Sindh we don't see any worthy opponent to the PPP. There are 130 general seats in Sindh, of which the PPP secured 71 of them and the MQM 39 in the last two general elections. Despite poor performances, both parties have maintained their electoral hegemony. However, in urban areas, the Pak Sarzameen Party (PSP) might give a tough time to the MQM in the next election. While the PTI has more or less lost the chance to challenge those parties in Sindh following its poor showing in Sindh in the 2013 election — with the party winning just three provincial assembly seats. It has also failed to capitalise on the general sentiments in its favour. Its clash with a section of the media did not win favour in the urban areas of Sindh. And in rural areas, the PTI's tall claim about change has been exposed when it started taking 'electables' such as Liaquat Jatoi and Mumtaz Ali Bhutto on board.

As for the PPP, it took Sindh for granted. No genuine effort was made by the PPP despite getting two consecutive terms in office. The MQM remained embroiled in its own fragmentation crisis. Hence, there was no real opposition. Not only did the PPP squander this opportunity of serving its voters, but it also shifted its focus to urban areas and plugged the urban-rural gap.

In the wake of the party's dwindling popularity, the party leadership took some cosmetic measures and appointed Murad Ali Shah as the new chief minister. Leaders of the party continue to face corruption cases and there has been little improvement in governance. Blue-eyed boys of the party leadership continue to call the shots from behind the scenes, while Murad Ali Shah is as helpless as Qaim Ali Shah earlier.

It seems the Sindh and Bhutto cards are losing some of their charm. In the last election there were at least 15 constituencies where PPP candidates barely scraped through tight electoral contests and the margin of victory was not large enough in the party's main bastion. For example, Agha Siraj Durrani (PPP), currently the speaker of the Sindh Assembly, got 32,993 votes whereas his nearest rival, Zulfiqar Kumaryo, received 31,264 in the Shikarpur PS-09 constituency and Allah Dino Bhayo (PPP) polled 32,374 votes against Mir Abid Jatoi's 31,207 in Shikarpur PS- 12. Sardar Muqeem Khan Khoso narrowly beat Mohammad Aslam Abro by 60-odd votes in Jacobabad PS-14. If the rivals of the PPP come together to field joint candidates in these critical constituencies, they are likely to vanquish it.

Anti-PPP forces banded together in the Grand Democratic Alliance (GDA) have re-emerged on the political landscape of Sindh. The alliance does not offer much hope for better governance, since most of them have been part of previous governments, some of them have even served as chief ministers — Arab Ghulam Rahim and Ghous Ali Shah — but their performance has not been up to the mark or at any rate much worse than the PPP. Ayaz Latif Palejo of the Qaumi Awami Tehreek had the potential to attract young voters and the middle class in semi-urban areas — in the last election he secured 14,901 votes. The GDA is generally seen as a force of the status quo, so by joining it he has dashed their hopes.

The Sindh United Party (SUP) enjoys a relatively good reputation among the educated and nationalist-minded segment of Sindhi society. The SUP ramped up pressure on the PPP by organising huge public rallies against corruption and extremism in Karachi and other towns of Sindh. However, the party's network across Sindh is not strong enough to consolidate gains from jalsas into electoral power. Pundits believe the SUP cannot win more than two provincial seats unless of course 'unseen hands' come into play and turn the results around.

Apart from them there is a new political force in the making: Tabdeeli Pasand Party (TPP), duly registered with the Election Commission of Pakistan. The TPP is led by Ali Kazi, a journalist-turned politician, who has been spearheading a strong campaign against poor governance through his writings for more than two decades. The party has not made any claim about transforming Sindh overnight but at least it wants to make it a more "livable place." It has been staging impressive public gatherings in the province and appears to be focused on the upcoming general elections. Between 1,000 and 1,200 votes are assigned to each polling station, therefore the TPP is silently building a party network around the polling stations and have started mobilising the public for vote. Their strategy is to attract anti-status quo votes and take less known but influential local community leaders on board. For now, at least the party is moving ahead with a realistic and practical approach and plans to field candidates across Sindh. Will it meet with success? Indeed it is a difficult task to defeat the PPP but not impossible. Perhaps change is around the corner.

Published in The Express Tribune, February 23rd, 2018.

Like Opinion & Editorial on Facebook, follow @ETOpEd on Twitter to receive all updates on all our daily pieces.
COMMENTS
Comments are moderated and generally will be posted if they are on-topic and not abusive.
For more information, please see our Comments FAQ