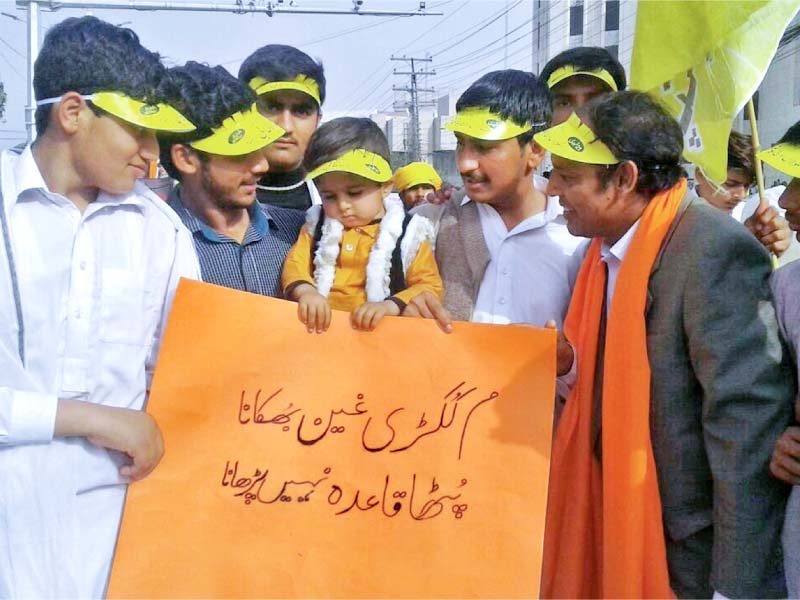 ---
LAHORE: In order to promote intangible cultural heritage and to maintain peace and sustainability, scores of youth staged protest outside the Lahore Press Club and marched towards the Punjab Assembly. They demanded that Punjabi language become a compulsory subject.

"We are here to ask the government as to why they are not interested in promoting Punjabi culture in our own country," said Jaizi Punjabi, who came from Mandi Faizabad. "Our Sufis have imparted education of peace, but unfortunately our new generation is not aware of their message."

Language information in census 'incomplete, flawed'

He was of the view that some powerful and vested interests have destroyed the culture of the land of the Sufis and it was the reason why the youth was unaware of their own language and culture.

"Look at the people. There are toddlers and youngsters, both, and they have just one demand; to see Punjabi language as a compulsory subject in the provincial curriculum," he added.

Punjabi Adabi Board President Parveen Malik told The Express Tribune that according to the Article 3 of the Constitution, the government was bound to promote regional languages. She said Punjab Assembly has already accepted a bill to promote mother tongues, but no visible steps were being taken to implement the same.

"We demanded of government that Punjabi language be included as a compulsory subject in curriculum so that our children could learn about the enriched Punjabi culture," she said.

International Mother Language Day 2018 was celebrated on Wednesday across the globe including Pakistan.

The day highlighted the importance of mother tongue for quality education and linguistic diversity to take forward the new 2030 Agenda for Sustainable Development.

Interior ministry shuts Radio Free Europe's Pashto-language station

In a statement issue on the day, Adabi Board highlighted mother languages as a multilingual approach, an essential components for quality education.

International Mother Language Day was proclaimed by the General Conference of the United Nations Educational, Scientific and Cultural Organisation (UNESCO) in November 1999 and proclaimed 2008 as the International Year of Languages to promote unity in diversity and international understanding through multilingualism and multiculturalism.

Published in The Express Tribune, February 22nd, 2018.