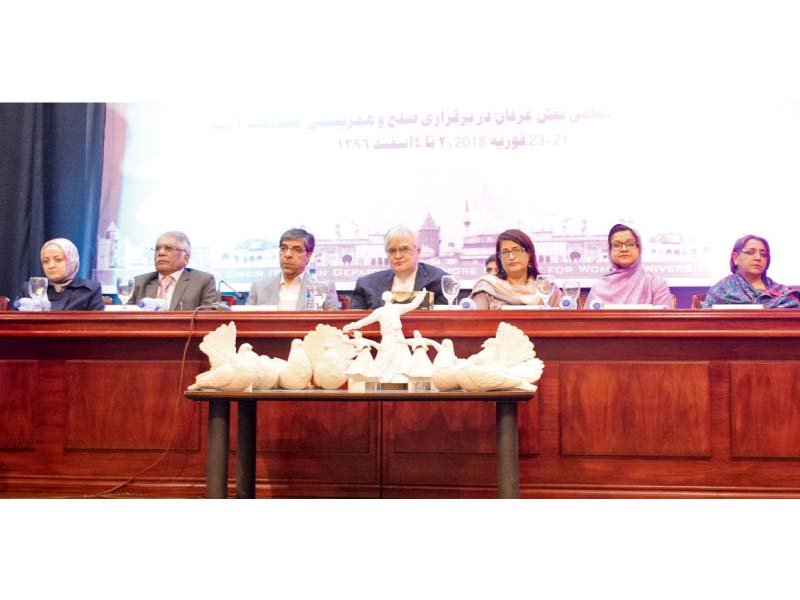 ---
LAHORE: Speakers at a three-day international conference at Lahore College for Women Univerity (LCWU) urged followers of all religions to work hand in hand for global peace and expressed that mysticism is the base of peace and harmony in any society.

LCWU's Persian Department (Ferdowsi Chair) in collaboration with the Higher Education Commission Islamabad, the Cultural Centre of Islamic Republic of Iran and the Lahore and Muslim Institute organized the event titled The Role of Mysticism in Establishing Harmony and Peaceful Coexistence.

Vice Chancellor Dr Uzma Qureshi welcomed foreign and local guests and high- lighted the importance and role of mysticism in today's scenario in her address. She stated that mysticism and Sufism have been instrumental in shaping the esoteric landscape of the subcontinent.

She also appreciated the efforts of the Persian department in organizing such a conference and bringing together scholars of different cultures and countries.

Persian Head of Department Dr Faleeha Zahra Kazmi explained that articles were received from countries such as Iran, Afghanistan, Turkey, Tajikistan and India. Only the authors of the selected articles had been invited.

Director General of the Iran Culture Centre Razai Fard highlighted the depth and strength of Iran and Pakistan's cultural, historical, religious relations. He also declared mysticism to be the binding force between different cultures.

Published in The Express Tribune, February 22nd, 2018.